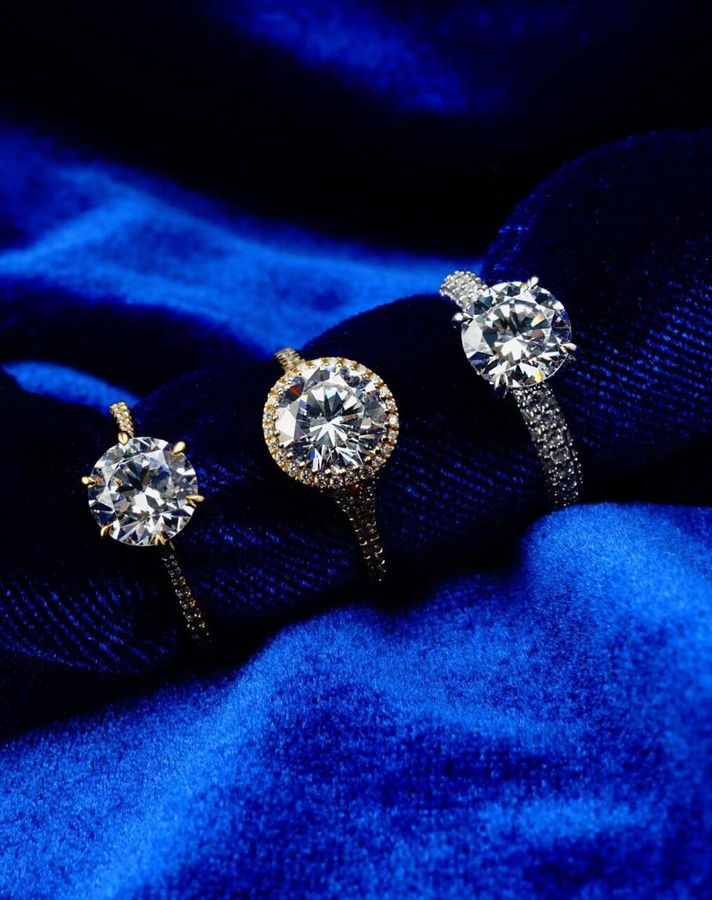 15.02.23
Surprise Proposal? Opt for a Placeholder Ring
By Stephanie Dore
When it comes to popping the question, tradition would have you thinking that the only possible route to "yes" is an ambush. You know, a totally surprise proposal complete with their dream ring (even though you, like, never talked about it, ever). But let's get real. These days, that's less and less of a thing. In fact, more often than not, couples today are talking about it well beforehand, and even shopping together too. And there's no reason that the ring — which most of you still say you want to wear every day — shouldn't be a collaborative effort. After all, some of us are old enough to remember what happened when Aiden presented Carrie with that pear-shaped, yellow gold stunner, right? No one wants the ring that, well, they don't want. But what if you want the best of everything? Well, not to worry darlings, this is where a placeholder ring can do the heavy lifting.
What is A Placeholder Ring?
A placeholder engagement ring is pretty self-explanatory but we'll humor the question. It's basically a stand-in ring that puts a hold on your ring finger until the real engagement ring comes along. While your mind might go to twist-ties, rubber bands, or other homemade props that some cute rom-com made up, we're talking about actual rings made of precious or semi-precious materials. That you can even actually wear. Imagine that.
Why Would You Buy A Placeholder Ring?
Lots of reasons! Placeholder rings are today's hottest trend because they really tick all the right boxes. Here's how:
Shock and Awe
You know you (or your partner) wants a surprise proposal. Yay for that. But picking out an engagement ring that someone else is going to wear forever is a lot of pressure on top of that! And no one needs the added stress of choosing a ring when you're just trying to keep all the proposal details in order. So getting a simple placeholder ring lets you concentrate on the experience, while still having a beautiful ring in hand when you're (probably) down on one knee!
You Don't Get It
We're not all jewelry people, it's okay. And it goes both ways. Maybe your partner doesn't regularly wear jewelry, so it's harder to determine their jewelry style preferences. Or they wear a lot of different jewelry, making it hard to determine what their ONE style is. Or maybe you just don't get it. And that's all gravy. The only thing you really need to know is that they're the one for you, and then you pop that placeholder on their finger and go from there! It takes the pressure off talking about rings before you're engaged, and lets you kick back and pick together after the fact. There's nothing better than opening a bottle of your favorite bubbles and browsing styles online from the comfort of your couch. And doing so with a placeholder ring in hand makes it all the more romantic.
Design Matters
can take a few weeks to create. You can get a placeholder, pop the question, then sit down together and design! Our style quiz lets you pick all your dream ring details and get a free sketch — and you can do it as many times as you like until you find just the right combination.
No Pop Quiz
And of course, if you're just plain not sure what style your partner wants in their engagement ring, a placeholder ring can save you from having to deep dive into their Pinterest boards or secretly quiz their family and friends…not to mention having to guess at their ring size!
What Does a Placeholder Ring Look Like?
This is a super great question, with an easy answer (that you'll probably hate) — a placeholder ring can look like anything you want! Which, we know, is a bit overwhelming. So, our advice? Keep it simple, of course. The best way to avoid a miss when it comes to ring style is to go for simplicity. Besides, the ring is a stand-in and you don't want to go too over the top with something that they're not into and ruin the big moment. A classic diamond solitaire placeholder engagement ring oughta do the trick. And we've got plenty.
In fact, you can get most styles in our collection as a placeholder, crafted in sterling silver (plated with 18k gold or rhodium) and set with a cubic zirconia stone between one and two carats. These placeholders cost $150 and, post-proposal, can be traded in toward your real ring purchase of $4,000 or more. The ring will give you the look and feel of the real thing, without feeling like you're committing to something you're not 100% sure of.
More Options!
We also offer a second placeholder engagement ring option, fittingly called the "Surprise proposal", which allows you to set your choice of diamond in a simple four-prong white gold setting. In this option, you choose and pay for your diamond and solitaire setting up front, and we'll credit the setting cost toward a custom setting you and your partner create together at any point! This is a great option if you want to pick the diamond out but want your partner to be able to choose the style of ring they like, or when you're creating a custom design. This way you'll have the real diamond to work with and your partner will be able to get a better idea of the size and shape of the real thing! If the surprise proposal sounds right for you, email your designer to get it set up!
Float Your Boat
No matter which placeholder ring option you choose, our engagement experts are here to help! Explore our collection of signature engagement ring styles, check out our diamond search where you can view 360-degree images of more than 10,000 diamonds, and don't forget to zoom out (because size can be deceiving) or book a virtual or offline appointment at our New York or San Francisco salons to view certified lab-grown, natural diamonds and moissanite in person.
Not finding what you're looking for? Email us with what you're looking for at hello@frankdarling.com. We'll curate a list of 5-7 exclusive stones that are just right for you.