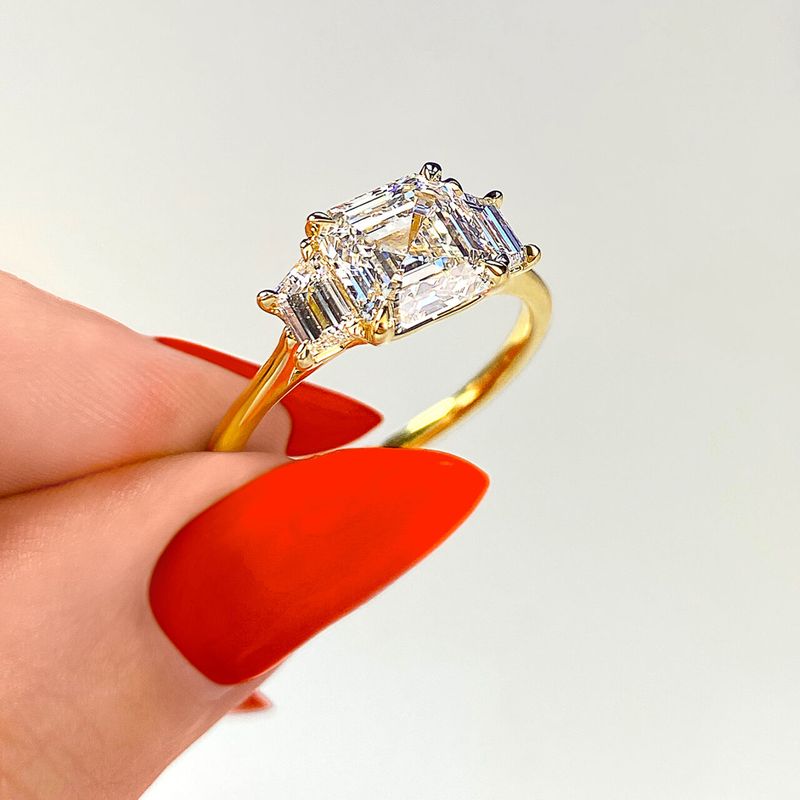 19.07.19
These Celebs are Rocking Asscher Cut Engagement Rings
A Symbol of Wealth
On the red carpet, this fetching and fancy shape has quickly become known as a symbol of wealth. The table of the stone is flat, offering an unobstructed view of the diamond. This glassy shape tends to showcase its color and inclusions. This requires the buyer to purchase a higher quality diamond then they otherwise might.
To make things more costly, the Asscher is bottom-heavy. This makes it appear smaller than other diamonds of similar carat weight. In search of an Asscher cut engagement ring? You'll likely need to purchase more carat to get the same look of a less expensive oval, or pear shaped diamond.
Asscher cuts look best when they're large, colorless and inclusion free. An expensive proposition for any non-celebrity diamond buyer. Lucky for you, lab-grown Asscher cut diamonds are an affordable alternative that puts the look within reach of mere mortals. Never has it been easier to get this modern vintage look in a carat, color, and clarity that would make Elizabeth Taylor blush.
These are the ultimate Asscher Cut engagement rings rocking the red carpet.
Pippa Middleton's Engagement Ring
Zooey Deschanel's Asscher Cut Engagement Ring
Three carat Asscher cut diamond set in platinum. This three carat pavé setting has an estimated cost of $40,000.
If there's one takeaway from these rings, when it comes to Asschers, more is better. A halo adds a glamorous, decorative touch to this otherwise refined cut. A pavé band adds just a hint of sparkle.
If you're not of the mindset that more is more, consider dialing your Asscher cut ring back. A simple, sculptural bezel or classic solitaire setting can be beautiful. This cut is bold enough to stand on its own and beg the question — where did you get that? Regardless of whether you dress it up or down, an Asscher cut's simple sophistication makes for a timeless engagement ring. Discover our collection of Asscher cut engagement rings, designed by Elise Coleman.
Channel Your Inner Celebrity
Take the ring quiz and get a free sketch of your dream ring. Choose all the details like setting height, side stone shape, and snag-free prong. Get a celeb-inspired look that's uniquely you.