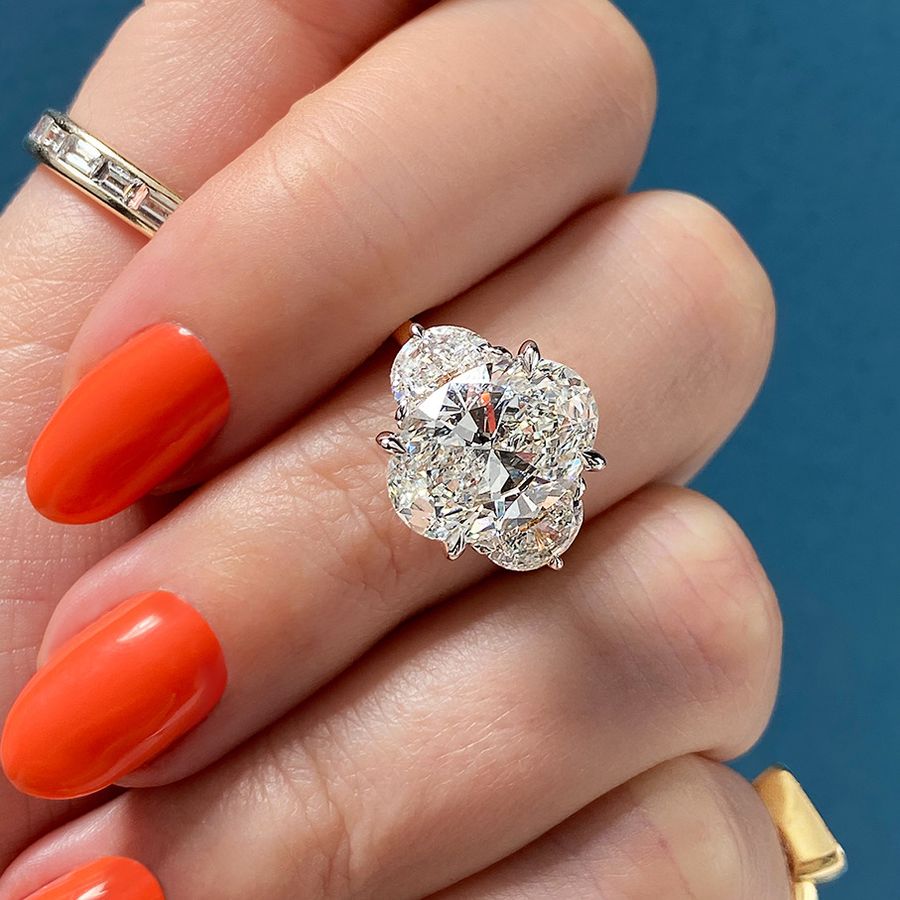 15.06.22
Epaulettes, Trapezoids, and Every Alternative Diamond Shape You Should Meet
By Stephanie Dore
Grunge, indie, underground, noise…alt rock means a lot of different things to a lot of people. But to us, alt rock is the diamond shape you didn't see coming. The one that stands out from the commercial in-crowd. The one of a kind shape that sends your engagement ring to the top of the charts. An alternative diamond shape can be the star or, just like a stellar backing band, bring unique, flattering flair to the show. So let's dig in, darling, and discover the alt rocks of your engagement ring dreams.
The Basics
Before we talk alternatives, let's do a quick rundown of the standard diamond shapes you'll find at most retail jewelers. Because there isn't just one. There are TEN in fact. Round diamonds, of course, are the most popular diamond shape by a long shot. They make up more than half of the engagement rings in the market. And they cost more than other shapes because of this popularity. Then there's the princess cut, emerald cut, Asscher, oval, cushion, pear, marquise, radiant, and the polarizing heart cut diamond. These 10 shapes are what you'll run into most frequently. But there are so many more! Let's take a look:
Trillion
Ok, so trillion cut diamonds aren't too far out of the box. But because they are what they sound like — triangular, and therefore uneven no matter which way you turn them — they often aren't thought of as a center stone. You'll most often see them as side stones for larger, show stopping center diamonds because they create a nice transition from a big stone to a thinner band, and lots of finger coverage. This is an awesome way to utilize them, but we also love a trillion as the main attraction.
You can find lots of variation in trillion names and cutting styles, from super straight sides to slightly curved. You can even set them upside down for a cooler than cool pyramid look. If you're getting them as side stones, work with your jeweler to find a perfectly matched pair. And just make sure the points are protected in the setting so you don't snag or chip your stone!
Trapezoid
Like trillion cuts, trapezoid cut diamonds are often found as side stones in three-stone style engagement rings. They're like the uber-pumped up version of baguette side stones because they offer a wider overall look that works well with larger center stones. Trapezoid diamonds can be sourced with either brilliant cut or step cut facets, and we typically recommend matching the cutting style of your center diamond for a cohesive look.
Step cut traps look amazing with an emerald cut center, for instance, giving you major hall-of-mirrors, Art Deco-style realness. Meanwhile, if you're going for, say, a radiant or an oval cut center you might want brilliant cut traps on the side. Can a trap be your center stone? Why the heck not? Ever thought about facing two traps together in a hexagonal shape? We sure have. Wouldn't it be cool to pick two different color diamonds or gemstones and make that happen? Our designers would love to help you customize a unique trap look.
Kite
In case you haven't noticed yet, most diamond shapes look just like their names. It's definitely true of the kite, just without the tail! Kite shaped diamonds are super pointy, with an off-center horizon line (meaning one end is longer than the other) with an elongated shape that can make for a super edgy center stone when set north-south up and down the finger. Or go east-west if you like that off-kilter look with more finger coverage. You can pair a kite with a custom-fit pointed diamond band to create an on-trend stacking look.
Lozenge
A lozenge cut diamond is very similar to a kite except it's horizon line is centered, so the two elongated points are even. So it's basically like a deck of cards diamond. You can also find them with cut points, like a stretched out hexagon, which we adore. Lozenge cut diamonds look fantastic set either horizontally or vertically on the finger, depending on personal preference.
Shield
Ok so take a kite and cut off one tip and you'll have a shield cut! They look like their name, very superhero, very cool. Typically 5 or 7 sided, shield cuts kind of look like the side profile of, well, a diamond, but they can come in lots of different length-to-width ratios and slight cut variations. You can get a wide one, a super elongated look, or anything in between. They make for show stopping center stones or very cool three-stone accents too.
Epaulette
Named after the ornamental shoulder accents of, say, a military uniform, that they echo the shape of, epaulette diamonds are like a cross between a shield and a trapezoid. They're typically wider and squattier like a trap, but with points on the bottom like a shield. They make spectacular side stones in a three-stone engagement ring and come in plenty of different proportions to match your center stone.
Bullet
Bullet cut diamonds are very similar to baguettes, except one of their short sides is pointed instead of flat. And you can find tapered or straight bullets just like baguettes. They are mostly used as side stone accents and their available sizes reflect this. I.e. you're less likely to find a large one. But we also love them stacked with other side stones for major finger coverage.
Rose
Rose cut diamonds have been around forever. Their distinctive faceting pattern — like a geodesic dome — gives them a subtle, rainbow flash look instead of super bright brilliance and they look great in vintage-inspired styles because of this. They're also cut with flat bottoms instead of a deep pavilion, so if you're after the lowest of low profile engagement rings, a rose cut might be just the ticket.
Hexagon
Hexagon cut diamonds are having a bit of a moment as a stunning center stone option. They are most often found with step cut facets like an Asscher or emerald cut stone, giving them a very mesmerizing look that's also got some Art Deco-y flair. Hexagons are often cut quite shallow, which, combined with their step cut facets means you'll likely want a higher clarity stone because inclusions can be seen a bit easier through this window-like shape. That said, salt-and-pepper hexagon cut diamonds are very cool too, so you can play up their uniqueness and save some cash at the same time.
Octagon
Octagon cut diamonds are a bit more rare than hexagons, but also make quite a statement. With all their extra sides, octagons do start to look a little more like a round cut diamond, especially at smaller sizes. Go bigger if you really want the full effect. You can find them with either step cut or brilliant facets.
Half moon
Another slightly more classic shape for side stones are half moon cut diamonds. While half moons do have a bit of variation in length-to-width ratio, it won't be as noticeable as in more elongated shapes. Half moons are very elegant as sides for a soft, romantic cushion cut diamond or an oval cut, and are usually brilliant faceted so they'll match brilliant cut diamonds best. We also love the idea of a cantilever-set half moon engagement ring if you're up for it!
In the Cut Grade
While the above is certainly not an exhaustive list of diamond shapes, it's a good start. But you'll want to remember — when shopping for any fancy shaped diamond — that they do not have official, industry standard cut grades. Only round diamonds do. This means you'll really want to look closely at the stones you're choosing to make sure that they are well cut and have plenty of sparkle. Our expert design team can help source beautifully cut diamonds in any shape you're after, and provide photos and video to make sure you're satisfied with your diamond choices before you commit.
Ready to design your dream ring?
Explore our signature collection for some engagement ring inspo, or start with a diamond search if you prefer to focus on the stone itself. Then, no matter what shape you're into, you can get a custom design (complete with a free sketch!) by taking our style quiz. Need a bit more help? Email our team at hello@frankdarling.com with a bit about what you're looking for, and your budget, and we'll get you sorted!