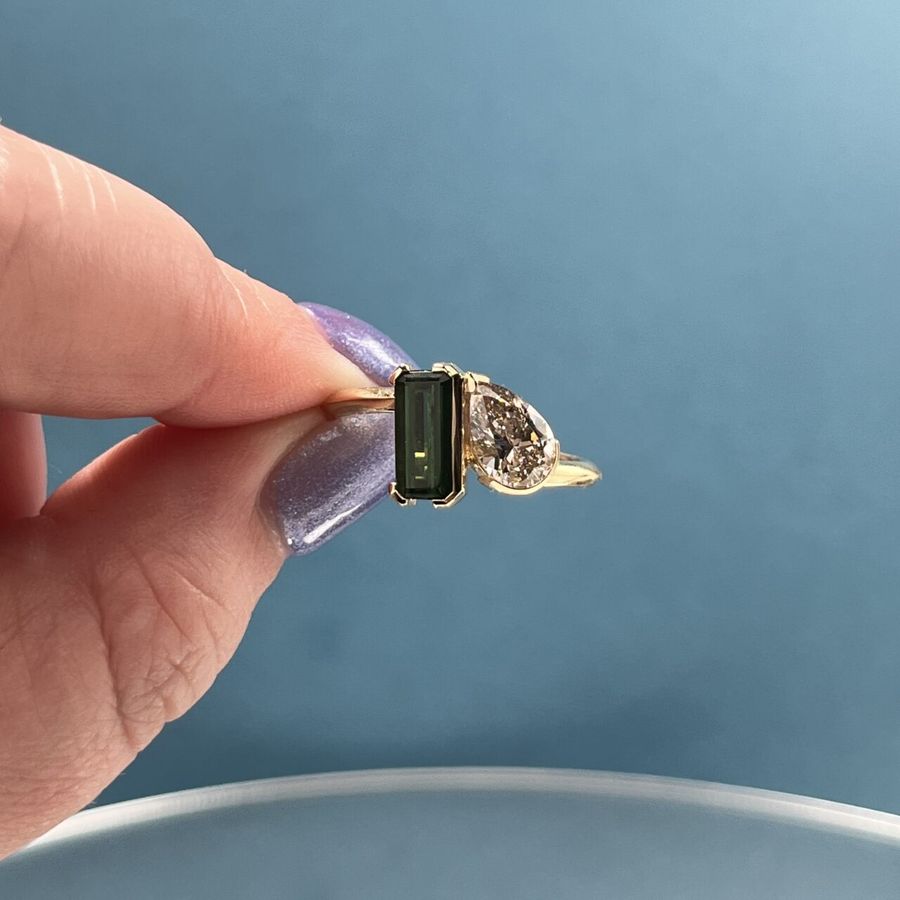 03.05.22
How to Elevate Your Birthstone Jewelry
By Stephanie Dore
Here's the deal, darlings, most birthstone jewelry on the market today is a little dull. Which isn't too surprising given the modern birthstone chart has been around for over a century. Birthstone jewelry makes an easy gift, but unless you're really on the hunt for something unique, you might end up wearing the same gemstone pendant as everyone else on the mall circuit. And no one wants that. Because all jewelry should be personal and reflect your style, birthstones or not. So here are some of our favorite ways to incorporate birthstones into your jewelry collection and customize birthstone jewelry to suit your style.
What (Not) to Wear
Before we take a deep dive, let's get some wearability questions out of the way. Because not all gemstones are created equal. Diamond is great for everyday wear in any style of jewelry because it's very, very hard. But other gemstones, not so much. There's this little thing called the Mohs Scale of Hardness that can help ya out, though. Diamond is a 10 on the scale, and everything else is, well, lower.
Corundum (sapphire and ruby) is a 9, topaz an 8, quartz a 7…you get the idea. Well, if you're looking below an 8, which includes many semi-precious gems, we don't recommend wearing those gemstones in an everyday ring or bracelet, which take harder wear. Necklaces and earrings are fair game though! Are there exceptions to the rule? Sure. If it's a special occasion-only piece of jewelry, or well protected, then you can go a bit lower in hardness. Just keep in mind that the result of wear will be scratching (maybe even chipping) and wear to its crisp, bright facets, resulting in a dull stone that's no fun to anyone and cannot be easily repolished.
And now, on with the show:
January: Garnet
Most often seen in a deep, blood red shade, garnets actually come in a spectacular range of colors including rich pinks, bright reds, oranges, and greens from bright lime to kelly to deep olive. Sure, deep red is more widely available but that doesn't mean you have to settle if you don't love it. This also means you can create some pretty unique cluster jewelry combining multiple shades of this gorgeous gemstone. We love the idea of a red-to-pink ombre garnet ear crawler showing off these great shades. Or a bright green garnet pendant set in yellow gold and perfect for layering with your on-tend gold chains. Garnets are a 6.5-7.5 hardness.
February: Amethyst
Amethyst is the purple or violet variety of the mineral quartz and a 7 on the Mohs scale of hardness. Comparatively, it's a readily available semi-precious gemstone so amethyst is quite affordable, but it only comes in one color: purple. Other colors of quartz have different names, like rose quartz, citrine, or even tiger's eye. But amethysts are always purple! We love choosing a super modern setting for amethyst, which balances out its slightly more feminine associations. Try a sleek bezel setting, maybe, which would also help protect this softer stone if you want to wear it in a ring. We also love an elongated amethyst oval or emerald cut pendant set east-west style in the metal of your choice.
March: Aquamarine
Aquamarine is a pale blue to pale green variety of beryl (the same mineral as emerald!) and gets a 7.5-8 Mohs. While still considered a semi-precious stone, aquamarine have gained popularity for engagement rings as well. We love the clear, water-like hue of this stone, which looks extra icy accompanied by diamond side stones. A stunning aquamarine set in a diamond halo oughta do the trick. Or pair them with pearls for a gorgeous drop earring! Our designers can help you customize aquamarine jewelry to suit your style, whether that's classic, edgy, or anything in between.
April: Diamond
Do we really need to go into detail here, darling? Of course! Diamonds are the hardest gemstone and suitable to any style of jewelry. Diamond birthstone jewelry should reflect your personality. Scatter a few sparkling diamonds on a wide gold band, maybe. Or go with pave diamond hoop earrings. Want a classic birthstone jewelry gift? You literally cannot go wrong with diamond stud earrings or a diamond tennis bracelet. Choose a diamond shape you like and a metal color you love and you're good to go.
May: Emerald
Emerald is the green variety of beryl, and a 7.5-8 on the Mohs scale. Along with diamonds, rubies, and sapphires, emerald is considered a precious gem for its unique qualities and rarity, which also means it's a bit pricier than other gemstones. But we think it's worth it once you get a glimpse of its gorgeous green hue. Rich emeralds look best set in bright yellow gold, which enhances their color, but if you love white gold or platinum you can choose a two-tone emerald setting that gives you the best of both worlds. A dainy bar-set emerald ring would be a stunning birthstone gift. As would an emerald drop pendant to layer into your necklace stack.
June: Pearl, Alexandrite, or Moonstone
The classic birthstone for June is a pearl, but if you're looking for a true gem, alexandrite and moonstone are both considered June birthstone alternatives. Alexandrite is one of the coolest gemstones out there, with unique color-change properties, which make it look different colors in different light. It's also a whopping 8.5 on the Mohs scale, making it suitable for everyday wear. We love an alexandrite ring, which will really show off its stuff, and you can accent it with purple, green, or bluish side stones to amp up the color factor. Moonstone, which is only a 6-6.5 on the Mohs scale is not the best option for rings, but perfect in a shimmering moonstone pendant, accented with tiny sparkling diamonds. Want to play up your birthstone? Pair pearl and moonstone together for a super dreamy birthstone necklace!
July: Ruby
Rubies are a 9 on the Mohs scale, and the red variety of corundum (the same mineral as sapphire). They're suitable for any type of jewelry so ruby birthstone babies, you're in luck! Rubies are really only one color, like amethyst, but you can pair them with diamonds or other gemstones if you want some variety for a cluster style ruby ring, perhaps? Or try a ruby cut in a unique shape for some stud earrings or a ruby pendant. Our gem experts can work with you to source beautiful rubies and make sure they're perfectly matched if you want a set. Since ruby is a very classic stone, we love amping up the edge with unique, modern settings. An east-west set ruby pendant, a ruby signet ring, or even an eternity band will do the trick.
August: Peridot
August's birthstone is peridot, and it's a brilliant limey green that looks spectacular set in yellow gold. Peridot is a 6.5-7 on the Mohs scale, so we suggest sticking with some peridot earrings or a peridot necklace to keep these stones safe from wear. Luck for August babies, bright neon hues are totally on trend and peridot will fit right in with fashion. It's also a relatively affordable gemstone so you can max out on size and shape, really getting more color for your money here. Our designers can help you come up with a unique pair of perfectly matched peridot earrings, which would also look spectacular with some pave diamond accents if you're into it. Or a bar-style pendant perhaps, with a row of baguette cut peridot gems for something edgy.
September: Sapphire
September's birthstone is the super classic sapphire, which comes in tons of different colors, not just the popular deep blue. Think: pink, yellow, white, purple…the list goes on. And like it's corundum cousin, ruby, sapphire is a 9 on the Mohs scale, making it ideal for all types of birthstone jewelry. We love taking advantage of the wide range of sapphire colors for an ombre effect cluster ring. Or stack up a few sapphire eternity bands in different shades, which you can add to over the years!
October: Opal or Tourmaline
The traditional October birthstone is opal, one of the most unique gemstones out there. Its rainbow hues and bright flash draw the eye and every single stone really does look different from the next. Opal, however, is quite soft, measuring 5.5-6.5 on the Mohs scale. This means sticking to opal earrings and necklaces to protect the stones from damage. We love bright white rainbow opals paired with a dusting of pave diamonds, or try a bezel set opal for a modern look. If you want a more traditional cut gemstone alternative, tourmaline is also considered and October birthstone and it's a bit tougher at 7-7.5 Mohs scale. A pink or green tourmaline pendant would be stunning, and you can get that ombre effect with this unique stone.
November: Topaz or Citrine
Doing its fall best, November's birthstone is the topaz or citrine, both of which come in rich orangey hues. Topaz, however, is also available in several other colors including white, blue, and pink. It's also an 8 on the Mohs scale, so topaz is great for most types of jewelry. Try a multi-hued pair of topaz drop earrings or a topaz cluster ring, for instance. Citrine on the other hand is limited to orangey brown in color, known for its golden hues, and a 7 on the Mohs scale. This bright quartz variety offers a super sunny look set in yellow gold, and best for citrine earrings or necklaces.
December: Tanzanite or Blue Topaz
December has two different options for birthstones. The more common one is blue topaz, which is more widely available and affordable than tanzanite. But tanzanite is also quite stunning with its deep violet blue hue. Tanzanite is a bit softer, a 6-6.5 Mohs, where topaz is an 8, so if you're at all concerned about wearability, topaz is your safer bet. We adore a pair of tanzanite earrings, accented by icy white diamonds, please, darling. Or a blue topaz ring would be stunning. Set a topaz in a bezel for extra protection and a clean modern look.
Your Birthstone, Your Rules
No matter which month you or your loved one was born, choosing birthstone jewelry or your favorite colors is a totally personal thing. Our expert design consultants and gemologists can help you mix and match to suit your style, and source just the right birthstone gem for you. Want to incorporate your whole family's birthstones into a piece? We do that too!
Drop us a line at hello@frankdarling.com and our team will work with you on budget, style, and stones to create the perfect birthstone jewelry of your dreams!