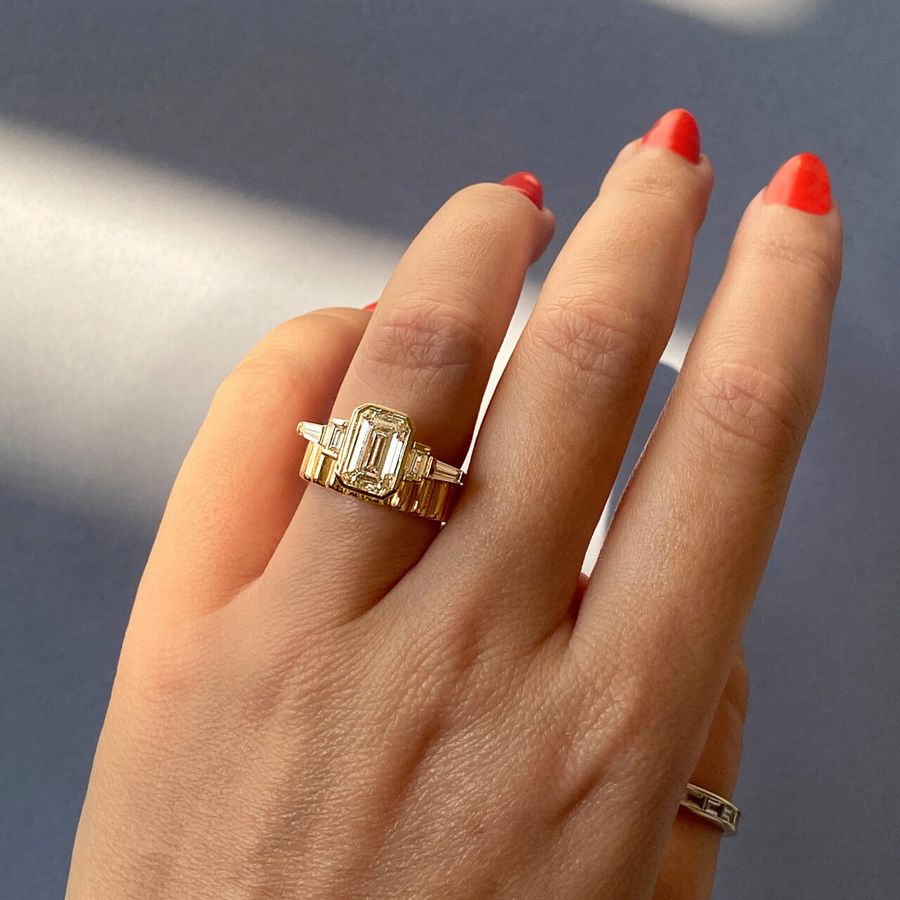 21.010.21
The Best Mixed Metal Ring Stacks
When it comes to wedding ring stacks, we love a good mix. And by that we mean mixed metals, gasp! While some might say this is a major faux pas, darlings, we disagree. In fact, we think the best ring stacks create balance and add an element of excitement that keeps your fingers from feeling formulaic. So say goodbye to single-metal engagement rings and wedding ring stacks, and hello to mixing it up with as many metals as you admire. Here's a few of our fave mixed metal ring stacks to get your ring insp file started.
Entree Vous
Just want to dip your toe into the mixed metal pool? A two-tone engagement ring is the ticket. And it actually has functional benefits too. For instance, you love yellow gold but want a bright white (i.e. colorless) diamond. Well, if you set that diamond in yellow gold prongs, there's a pretty good chance it'll look like a lower color grade than you paid for, and that's just no good. Enter, the two-tone engagement ring. Yellow gold band with platinum prongs is the most popular. Plus platinum offers extra security for your diamond setting. You really can't go wrong. But also, the opposite scenario is true — buying a warmer diamond or fancy color stone? Set it in yellow gold on a white gold ring. Or a pink diamond in rose gold…you get the idea.

Matchy Unmatchy
We also love the idea of matching your wedding band metal to your engagement stone color — if you're going for color, of course. For instance, a yellow diamond set in an all platinum engagement ring with a yellow gold wedding ring nestled in next to it. Match pink to rose, white to white, a sapphire stone to a sapphire band. Ok, that's not mixing metals, but it's still mixing it up, and we're all for it.
Join the Band
If you're doing a two-tone engagement ring and want to just pump it up a little bit, add in a mixed metal or two-tone wedding band. Adding a platinum wedding band to your yellow gold (with platinum prongs) engagement ring gives it all a super purposeful flair and plenty of balance. Or add rose gold bezels to a white gold set, for a little blush effect. Even if you don't have a two-tone engagement ring, you can mix up your band and engagement ring metals just for the fun of it.
Three Way
One of the most fun, yet still totally classic, ways to mix your metals is by trying one of each. Yellow, white, and rose gold bands all worn together give you a surprisingly cohesive and subtly colorful look. You can find them all in one with an intertwined style or keep them separate so you can mix and match or wear one at a time. We love it with plain metal bands, but also super recommend a little three-color stack of pave diamond eternity bands for subtle color and extra sparkle.
Split the Diff
There are tons of two-tone wedding band styles we love, whether it's banded or twisted or braided, what have you. But this is also a fun style to stack. Have a white and rose gold twisted band? Pair it with a plain white gold and diamond sparkler on one side and a twinkling, rosy diamond band on the other. You'll play up your color choices and textures at the same time. Which means win win.
Sandwich Somethin'
Did you get engaged with a plain white gold or platinum engagement ring but find yourself craving a little bit of color? Shopping for a wedding band stack is your chance to dive in. Pair a wide yellow gold cigar band with a dainty platinum engagement ring, for instance. Super bold, out of the box, you got this. Let's call it open-faced. Or go a bit more full-on with a couple of diamond and rose gold stackers on either side of your engagement ring for a true sandwich look.
Halo Effect
Looking for a lil more sunshine in your life? Try surrounding your white metal engagement ring with two curved diamond bands in bright yellow gold. It's like literally giving your center stone a halo of sunny side up goodness that, well, lasts a whole lot longer than brunch. Just make sure that any curved or pointed band is fit specifically to your center stone so it sits just right.
Mix Your Own Match
Ultimately, when it comes to creating your ideal ring stack, there are no rules. Explore our collection of engagement and wedding rings that you can pick in any metal color, or customize your dream ring with our style quiz and get a free sketch! Need a bit more style advice? Send us your ring inspiration (and a bit about your budget) at hello@frankdarling.com and our jewelry experts will help you find the perfect match.