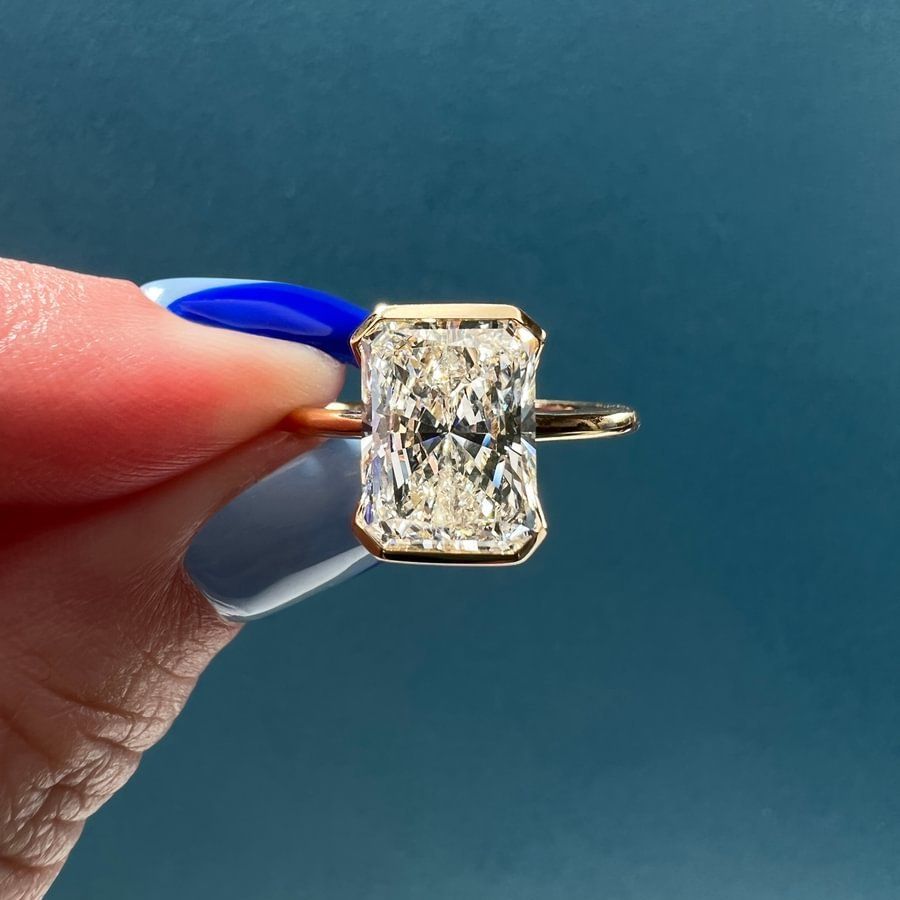 01.010.22
The Top 7 Ways to Wear a Radiant Cut
By Stephanie Dore
A bit like the Cinderella of the diamond shape world, a radiant cut diamond does all the work and gets no credit. They make up the tiniest sliver of the market and we think it's because they're just a bit misunderstood. But the beauty of getting yourself a radiant engagement ring is that no one else will have one! Ok, well maybe not no one. But they're like a superpowered, undiscovered treasure. They've got all the sophistication of an elongated emerald cut diamond but all the brilliance of a princess cut, meaning you'll get the best of both worlds. Plus, their cut corners mean less breakage and more setting options, which is never a bad thing. But how to wear one? Well, that's another decision you'll have to make for yourself. But here are some of our favorite ways:
Solo

Look, we're gonna start you off with something simple, and that's the radiant cut solitaire engagement ring. Now, a solitaire can be many things, it just means your diamond will be flying solo, with no other diamonds to keep it company. Not to worry, though, the radiant cut is a bit of a show off. So let it do the work in drawing attention with a skinny four-prong solitaire setting. Think: Less is more, but designed to keep your diamond secure while it snuggles up to your fave wedding band because this beauty sits flush. The skinny is our most popular solitaire for a reason.
A Little Extra
If that's a little too low-key for you, but you still want to keep things classic, try adding some pave diamond accents! Nothing crazy, just a hint of extra sparkle like a 3/4 French pave band that gives you the look of an eternity band without being, well, an eternity band. This delicate, diamond-forward look gives you just that little extra oomph.
Too much? Go for a more subdued sparkle with a radiant cut hidden halo ring. Instead of a traditional halo that surrounds your diamond with more diamonds from the top view, a hidden halo is like a stunning little secret just for you. The tiny accent diamonds sit facing outwards around the basket of your center diamond, so you can see them when the ring is on your finger but it's less obvious to others seeing it from the top. It's low profile, stackable, and sparkly in all the right places — and might just be our favorite radiant cut engagement ring yet.
Sideways
If you've been following along with FD for, oh, more than a second, then you might have noticed we're all about the sideways diamond trend. And by that we mean the east-west set engagement ring. You know, where an elongated diamond shape (emerald, oval, marquise, etc.) is set across your finger instead of the traditional up and down direction. It's everything. And the radiant diamond east west setting is no exception.

Take the plunge with our newest radiant cut style, featuring a sleek, sculptural, and ultra low profile setting. Or go more geometric with the double clutch, featuring half bezels on the east west edges of the stone with extra supports spanning the basket down below. This one also shows off a super-hot 1.5mm square band, and is thoughtfully designed to stack flush with most wedding bands.
Barely There
While most radiant cut diamond engagement ring settings feature four prongs that sit on the stone's cut corners, it actually doesn't have to be that way! We decided to switch things up with our signature clutch style. The sweeping structural style has barely there half bezels and an open modern gallery. The clutch is the minimalist style built to stand out.
Surround Sound
If the idea of super tiny prongs has you clutching your pearls, or you're just a super active human who needs something a bit lower maintenance, then the full bezel jacket is for you. Meet: The lowrider. Super elegant without being at all fussy, this full bezel set radiant cut engagement ring sits extra low on your finger and keeps your diamond (sans prongs, ofc) from snagging your fave sweaters. It's anything but boring, though, with its faceted, geometric bezel and open wireframe gallery. Because it sits so low on the finger, this type of setting won't sit flush with a wedding band, but there are options for that too!

Like our modern, airy bezel set ring that floats a bit higher off your finger while still keeping your diamond surrounded by a thin rim of metal. This Art Deco inspired, radiant cut engagement ring features a thin band, barely-there bezel, and split cathedral shoulder for a timeless look that's always in style. And yes, stacks with a band that slips just under that bezel edge for a smooth finish.
Off Kilter

For those looking for something that stands out from the crowd, to be truly one of a kind, we suggest trying something that hits… well, sits, different. And by different we mean off-center. As in our east west set cantilever diamond engagement ring. This edgy, jaw dropping style is sure to turn heads because the diamond sits just off center of the band, instead of right on top. Bonus of this style? It's super low profile and you can stack to your heart's content on the band side of the ring. Really, it's the perfect foundation for a modern engagement ring stack.
Blinged Out
If all of this is chill but you're not, then go all out with a radiant cut three stone engagement ring. That's right, you can knock them (well, yourself really) off their feet with not one but three radiant cut diamonds. Perhaps with a bold, Art Deco-inspired ring that boasts phenomenal finger coverage (because the more diamonds the merrier, right?). Our breezy three-stone features side stones floating atop an open gallery that leaves your fing super stackable, sophisticated, and sparkly — for maximum impact with minimum maintenance. Or go for a more nouveau look with gallery arches and trapezoid side stones.
What'll It Be?
When you're shopping for a radiant cut diamond engagement ring, it's always good to remember that pretty much any emerald cut ring setting design will also fit a radiant, as they have the same outline. So don't be fooled thinking there aren't enough design choices for you! Jump into our collection of signature engagement rings to get a bit of inspo or start designing your own dream ring with our style quiz, and you'll even get a free sketch!
Check out our diamond collection where you can view 360-degree images of more than 10,000 diamonds, or book a virtual or offline appointment at our New York salon to view certified lab-grown and natural diamonds in person.
Not finding what you're looking for? Email us with what you're looking for at hello@frankdarling.com. We'll curate a list of 5-7 exclusive stones that are just right for you.