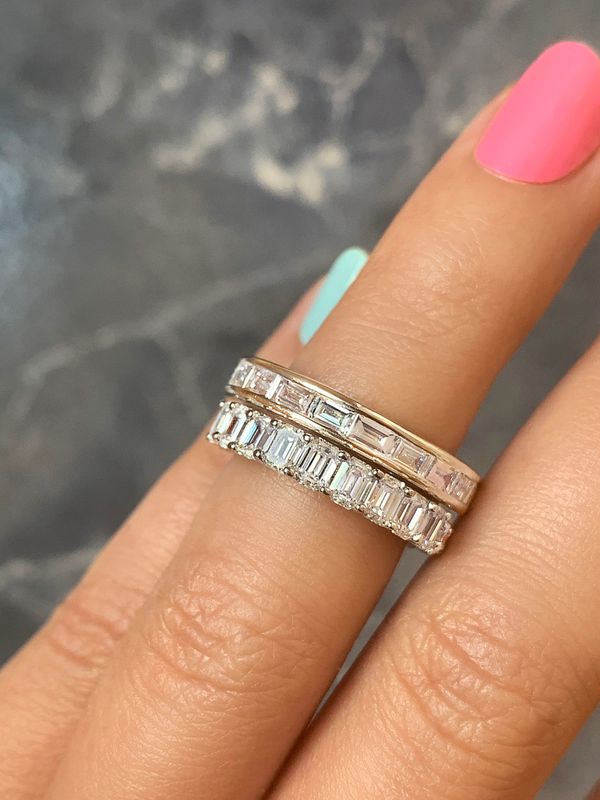 04.07.19
How to Get an Engagement Ring for Under $1000 That Makes a Statement
If you're searching for a diamond engagement ring under $1000, lab grown is the way to go. With a lab grown diamond you'll be able to larger, higher quality diamond within your budget. Plus you'll get the added benefit of zero ethical or environmental ramifications. And while diamond mining has come a LONG way since we saw Leonardo DiCaprio in Blood Diamond, if you're going lab grown, you can be 100% sure your diamond comes with a clean bill of health.
But, just because you're on a budget doesn't mean you ring has to look small. These are our three top tips for getting a big look on a small budget, and the settings that match.
1. Choose a Cluster Setting
Cluster settings are what they sound like, a cluster. They group many smaller diamonds together to give the appearance of one larger diamond. Why is this a good thing? Diamond pricing increases exponentially, so it's always going to be more expensive to get one big stone, than five smaller stones.
Our favorite cluster style engagement ring under $1000
Sidney No. 6. This cluster setting, also known as a Georgian Beaded Rosette (also a dead ringer for Katy Perry's engagement ring, sans ruby) boasts a half carat of diamonds for $990 and reads larger than a 2 carat round diamond. It's playful, it's affordable and it certainly makes a statement.
Pair with our Caviar Bead Band for a textured, timeless look that is equal parts vintage and modern.
Sidney No. 6 shown in 18K Yellow Gold
2. Go for an Eternity Band
Similar to cluster settings, eternity bands group many small stones together for a big look. Plus, there's the added benefit of being low profile, and super easy to wear. Half eternity bands put the sparkle on top, where you can see it. They're easier to wear, and easier to resize.
Our favorite eternity band engagement ring under $1000
The VOW half eternity band. This band features eleven graduated, custom cut baguettes for a flawless fit and finish. Even better, 100% of profits donated to VOW to End Child Marriage.
This band makes a stunning alternative to the traditional engagement ring and starts at $990 in 14K Gold.
The VOW Half Eternity Band in 18K Yellow Gold
3. Nix the Pavé
If you're dead set on a solitaire, but watching your budget, you'll want to focus on the diamond, not the setting. Pavé is gorgeous, but you can always add it later by dressing up your engagement ring with a pavé band, like our 1/2 carat eternity band, or halo.
Our favorite solitaire engagement ring under $1000
Our classic round solitaire starts at $690 in 18K yellow gold which leaves $300 for the diamond. Which, in lab grown, translates to .3 carats.
Harper No. 1 in 18K Yellow Gold
4. Choose a Fancy Cut
It's not a secret that fancy cuts look larger than rounds, but sometimes we under estimate just how much bigger they look. The reality is that a .3 carat marquise looks as large as a one carat round brilliant and costs many thousands of dollars less. Ovals and pears are your next best bet.
Learn how the other shapes stack up in our visual guide to carat weight or shop our oval solitaire.
Our favorite diamond shape for getting a big look under $1000
Harper No. 4 in 18K Yellow Gold
If you're looking for an engagement ring under $1000, you don't have to sacrifice size or style. Going with a lab grown diamond is a great way to have your cake and eat it to.
READY TO GET STARTED?
Every great ring starts with a great setting, but picking a setting out online is hard — or at least it used to be. At Frank Darling, all our engagement ring settings are available for free home try-on. It's just like our website, but you can touch things.
Get started by selecting your favorite four rings We'll send you sterling silver size seven replicas set with 1 carat CZ stones.
So, what are you waiting for? Let's get started.