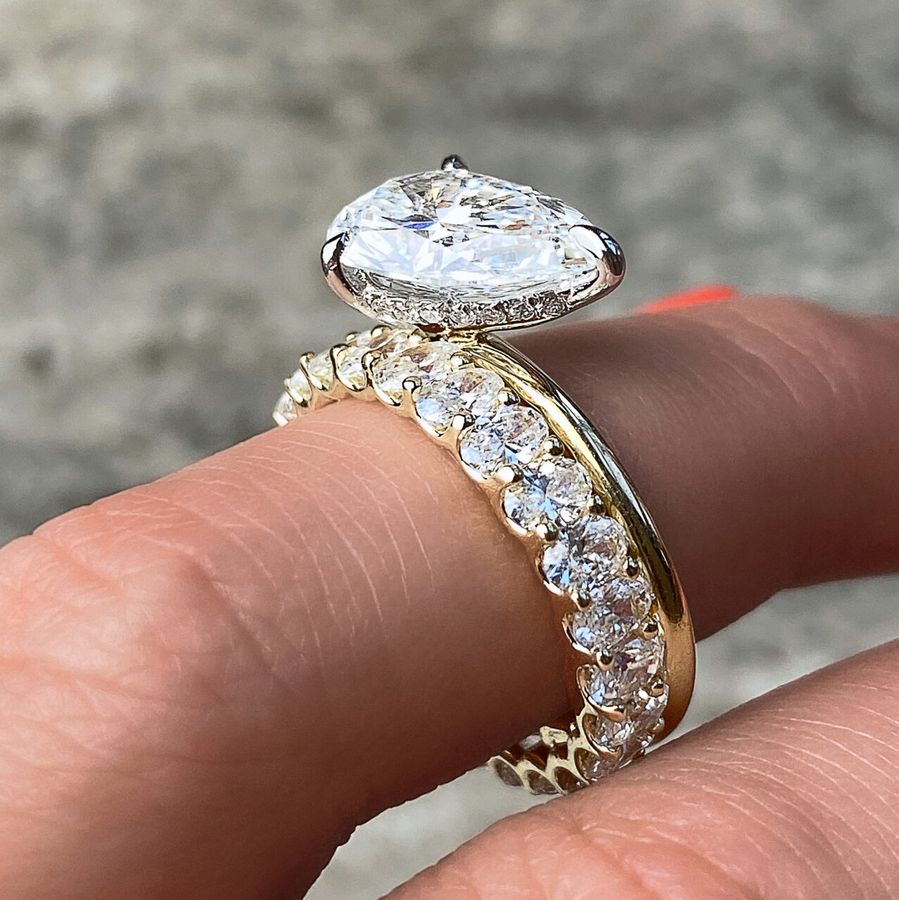 16.01.21
How to Actually Buy a 10 Carat Diamond Ring
These days, you don't have to know somebody who knows somebody to gain access to the luxuries of life. You can just whip out your smartphone, click a couple of buttons, and have them all delivered right to your door. So by no means does it surprise us if you've found yourself online, trying to purchase a 10 carat diamond ring, without ever having to leave the comfort of home. It also wouldn't surprise us if you haven't gotten very far. See, finding a 10-carat diamond that meets your—clearly impeccable—standards isn't the easiest of tasks to check off the list. So, here, my dears, we're breaking down how to actually buy a 10-carat diamond ring. In case you're in the market.
Rarified Air
Go ahead, do the standard sweep of e-commerce sites and local jewelers for 10-carat diamonds. Our guess? You'll probably see the available inventories of hundreds of thousands of diamonds quickly dwindle down to, say, 100? 10? Not to mention finding one in high color and clarity with an ideal cut grade. Unlike the millions of smaller diamonds flooding the stockrooms, the larger you go, the more limited the inventory, and the less choice you'll have in characteristics.
At Your Service
You wouldn't try to find your forever home without the help of a talented, trusted (and well-connected) real estate agent, would you? Doubtful. Similarly, the hunt for your 10-carat dream diamond requires a specialist. That's where our Diamond Concierge comes in. We make it our business to make sure you get what you want—a beautiful, sparkly, gumball of a diamond to represent your enduring love for, well, ever. But here's a few things to keep in mind before you're off to the races.
Know What You Want, and What You'll Compromise On
Before our diamond experts start digging up treasure for you, we'll work hand-in-hand to help you identify exactly what you're looking for. That means determining your budget, what shape you're looking for, whether you want a fancy color diamond, what color and clarity grades…all the details that make up the characteristics you want in a diamond. And then we'll ask you what you're willing to compromise on. And how fast you need it.
Off to the Races
Once we have a good idea of what you want, we'll work our magic to hunt down some showstopping stones to show you. But you have to be ready. Because big, beautiful diamonds are rarities, it's rare to find two that are truly similar. So if you find a good one, be ready to snag it off the market quickly! We don't want you to miss out on your perfect match, now, do we?
See Something, Pay Something
While we would usually be telling folks to stop paying for what they can't see (i.e., buying too high of a clarity grade, when a lower one would still be eye-clean), when your diamond gets bigger, so do the windows into it. With larger carat weights (anything above 3 or 4, really), you do need to pay more attention to the color and clarity grades, as these things get more noticeable with size. And you'll want to go with the most well-cut diamond you can find, to make sure you have all the sparkle you can get instead of a big, dull rock.
Perfectionism is Underrated
To get in touch with our Diamond Concierge, email us at hello@frankdarling.com and let us know what you're looking for, or book an appointment at our New York salon to view certified lab-grown and natural diamonds in person.