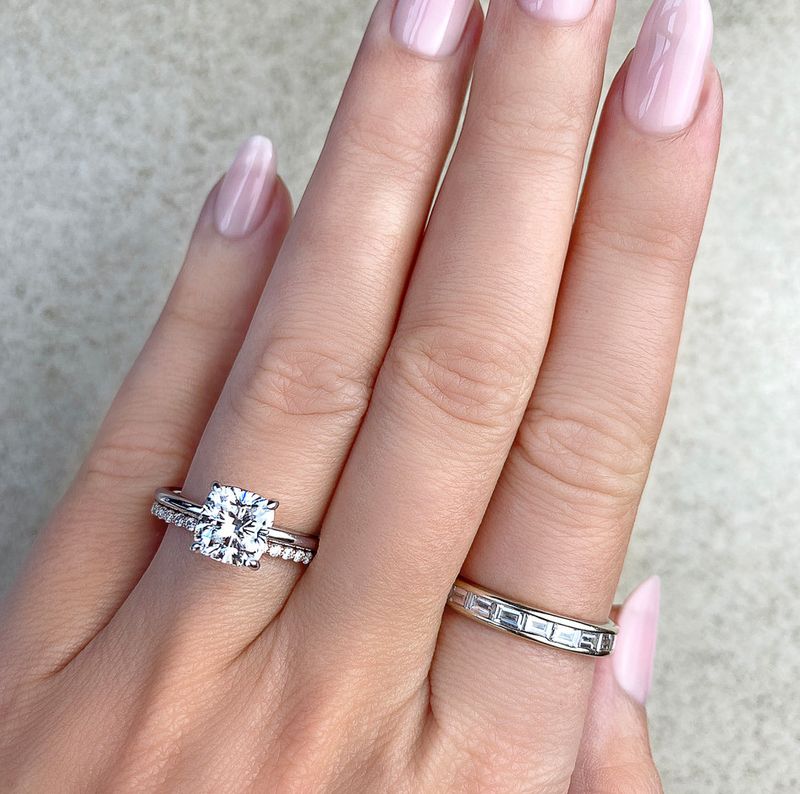 03.01.21
How soon is too soon to propose? (and what to do first)
By Stephanie Dore
"Ooh, how will I know (don't trust your feelings)?" Whitney's voice rings in my head when pondering the age old questions…How will you know if you've found the one? If it'll last? If it's too soon to propose? Well, darlings, I wish I could tell you there was a sweet spot, a magic number, a relationship equation for the perfect time frame for you to pop the question. But—while you'll find plenty of studies and relationship experts and matchmakers claiming otherwise—there just isn't. All there is is your, well, relationship. And your gut. So go with it.
Normal Ain't A Thing
Marriage proposals, like most cultural norms, have changed over the years and these days folks are waiting, on average, significantly longer to put a ring on it. They're throwing rules out the window, challenging the status quo, forging new traditions…you get the picture. So, normal? Forget about it. Whether you can't wait to waltz down the aisle or can't imagine ever doing so, the most important part is to know yourself. And while you're at it, get to know your partner! But seriously, how soon is too soon to propose?
All the Feels
While there might not be any rules, there is definitely a honeymoon phase. That stage at the beginning of a relationship when you're on your best behavior, all googly-eyed and full of feel-good brain chemicals. That's all gravy. But that's not enough to make it last. You need the lust and the love to be there before you let your ring finger do the talking. Can you talk about what you want? Absolutely. Just don't sign anything official until you're sure you've got your rational brain in check.
All's Fair
Some folks say you should spend all four seasons with someone before you propose, you know, really get to know if they're a fair weather fan of yours. But for real, it's more about going through the big stuff with someone to see how you two fare. You have to fight it out, experience a loss, celebrate a major moment. These are just a few of the things that will show you how your partner prepares, reacts, and supports you through the roller coaster we call life.
Never Have I Ever
Whether or not there are drinks involved, asking each other the tough questions—and answering honestly—is part of making sure you're not walking down the aisle with a complete stranger. Maybe you do all of that on a 3-day long bender of a first date or over the course of a decade. No matter, just get to know the nitty gritty of your partner's belief systems, lifestyle, and priorities, and yes that includes talking about money, politics, kids…the good stuff. Something else fun to talk about? The ring, of course!
Better Together
Actual proposal planning aside, shopping for the ring together is a super-hot way to start the journey, and there are plenty of ways to do it. It'll help you nail down a style that your partner will actually want to wear every day, and open the door to some more serious convos about budget and lifestyle that can sometimes be hard to bring up. And you can feel out your partner's preferences for the actual question-asking moment while you're at it.
Great Expectations
What do we mean? Most folks who've thought about marriage have thought about the proposal. What kind of memory do you want that to be? Who's going to do the asking? Will other people be involved? For some, a proposal is a very personal, private moment. For others, it's one to be shared with a wide swath of family and friends. Do you want a photographer there? Do you want to meet everyone at the pub for drinks after? Check in with your partner before you pop the question to make sure you're not going Jumbotron on someone who wants a quiet moment at home. So embarrassing.
Try it on For Size
When you're ready to find the perfect ring, we're here to (metaphorically) hold your hand through it all. So grab a bottle of bubbly, pull up a comfy seat on the couch—your couch—and let's get started! You can take our style quiz to design a custom ring, order a try-at-home kit to compare stones and setting styles, or dive right in to find the diamond of your dreams. Whatever works for you, that's what we're here to help with. Need a little extra love? Send a note to our team at hello@frankdarling.com and our jewelry connoisseurs will be at the ready to rescue you from any ring woes.