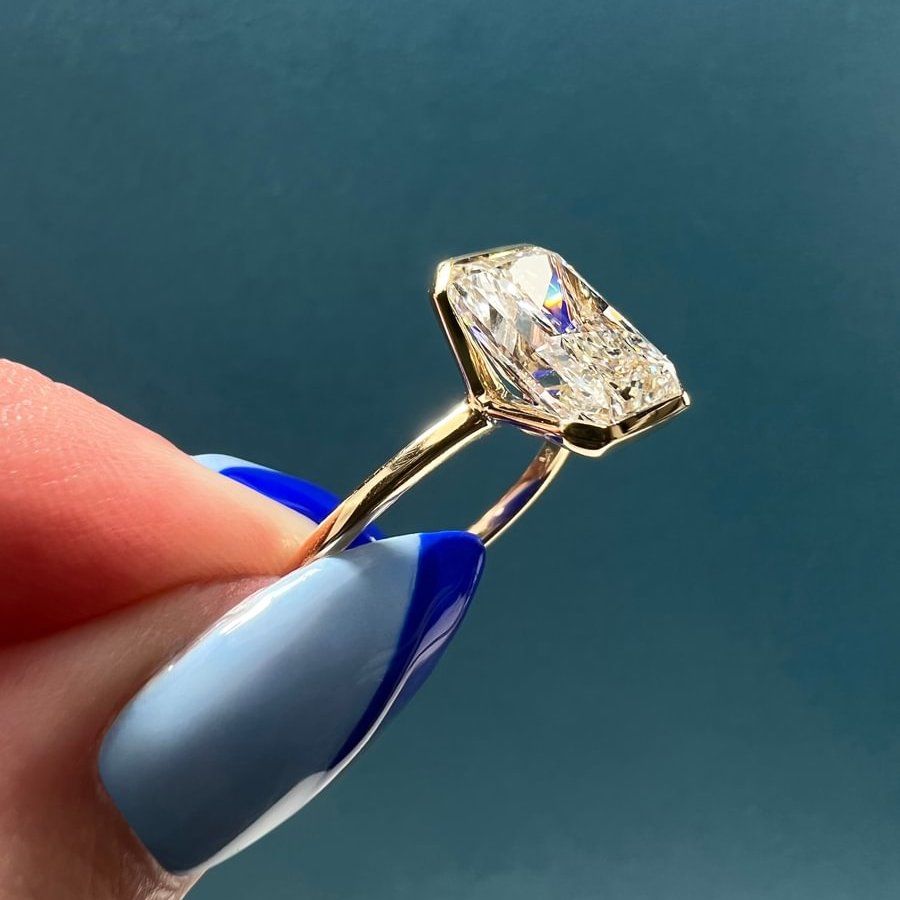 10.11.22
The 5 Low Maintenance Engagement Rings of Your Dreams
There's a reason jumpsuits are so popular — their simplicity. A single piece you can throw on and go about nearly anything you have to face for the day be it work or play. And while most folks will wear nearly any style of engagement ring to everything, jewelry can be a lot more work than you signed up for. All those tiny pave diamonds and itsy bitsy prongs. Bits of metal here and there just waiting to snag on your favorite sweater (or on anything else for that matter). But around here, we're all about the low maintenance engagement ring. Because who doesn't like easy? Keep reading for the scoop on our favorite low maintenance, low profile engagement rings — sure to keep your life (and diamonds!) simple, streamlined, and secure.
The Swimming Hole
Like a cool dip on a hot day, the bathtub bezel set engagement ring is a breath of fresh air. Quite possibly our lowest of low maintenance engagement rings, this bubbly style plays well with puppies, sweaters, and all things fuzz. Why is it so easy? Well, its solid bezel has a full-metal view from the side, meaning your diamond is ultra safe and it's set super duper low on the finger so it's much harder to snag or knock about.
But don't go thinking this bathtub is a bore. This clean and polished engagement ring style has a sleek, modern look to it, complemented by a slender comfort-fit band to wrap your finger in a little love fest. While the bathtub's low profile means it doesn't stack flush with a wedding band, we love embracing the gap! Or get a custom curved diamond band made to swoop gently around your choice of center stone.
The Breeziest Low Maintenance Engagement Ring
If you want something easy but with, well, a little more breeze, check out our Breezy bezel set engagement rings — of which there are a few! We know, choices, choices. But trust us there's not a wrong one here. All of our Breezy bezel rings have an airier side profile with a barely-there bezel from the top view. Square shapes come with a petite, Art Deco-inspired split shank. Rounded shapes with a signature twisted basket. And all of the above in our super-sleek underline style that's as modern as it gets.
Each of the Breezy engagement rings has a comfort fit band and medium-height profile and will keep your diamond secure, with bezels custom created to fit your stone to perfection. If you're looking for something that stacks flush, the split shank and underline should do the trick, while the twist bezel will have a gap. We also love the two-tone nature of our underline style engagement ring whose white bezel keeps your diamond looking all the way icy, no matter what color band you choose.
Supersize Me
Not for the faint of heart or style, our Radiator ring turns the volume up to 11. This ultra-low profile engagement ring setting is custom-made to fit your choice of center stone, with stepped edges (in your choice of metal) designed to catch the light from every angle. This unique texture is all out glam with none of the fuss. The radiator's solid bezel keeps your diamond tightly secured while it goes about standing out from the crowd. Not one to share the spotlight, though, the radiator's chunkiness doesn't stack flush with other rings.
Why are bezels the name of the game when it comes to keeping things simple? Well, they surround your diamond with a solid band of metal instead of skinny prongs that are more likely to snag on, well, the world. Bezels were one of the earliest ways that diamonds were ever set, too! It's nothing new. But today's bezels are sleek, simple, modern and made to suit your personal style.
So Clutch
If you want a low profile engagement ring that isn't a solid bezel (but still secure!), our signature clutch is coming to the rescue. Bold in style, simple in profile, and sleek as hell, the clutch helps your diamond float off your finger with minimal metal and maximum curve. We designed it to be ultra low profile with a sculptural aesthetic, no matter what shape diamond you prefer. It's our version of a sleek half-bezel set engagement ring, meaning it surrounds two sides of your diamond instead of all the way around, but we lightened it up with airy sides, letting light bounce off literally everything.
The Clutch is also designed with stacking in mind, raising the diamond just enough for your choice of wedding band to slip underneath, sitting flush with your engagement ring. Keep things classic with a pave diamond eternity band, go maximalist with a matching half-bezel set eternity band, or play with texture in a wide gold band like our lasagna ring! No matter what your dream ring, you should always do your own thing!
The Prong Song
If you're looking for less is more while maintaining a low maintenance, low profile look, our Harper four-prong solitaire engagement ring has met its match. Stripped down to the barest of bare essentials, this engagement ring sits as low as possible on your finger to avoid pokes and snags. Four claw prongs keep your stone where it belongs, on your finger, of course, while a skinny, comfort fit band keeps the focus on the solitaire diamond.
The four-prong Harper's basket-style gallery (rather than open prongs) adds extra security for your stone while staying unfussy. And we thoughtfully designed it to stack flush with your wedding ring. It's our most popular solitaire ring for a reason. While you can get this style accented with a pave diamond band or diamond gallery, those will require more regular maintenance and care, so to keep it on the low, keep it bare!
Low Maintenance Engagement Ring, High Quality Standards
If you're ready to dive right in, explore our collection of engagement and wedding rings to see what suits your style. Or try designing your own with our style quiz (which you can do over and over again!) and you'll even get a free sketch! Want some help figuring out which engagement ring will work best for your lifestyle? Drop our team a line at hello@frankdarling.com with a bit about what you're looking for and our designers will get you all sorted.