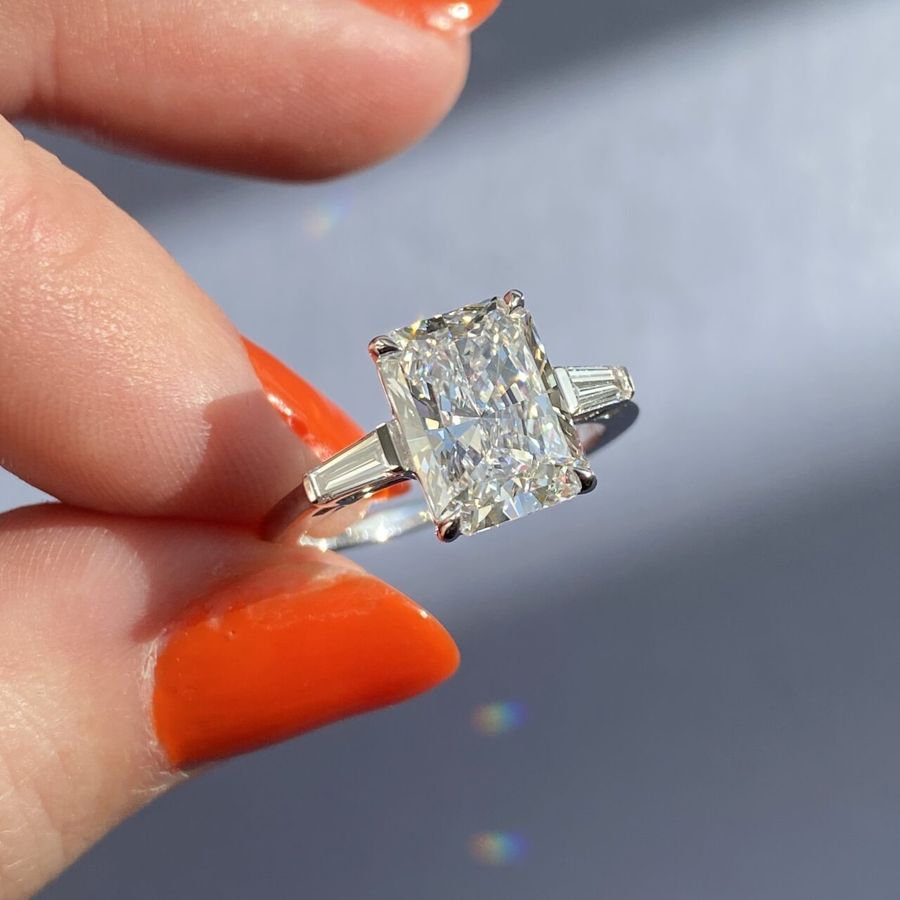 11.04.22
Everything You Need to Know About Engagement Ring Financing
We know buying an engagement ring is kind of a big deal. A big deal that can (but doesn't have to!) mean big dollars. We also know that, for many, it's only the first drop in a deep bucket of matrimonial spending. And that most of us aren't working with unlimited budgets. Not to worry, though, darlings, because figuring out engagement ring financing doesn't have to be hard. It just has to be done. Which is where we stand humbly at your service, with some super simple financing options to help put the ring of your dreams on the finger of, well, your dream partner.
Don't Break the Bank
When it comes to financing an engagement ring purchase, or just purchasing one outright, the first step should always be determining your engagement ring budget. While talking about money, or even thinking about money, isn't the fun part of the process of proposing, it will be so much easier to do this up front instead of picking out your dream ring and having it come in way beyond your budget. Trust us, no one likes having to compromise after finding their perfect diamond. Not sure how much to spend on an engagement ring? Well, darling, there really are no rules. But the below financing options can offer you different ways to plan out your spending, no matter what dollar amount you settle on.
The One and Done
The first, and simplest, way to purchase an engagement ring is by paying up front. Obviously, like most things you buy online, there's always the option to pay all at once up front, and we accept various forms of payment when doing so. If you're purchasing right off the site, you'll get a standard shopping cart and can check yourself out. If you're purchasing a customized ring, our team will send you a custom link to complete your checkout, reflecting the costs discussed during our design process. We also offer a 1.5% bank transfer discount.
Engagement Ring Fianancing: Long Term
If you're needing a bit more time to pay the balance of your engagement ring purchase, we are happy to offer an interest-free long-term layaway option. This option includes a 60% deposit to secure your stone, with the balance split into two 20% payments payable over the course of three months. If selecting this option, please note that your ring will not ship until the final payment is received, so this could impact your timeline for popping the question. It will also impact your timeline to return the ring, if needed, as layaway orders are not eligible for return more than 60 days from the first payment.
Engagement Ring Financing: Short Term
We also offer an interest-free short-term layaway financing option. This option includes a 70% deposit to secure your ring and start the build process, with the remaining 30% due before receipt.
Buy Now, Pay Later with Affirm*
With Affirm financing, you can make easy monthly payments over 3, 6, or 12 months. If you'd like to check the Affirm rates you can click here, scroll halfway down until you see "prequalify now" on the right-hand side of the page, and it will open a popup that does a soft credit check and displays available rates. Please note: Affirm only allows for your account to be set up once, so you want to be extra careful that your browser doesn't auto-populate the fields with incorrect info.
*Rates are between 0–30% APR. A down payment may be required. Subject to eligibility check and approval. Payment options depend on your purchase amount. Estimated payment amount excludes taxes and shipping fees. Actual terms may vary. Payment options through Affirm are provided by these lending partners: affirm.com/lenders. Visit affirm.com/help for more info.
That's What Friends are For
Whether you're ready to buy your engagement ring today, or you're just starting your search, our team is happy to help answer any questions (financing or otherwise) you may have. You can chat with us live on the site, or drop us a line at hello@frankdarling.com and we'll get you sorted in no time! Want to see how we hold up against the competition? Get a glimpse at what industry leaders are saying about Frank Darling!