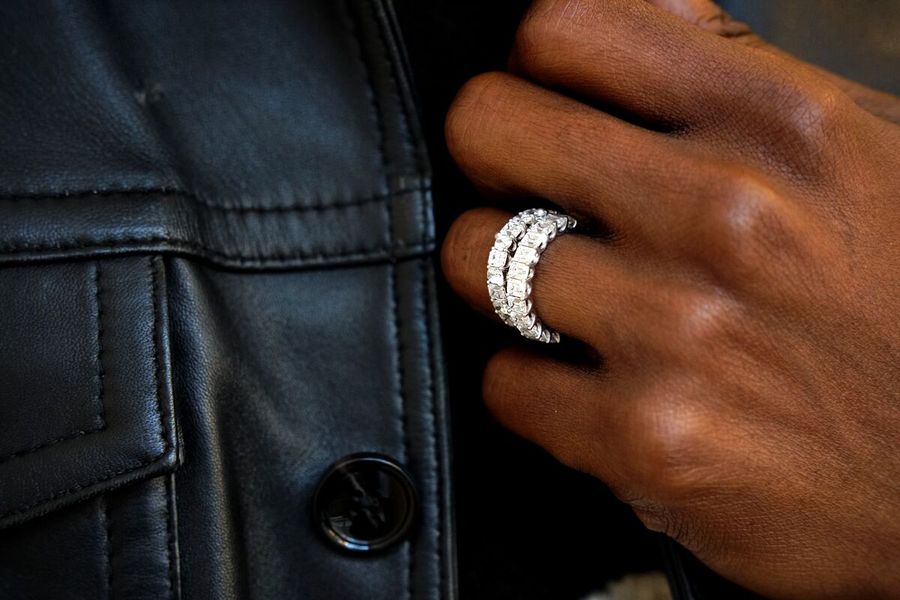 20.02.23
The Ultimate Ring Sizing Guide
By Stephanie Dore
So. You've checked out their Pinterest boards, scoped out their jewelry styles, caught the hint from their friends… but now that you're shopping for an engagement ring there's one pesky little question that keeps popping up. What's your partner's ring size? We get it. Unless you're already a jewelry connoisseur, you might not have even known that rings come in different sizes, just like shoes. But don't worry, darlings, that's what we're here for. Here's everything you need to know about how to measure ring size to find your perfect fit. Plus some extra tips for, pun intended, good measure.
Are There Standard Ring Sizes?
We're starting with a hardball — and unfortunately, the answer is both yes and no. Ring sizes for women range from about size 3 to 9, with the average falling in the 5-7 range. Men's rings typically range from about size 6 to 13, with the average falling in the 8-11 range. But you're not average, are you? Choosing a "popular" ring size is like blinding selecting a pair of shoes. Could you get lucky? Sure. But it's going to be pretty painful or just plain silly if you don't. And the last thing we want is your ring falling off your finger or having to get cut off in the ER, right?
How do Jewelers Measure Ring Size?
When it comes to "what the experts do", measuring ring size involves two different concepts. The first, when measuring an existing ring, involves a mandrel, basically a tapered metal shaft that we slip the ring onto, with measurements on it just like a ruler. But when we're measuring your finger? We use a bunch of plain metal bands that have been pre-measured, sliding them on and off your finger until we find just the right fit.
The upside of this is that we're measuring your finger, so it will be the most accurate way to size your engagement ring to the perfect fit for you. The downside of this is that, well, it kind of ruins the surprise, if that's your thing. Don't worry, we'll provide some solutions. But first…
Different Jeweler, Different Ring Size
We're starting with a hardball — and unfortunately the Now that we've recommended you have a professional measure your ring size for you — in order to find the right fit — we have to break the bad news. Not every jeweler will measure ring sizes exactly the same. Just like every fashion brand has different ways of sizing and measuring clothes, jewelers are often using their own non-standardized equipment and methods to determine your size. The sample bands might be different sizes and widths, the mandrels from a different mold, the usual suspects. Yes, it's great if you can pop into any old jeweler and get an approximation, as that will be super informative to your ring buying process, it's always best to be measured by your jeweler. The one who will actually be making your final ring.
Different Ring, Different Size
If you like a super skinny engagement ring style, your ring size preference might be a bit smaller, as the band takes up less space on your finger. But a wide 4mm or 6mm band? It will push the mass of your finger out of the way causing a snugger fit, so you might want to size up a bit. The same is true if you are planning to wear two or more bands together. The wider the stack, the bigger you might go up in ring size.
Another consideration is the ever-popular eternity band. And while most traditional engagement rings can be resized 1-2 sizes up or down if your measurements are a bit off, eternity bands simply can't. Those darn diamonds that go all the way around mean there's no extra metal space for us jewelers to work with. That means it's even more important to get your ring size right on the first go-round. Sometimes, eternity rings can be exchanged, but a fully custom item might be yours regardless of fit, so work with a pro to make sure you nail your ring size on the head.
Also, Measuring Your Finger Size
Another hurdle in this whole process is that our finger sizes often fluctuate throughout our lives, the seasons, or even by the hour. Did you have a super salty meal? Welcome to a bit of swelling. Take a dip in a cold pool? Watch them shrink. Your ring size preference can even change based on the width of the ring you choose. This makes it important to measure your finger when it's, well, average. Normal day, normal temp, normal activity. And to try on rings of different band widths.
Fingers also come in all shapes and sizes. If you have larger knuckles but smaller fingers — you're going to run into a challenge where the ring needs to be loose enough to slip over your finger, but tight enough that it doesn't spin when on. If you size down too much, you won't be able to get it on or off, but the spinning is enough to drive anyone mad. In this case, you can add a removable sizing bar, or permanent sizing beads or "speed bumps". These will provide just a bit of traction to your ring so that it doesn't spin.
How to Measure a Ring Size by Surprise
Ok, we're getting to the good stuff now. Whether you're planning a surprise proposal or not, we understand that sometimes you just gotta measure your ring size from the comfort of your couch. So here are a few different methods that will get you, well, at least in the right ballpark. No matter how you get there, though, we suggest building in a bit of extra time for a just-in-case resize after the fact.
Measuring Ring Size From Another Ring
If you have access to your person's jewelry wardrobe and they've got an existing ring that they currently wear often (Don't measure something they never wear — they might not be wearing it because it doesn't fit!), you can pair that with a printable ring chart to figure out what size it is. Simply print and calibrate the diagram by measuring the ruler at the bottom. Then place the ring you have over the circles until you find the closest match to the inside edge of your ring. And voila! One thing to beware though, is that every finger is a different size, so unless they're wearing that ring on their ring finger, you might still be guessing. You could also poke around to some of their family or besties and see if they know your person's ring size and also won't spoil the surprise.
Using a Plastic Ring Sizer
If surprise isn't your thing and you just want to get the measuring done at your own place, our free try-at-home kit lets you select a few styles of engagement rings, get them in the mail, and compare styles and stone shapes from the comfort of your couch. You can even pop some bubbly if that's your thing. And bonus — it comes with a free ring sizer! This handy tool is a small strip of plastic that loops into itself, kind of like a removable zip tie, with measurements along the outside. While this will get the basic job done, it's good to note that plastic sizers tend to be thicker than your final ring (depending on your desired width) and harder to get as tight as you'll need, so plan to size down 1/4 to 1/2 smaller than the plastic estimate. Also, they normally don't include 1/4 sizes, which we can create in your final custom engagement ring.
How to Make a DIY Ring Sizer
If all else fails, and you just have to DIY it (we see you), you can sub in a piece of string or dental floss on the fly. You'll need that, a ruler (with centimeters on it), and a fine point marker or felt tip pen. The finer tipped the better. First, you'll wrap the string around your ring finger, and tighten until it fits comfortably. Get out your marker and draw a dot where the string overlaps. Line the piece of string up against the ruler and measure the length in millimeters. Trust us. Inches won't get the job done. Keep in mind that there's a LOT of room for error in this method, including the flexibility of the string, the desired tightness, the size of the mark you make, and so on.
You've Got Your Ring Size, What's Next?
Well, now darling, you've got to pick out a ring! Explore our collection of signature engagement rings to get a bit of inspo or start designing your own dream ring with our style quiz, and you'll even get a free sketch!
Check out our diamond collection where you can view 360-degree images of more than 10,000 diamonds, or book a virtual or offline appointment at our New York salon to view certified lab-grown and natural diamonds in person.
Not finding what you're looking for? Email us with what you're looking for at hello@frankdarling.com. We'll curate a list of 5-7 exclusive stones that are just right for you.