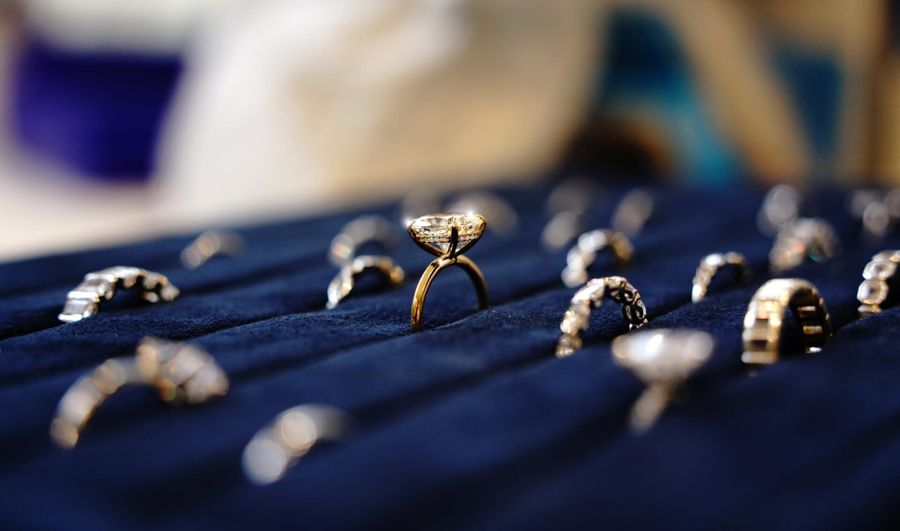 31.01.23
10 Things to Know Before Shopping for Engagement Rings
By Stephanie Dore
You want the perfect engagement ring. We all do. But the mall jewelers aren't cutting it, the online advice is confusing, and every bridal magazine in town is showing you celebrity engagement rings you simply can't afford. Unless you've got a family heirloom at the ready, figuring out how to buy an engagement ring, much less the ring of your person's dreams, isn't a simple task. And while there's no right or wrong way to do it, we've learned a few things over the years that can help you get there with as little panic as possible. Let's break it down:
Figure out your engagement ring budget
One of the biggest engagement ring buying mistakes we've seen is when folks don't set their budget upfront. Why? Well, no one wants to fall head over heels for a ring they can't afford. Tears will surely ensue. So unless you're working with unlimited funds, decide on what you're comfortable spending before you ever start looking at actual rings, much less trying them on.

That said, you're probably wondering just how much you should spend on an engagement ring. Let's start with the basic facts: Engagement rings are expensive. They are investments, and there's really no way around that. But there simply are no hard and fast rules about how many dollars you should drop. That three-months' salary thing? Throw that out the window. Instead, ask yourself some serious questions, like, are you paying solo or splitting the cost with your partner? Are you comfortable financing or going into debt for your ring? And are there other big ticket items in the queue for your quarters like wedding bands, the wedding itself, a major honeymoon, or a new mortgage? Setting yourself a ballpark budget now will make deciding on ring and diamond qualities a breeze down the road.
Know your lifestyle needs
Next up, consider how you will wear your engagement ring. Often, people go into engagement ring shopping thinking that, of course, they're going to wear this ring 24/7/365. Never. Take. It. Off. And, frankly darling, that's just usually not the case. Nor is it recommended. Why? Well, certain activities just aren't suitable for fine jewelry. Say, swimming in a chlorinated pool, digging in the garden, or deadlifting major weight at the gym. While any and all of us should take our rings off for strenuous, dirty, or chemical-related work so we don't cause permanent damage, you should also have a ring that just plain works with your lifestyle. If you're in a field where you're often wearing gloves (shout out to all the first responders!), for instance, a ring that sits high off your hand or features a prong setting (that could get caught) probably isn't the best fit. For super active folks, there are so many gorgeous low-profile engagement rings to choose from. And if you're just someone who doesn't want to worry, go with something super low-maintenance like a bezel set engagement ring or band. Remember, more details, more diamonds, more maintenance.
Set your priorities
Ok, this is where we get into the nitty gritty, y'all. You've got your budget set, and you know your lifestyle considerations. Now you need to make some decisions about what you're going to spend that budget on, and it's different for everyone. For some, size is what matters. It's a big diamond or bust. For others, clarity comes first. They don't want to see any inclusions in their stone. And still for others, they want a unique shape or color that no one else has. There's about a million ways to slice and dice your money when it comes to diamond shopping. So it's best to set your priorities up front.

If you're planning on purchasing a diamond ring, the center diamond will always take up the bulk of your budget, while the ring setting usually costs significantly less. But you can toggle the 4Cs — cut, clarity, color and carat — up and down in quality to get more of what's important to you. You should also decide if you want a natural diamond or you're open to lab grown diamonds or alternative stones like moissanite or even gemstones like sapphires. Lab grown diamonds can cost almost half of a natural diamond of the same qualities, so it's a great way to get more for your money.
Research engagement ring styles
Now that that's out of the way, we can get to the good stuff. You know, the stuff you've been picturing all along. How to shop for an engagement ring itself. We're talking engagement ring styles and doing a bit of research to figure out what you like. Do you want something dainty and delicate? Or perhaps a bold, chunkier style is your suit. Do you like a clean, modern bezel set diamond? Or do you want a four-prong solitaire that screams classic? Start really poking around the web and stop to window shop whenever you can to get a feel for what's out there and what you really love.
Don't forget about wedding bands
While you're at it, think about your wedding bands. Do you want separate wedding and engagement rings? Do you want a matching wedding set? Do you want a major stack of rings you can add to over the years? Is it important for your rings to sit flush together? These are all important parts of your engagement ring style considerations and shouldn't be left til the last minute. If you plan your rings at the same time, make sure to consider the budget together as well.
Beware of engagement ring trends
While you're out scoping styles, use your best judgment. After all, some of us are still scarred by visions of 80s wedding dresses and will never live that down. The last thing you want is a ring that's so trendy it'll be out of style in the blink of an eye. Just because a celeb chose a certain look or designer doesn't mean it's the right fit for you. To make sure your ring stands the test of time, lean on your personal taste instead of what's trending.
Try on all the engagement rings you want
There's really no better way to decide on engagement ring styles than by putting them on your pretty little fingers. And you can totally do this as many times as you want until you're sure you've found the one. Trying on physical rings can help you see what different diamond shapes and sizes feel like (you may even decide to go smaller than you thought!), decide whether you want a high or low set ring, and choose a band width that's the most comfortable.
At Frank Darling, we offer a totally free try-on kit that lets you do all of this from the comfort of your couch. You simply select a few styles you love, we'll send you high-quality replicas for free, and once you've found the one, you'll customize each aspect of your ring. You can also schedule a virtual or in-person consultation at one of our showrooms — in NYC or San Francisco — to chat with an expert, view diamonds, and get help designing the perfect ring.
Keep an open mind
Just when you think you've got the perfect vision for your dream engagement ring, something different might just make its way into your heart. We've seen it time and time again: folks who seem to have their mind made up until they start trying things on or looking at diamonds in real life only to discover that their love lies with a different shape, stone, color, or style. Keeping an open mind and exploring your engagement ring options means you might find ways to save money, too.
Plan ahead
While there are certainly places you can pop into and buy an engagement ring off the rack, a custom ring that's made just for you will always take a little bit of time to come to fruition. We like to say 4-6 weeks, to make sure the details are right and we have time to find you the perfect diamond. Planning ahead and allowing yourself enough time to refine the design of your ring will ensure you're able to get what you want when you need it.
Decide where to buy an engagement ring
Is it better to buy engagement rings online? Should you head to the diamond district because you know that's where to buy engagement rings in NYC? There's no right answer here. But after examining all of the above, you can narrow your search. Look for a jeweler that matches your values, priorities, and timeline, and you'll be good to go.
Ready to find the ring of your dreams? Check out our diamond search where you can view 360-degree images of more than 10,000 diamonds and don't forget to zoom out (because size can be deceiving), or book a virtual or offline appointment at our showrooms to view certified lab-grown and natural diamonds in person.
Not finding what you're looking for? Email us with what you're looking for at hello@frankdarling.com. We'll curate a list of 5-7 exclusive stones that are just right for you.