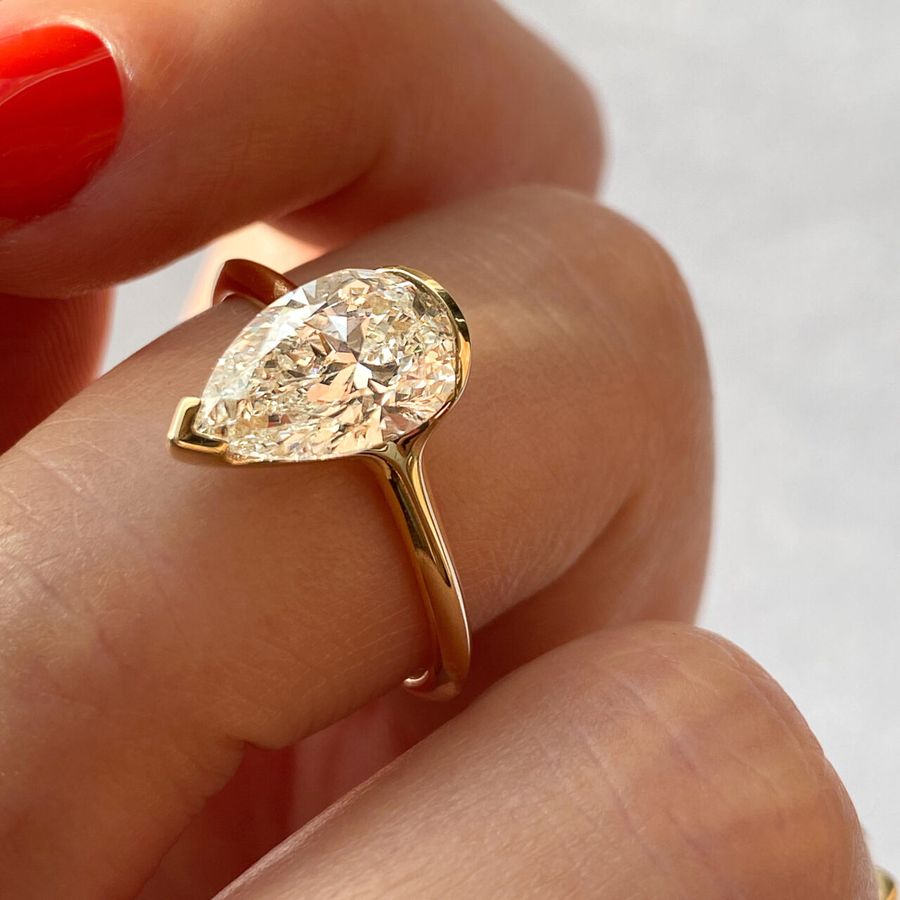 01.01.22
The Secret to Unique Engagement Rings
These days, more and more couples are looking for styles of unique engagement rings. Something that stands out from the crowd. That screams "you" from the rooftops. And well, who's to blame them? We fully support you doing you, especially when it comes to something you're going to wear everyday. It should fit your lifestyle (hello, low profile), your budget, and your love story better than some simple thing you picked out of the case at the mall. Though no judgement if that's what fits. We get it though, custom diamond rings can be intimidating. So here's our go-to guide to get you through it.
Unique Engagement Rings: a Luxury DIY
When it comes to designing your dream ring, the best way to start is with you! You don't have to go anywhere at all. And you don't have to get frustrated. With our online dream ring quiz, we'll ask you a few simple questions — like, what kind of ring, stone, or metal you're looking for — to help zero in on your personal style. Then we'll get into some fun details too, like bezel or semi-bezel, milgrain or flat finish, plain or diamond band, you get the idea. And to wrap it all up, we'll send you a free sketch of your design. Yes, free. And there's no limit. You can redesign as many times as you like! So really, it's nothing like actual DIY.

Unique Engagement Rings and Chill
Ok, fine, you can Netflix too. But we really do believe the best setting for trying on rings is your place. Couch and all. With our free try at home kit, you can select four styles you love and we'll send you sterling silver replica rings that you can slip on in the comfort of your own home. Or really, anywhere you please. This is a great way to try out different diamond sizes or design details before you buy. Then, after five days, you simply return the kit with the prepaid label. No fuss, no muss, all sparkle. Bonus — you'll also get a free ring sizer so you can figure that out easy peasy. After all, that's kind of an important detail!
Expand Your Network
Next on the list, you get to make a new friend! Book a personal consultation with our Diamond Concierge and a designer who will help you select any stones for your ring, mock up a sketch of your unique engagement ring design, and finalize the details. And when we say personal, we mean it. Our experts can answer any nagging questions you might have, hunt down unique diamonds and gems, and be that honest, trusted friend we all need when faced with major decision making. And they'll do it all with your budget in mind.
Hard Rocks
Speaking of choosing your stones, we're here to help. In an industry that's known for being pretty opaque, we're on a mission to bring a little clarity your way. Beyond offering tons of educational resources (knowledge is power!), we spend our days searching through millions of gems to curate the best selection in the world. Maybe you want to go au naturel—in terms of diamonds, of course—or maybe you're into lab-grown diamonds. Maybe it's a Moissanite, a birthstone, an exotic gem. We don't judge. All we do is find the right stone for you, for your budget, and for your unique diamond engagement ring. And we only sell conflict-free diamonds from select countries with superior standards (because who needs that kind of dirt on their hands?)
Supermodel
Once all your gems are chosen, we'll get started on a CAD model of your unique engagement ring. That's a digital, three-dimensional design of your ring that lets our craftspeople (and you!) visualize the finished product and make any necessary adjustments. This is where we make sure that everything is perfectly fit, like a halo for a unique shape, or a diamond-set clutch to perfectly cradle your center diamond. We'll cross the Ts, dot the Is, and then create a resin model so you can actually see the design come to life at scale. If there's anything that's not quite right, these models can be adjusted to make them just so before the ring goes into full on production.
You're Up
Once our craftspeople have cast the ring, set the stones, and polished it to perfection, it's your turn to do the heavy lifting. That's right, it's time to pop the question if you haven't already. Or if you have, to get that beauty onto its forever finger as fast as possible. Because waiting for sparkly things is hard. But don't worry, we're not leaving you hanging. We're still here for you — for unique diamond band shopping, fine jewelry gifts, ongoing maintenance (yes, that's a thing), and anything else you might need. At your service.
Ready to Design Your Own Unique Engagement Ring?
Explore our collection for a bit of inspo, get a sketch of your dream unique diamond engagement ring, start thinking about your budget, then ping our direct line at hello@frankdarling.com with any questions, concerns, or wild ideas and our ring concierge will be on the job to get you sorted. No headaches. No pressure. All common sense.