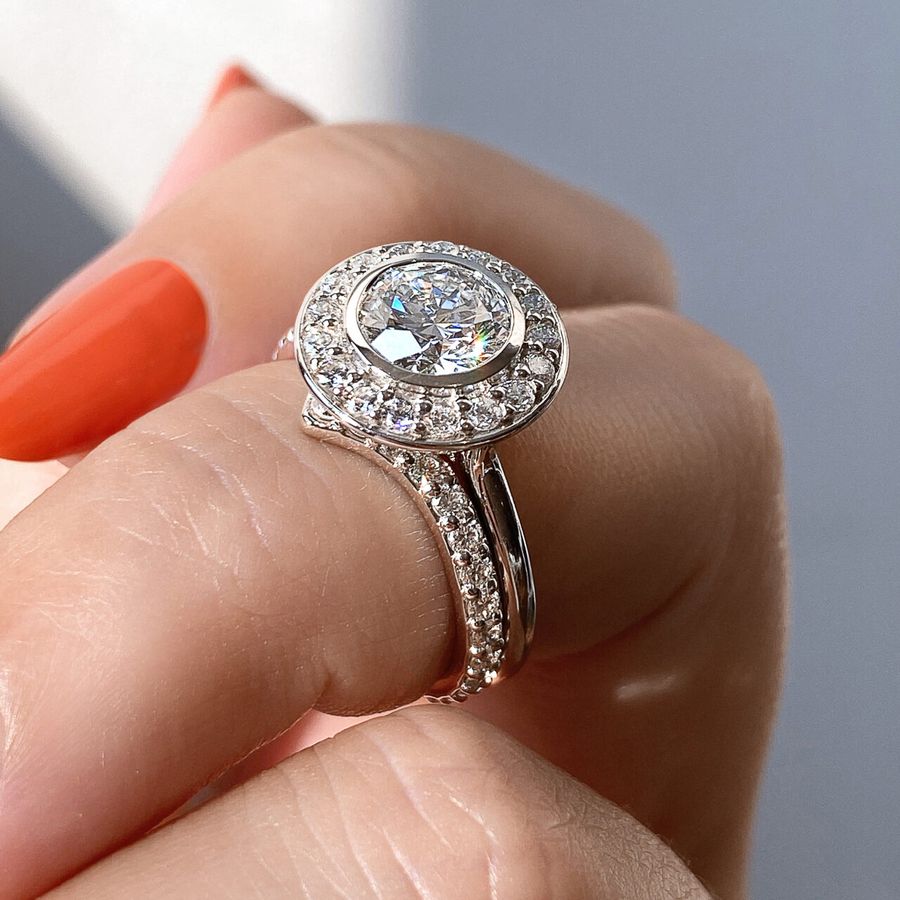 22.09.21
Ring Sets – Timeless or Out of Style?
With a whole lot of weddings put on hold recently, one of the biggest plus sides we've seen is folks spending more time to perfect the details, including their engagement and wedding ring sets. Sure, we still get plenty of questions about perfect matches, but we believe the perfect ring match is the one you adore. That might be a traditional wedding ring set or a whole nother thing. Darlings, there are no rules, really. We've been seeing couples take on designing their ring set with such flair that we just can't pass up this chance to share. Check out some of our favorite ring pairings below and then get started designing your dream ring set today!
Perfect Pairings
If you wanna keep things super classic and go with a perfectly-matched engagement ring and wedding band set, we always recommend shopping for both rings at the same time. This will ensure that your rings are designed with the same style details and will sit flush together on your finger. It will also help you better determine the right fit, as you add width (or multiple bands) to your finger, you might want to go up a quarter or half size for comfort.

(Ring) Set for Life
Speaking of fits, one of the biggest questions we get is about whether bands should sit flush against an engagement ring or not. Many engagement rings have center heads that are set low (instead of on top of the shank) and because they stick out a bit, it creates a gap between your two rings. It's not right or wrong, and it doesn't bother everyone. But if you just have to have a flush fit, a curved or contoured band might be your best friend. We've also carefully designed many of our low-profile diamond engagement rings to sit flush with several of our band styles, giving you options on options on options.
Far and Away
If you don't mind a little gap, or want to use negative space as an intentional design element within your wedding set, you'll have plenty of room to play. Forgo the center stone-style engagement ring entirely and you can mix and match diamond eternity bands or textured gold bands for a super modern look. Or go all David Rose and rock a horizontal wedding stack, with a band on each finger! Talk about embracing the gap. We also love a five-stone diamond band stacked with a bright gold band for major visual impact.

To Have and To Hold
Like a cute lil hug for your engagement ring, another awesome, super modern way to stack is with the open wedding band. This is a band that actually has a built in gap to leave space for your engagement ring's center stone. Add a baguette open band for an extra rush of Art Deco inspiration. Or an open pave diamond band for a subtle slice of sparkle next to just about any other style. Customize an open band with any diamond or gemstone to perfectly accent your engagement ring.
Color Theory
Color is one of the easiest ways to make your wedding set stand out from the crowd. Sapphire accents are always classic (or a sapphire center stone if you please). But these days, folks are playing with color in some truly stunning ways. We love an ombre effect band, a colored gemstone or fancy color diamond two-stone ring in subtle, warm, blushing hues, or even a single colored stone accent just for fun.
Center of Attention
Why settle for two matching rings when you can have three? Or five! Make the ultimate wedding ring set by sandwiching a traditional engagement ring between two bands, or four! This gives you so many ways to change up your look. You can dress it down and wear a solo band one day, and go all out with the full stack the next. We love doing this with contoured or pointed bands that curve around your center stone, giving you some pretty cool shapes once you add more bands. Try a starburst-like curved band, two pointed bands for that elongated, edgy look, or a mix of plain and diamond bands for different textural accents.
Fake Out
If you like the idea of a double width ring but without the actual fuss of having two rings on, check out the modern, full split shank. Instead of a single shank that barely splits at the center stone, some of our favorite rings are those with wider-set double shanks that go all the way around your finger. They can still come together under your finger for comfort, but it will look like you're got two rings on, when it's really just one!
Meet Your Match
Explore our full collection of engagement and wedding rings to find your dream set, or start designing your own with our style quiz and you'll even get a free sketch. We can customize most of our collection to suit your tastes, whether with a unique stone, colored gem, different band size, or many more special details. Just reach out to hello@frankdarling.com with your ring inspo (and budget) and our jewelry experts will get you sorted.