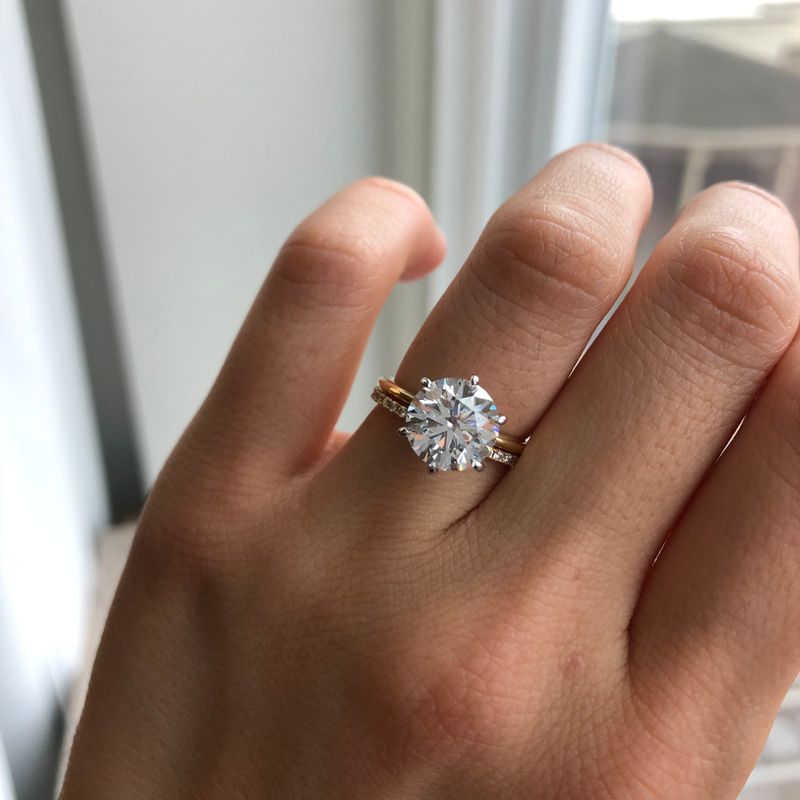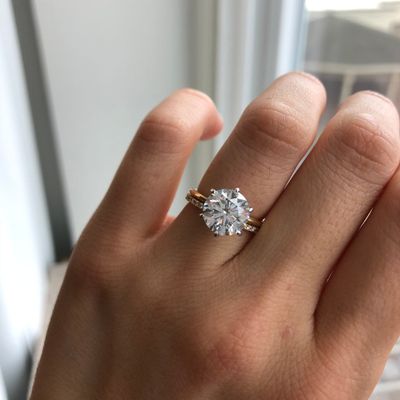 20.07.19
How Much Should An Engagement Ring Cost?
How much should you spend on an engagement ring in 2021? Is this advice you should be taking from a website that sells engagement rings? Yes, darling, you should. We've endured a global pandemic (and a lot of other stuff) the past year. Let's not add getting ripped off on an engagement ring to the list.
A little bit of learning can go a long way towards helping you get a bigger diamond at a better price. As a first step, we recommend determining a budget. Setting a budget early in your process will help reduce the number of options you'll encounter. Navigating the Four C's can be overwhelming without a price in mind. A typical price-point for a 1 carat mined diamond is $5,000, but you can find a 1-carat diamond that costs $1,000 or a 1-carat diamond that costs $100,000. Welcome to the unfortunate complexity of diamond buying.
If you're shopping together, talking about a budget early on can help keep you on the same page throughout the process. Without a budget, imaginations can run wild, and coming back to reality can be difficult.
Once you've figured out your budget, get to the good stuff. Try on some rings and look at diamonds. It will be comforting to look at things you can actually afford.
WHAT'S THE AVERAGE COST OF AN ENGAGEMENT RING?
Engagement rings are expensive. If you were unaware, we're sorry to break the news. It might be the most expensive thing you've ever bought. Combine that with the expectations surrounding the actual proposal and you have yourself a situation to figure out.
Data can give you some guidance on what other people are doing. In 2018, the average cost of an engagement ring according to The Knot 2018 Real Weddings Study was $5,680. In diamond terms, this could get you a 1 carat mined diamond solitaire, or a 1.75 carat lab diamond solitaire. But, averages can be deceiving. The vast majority of couples are spending less than $5,680 on their ring. A smaller group of big spenders is lifting the average. So, what does that mean for you?
It means you've got options. A little bit of research can help you spend wisely. With lab diamonds becoming an increasingly popular option, pricing is more flexible than ever before. Remember, you've got the wedding, honeymoon, and entire rest of your life still ahead of you. So don't blow it all on the ring.
THE THREE-MONTH SALARY RULE
You've probably heard of the three-month salary rule. We'd suggest unhearing it. It's an outdated marketing campaign by DeBeers to boost diamond sales during World War II. A quick comparison of wage data to sales data makes it obvious that most Americans are spending much less.
SO HOW MUCH SHOULD YOU SPEND ON AN ENGAGEMENT RING?
We'd suggest considering the questions below to reach a number and develop a plan. From there you can tackle other questions like where you should purchase your engagement ring, what diamond is right for you, what type of metal you prefer, etc. There are so many decisions to make when it comes to purchasing a ring; it's easiest to start with a budget. Without one, the search is limitless, and can quickly become overwhelming. With that in mind, these are the factors we'd suggest considering when you're in search of that elusive number.
YOUR DEBT
While debt shouldn't be a reason to postpone your declaration of love and eternal commitment, it can certainly postpone a ring purchase. But, that doesn't mean you're out of options. In fact, there are many engagement rings available for under $1000. It may sound modest, but getting engaged is often the prelude to a shared financial future, and you'll both agree that the future should be a sustainable one.
YOUR NEAR-TERM FINANCIAL PLANS
Whether you're planning to buy a car or home, or you're just saving up for a trip to the beach, you may have to prioritize. If you're planning a destination proposal, you'll want to go somewhere nice, and that can get expensive.
YOUR PARTNER'S EXPECTATIONS
If you're not sure what kind of engagement ring you partner is dreaming of, find out. Your goal is to find something you'll both love. Partners often have completely different expectations, and it's best to find out early on. There are plenty of options for every price-point. If your partner's got their heart set on a 2 carat diamond but that's over your budget, consider lab diamonds, which can reduce the price of your engagement ring by as much as 50%. If your partner loves a fancy pink diamond, you can consider morganite, a beautiful and affordable alternative.
Whatever the specific case may be, mismatched expectations around style and size are the most common things that we see go awry, and we can't tell you how many people we meet that are looking for advice on how to talk to their partners about it.
Similar to clothing or a haircut, an engagement ring says something about you and your relationship. It's the ultimate accessory, and you might be wearing it every single day. The ring reflects your love, your style, and your values. What do you want your ring to say?
HOW TO SAVE MONEY ON ENGAGEMENT RING COST
The easiest way to save money on engagement ring cost is to shop online. You'll get more diamond for your money, and won't have to deal with high-pressure sales tactics used to pressure buyers into rash decisions in a store.
You'll get a better selection, priced 30-50% less than retail, and you can shop at your own speed.
SHOP THE MARGINS
Diamond prices increase exponentially at the half and full carat marks. If you can find a diamond a hair shy of 1 carat, you'll realize tremendous savings. These can be tricky to find offline, but easier online with a greater selection. The actual difference in size between a .98 carat diamond and a 1.01-carat diamond is negligible, in some instances, the .98 carat diamond can look larger to the naked eye, and besides, who's going to know?
SHOP FANCY CUTS
Fancy cut diamonds sell at roughly 10% less than their round cousins. Flatter cuts like ovals, pears, and marquise cut diamonds look larger for their weight, and can be more visually impressive. Buying a fancy cut can be a great way to get more visual presence from less carat weight.
OPT FOR YELLOW GOLD
Yellow gold is trendier than ever, and we love the warmer timeless look. Diamonds, as you know, reflect things. A diamond set in yellow gold reflects yellow. This means you can also go down a grade or two in color without worrying about the diamond appears yellow in the platinum setting. If you're looking to reduce the amount you spend on an engagement ring, and stay on trend, this is a great way to do it.
DON'T SWEAT THE INCLUSIONS
Inclusions are the tiny imperfections found inside a diamond. Most diamonds sold online today are sold with highly magnified videos that do an excellent job highlighting inclusions and up-selling you towards higher clarity. Actual diamonds are much smaller, and the inclusions are more often than not quite difficult to see. Opting for lower clarity can be a great way to save money. Look for a diamond that is eye-clean, (clear to the naked eye), but included under magnification. Grades SI1 – VS2 are great value
So how much should your engagement ring cost? Only you can say. Start by understanding your existing financial obligations, your partner's expectations, and your future financial goals, and see what feels right for both of you. Then, focus on finding a setting you love as most websites, Frank Darling included, offer a price match guarantee. Need help? Check out our how to guide on buying an engagement ring.