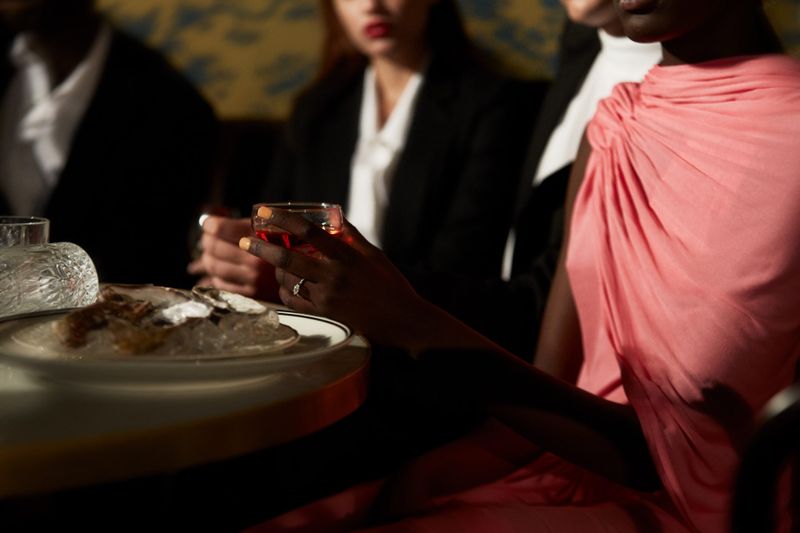 21.06.19
How to Buy an Engagement Ring
Proposal planning aside, there's a lot to overcome when it comes to buying an engagement ring. The process can quickly get overwhelming, and there are plenty of opportunities to make expensive miscalculations.
Like buying a car, a little prep work can give you the confidence to know where to start your search, and what questions to ask when it's time to get specific.
To help you get it right, this guide breaks the process of buying an engagement ring down into seven clear steps that anyone can follow.
1. SET YOUR BUDGET
Have you heard of the three-month salary rule? We'd suggest unhearing it. Three months salary is a lot for anyone buying an engagement ring. Do you know what else you could do with three-months of salary? Of course you do. It's good to carefully consider your finances, debt, and employment situation together when setting a budget.
The average engagement ring in the US costs about $6k, but averages are deceiving. For every million-dollar celebrity ring, there are many more of us that prefer a minimalist approach regardless of income, and choose to spend much less.
Some Questions to Consider
Are you saving for a home, or paying off debt?
How secure is your employment situation?
Are you buying it for your partner or splitting the bill?
What does your partner value, and what are their expectations?
Are there external factors like family or friends that are going to influence expectations?
How much you wish to budget is not just financial, consider your shared beliefs and values. It would be a shame to scrape together more than you can afford, and find out your partner might have preferred something more restrained.
If you're collaborating with your partner, it can be a delicate topic, but it may be better to get it out in the open as early as possible. It will help manage expectations throughout the process.
If a direct conversation isn't practical, you can comment on a friends ring to casually gauge the response. If you find a mismatch in expectations, lab-grown diamonds may help close the gap, identical in every way to traditional mined diamonds and 40% less in cost, they're a great upgrade for any budget. Once you've settled on a number, you can get to the good stuff.
2. PICK A SETTING
It can be tempting to start your search by looking for the perfect diamond — they tend to makeup the lions' share of the budget. But, starting your search with a setting has some advantages. At any point in time, there are hundreds of thousands of diamonds available in endless proportions, colors, and cuts. Trying to find the perfect diamond for you, without any criteria, is a nearly impossible task.
When you've already found a style of setting you love, from a designer you love, it's much easier to focus your search. For example, just selecting a metal color will help you choose a diamond color with confidence. Yellow gold is more forgiving and looks great with up to I and J color diamonds. Platinum on the other hand looks best with H and white stone colors. The price difference will likely cost you thousands, and metal color is often an easier decision.
There are lots of options. Three stone or bezel? Solitaire or halo? Pavé or no pavé? There are so many options. What's important is to let yourself have fun and discover a style you fall in love with. You only want to do this once, so why not make the most of it? Rings tend to look quite different in photos, so trying them on is best. Our free try at home kit is an easy, risk-free way to try settings out in the privacy of your home.
Some practical questions to consider:
Is the setting low-profile? In the old days, jewelers would elevate the diamond as high as possible for a dramatic look. Great for parties, less great at work. Low-profile settings will keep the diamonds as close to the finger as possible to minimize the overall height. At Frank Darling, we counter-sink our diamonds into the band to make them as low-profile as possible.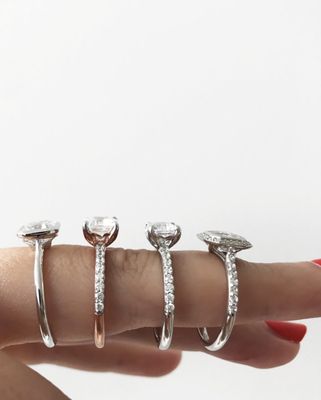 Pavé, French for paved, refers to the tiny diamonds set into the band or halo like paving stones. The look is striking, but this setting type can require more maintenance over time if you work with your hands vigorously.
White gold or platinum? For yellow gold or rose gold fans, choosing a metal color is easy. For white gold lovers, not so much.
Which of the following do you identify with?
"I'd rather pay a little more now and have less maintenance to deal with overtime. This would suggest platinum is the better option."
"I'd rather spend less now, and don't mind have the ring replated every few years. This would suggest white gold is the better option."
Does the vendor offer free customization? You may see a setting you like but want to change it just a tiny bit. Design costs can add up quickly and are where local jewelers boost their margin. Make sure to ask if this is a free service. Most customizations require little work.
3. LEARN THE FOUR C'S
While you don't need to become an expert, a little goes a long way and well help when it comes to selecting a diamond, and buying an engagement ring. Check out our diamond buying guides for each diamond shape to get acquainted with the four factors that determine a diamond's price.
Carat — how much a diamond weighs
Cut — how much it sparkles
Clarity — the presence of internal flaws, whether visible or not
Color — how it's colored, from bright white to faintly yellow-tinged
Lesser-Known C's
Certification — which lab graded the diamond?
Conflict-free — what is the origin of the diamond? Is the stone traceable? Or was it purchased from the open wholesale market? These questions are likely to make your jeweler squirm, but they're important. This leads into our next decision.
While five years ago this wasn't an option, popping the question with a large lab-grown rock has not only become increasingly popular over the past few years, it's, dare we say even chic. At close to 50% of the cost of a traditionally mined diamond, and being optically, chemically, and physically identical to a diamond, for many people it's difficult to justify the extra expense for something solely because it came from a mine.
If you'd like to dig in further, we suggest reading the seven myths behind lab-grown diamonds.
If you're concerned about resale value, mined diamond rings can easily lose 50% or more of their appraisal value when resold. It depends on their quality, how much you paid, who appraised it, and who's buying them back. Where does the money go?
Diamonds are sold with a markup. When they're bought back, you don't get that markup back. Learn more about how diamonds are priced here.
Settings are expensive, but when they're resold, their craft has no value, they're just gold.
Repurchasers buy diamonds below wholesale to sell at wholesale to diamond dealers.
So if you were to resell a mined-diamond ring you purchased new for $10,000, you are likely to get around $5,000 when you sell it back. That's pretty close to the purchase price for an equivalent lab-grown diamond ring at today's cost.
There are many instances in which we'd recommend opting for mined diamonds — family heirlooms, antique diamonds, certain unique shapes, fancy color diamonds, colored gemstones, or the unmistakable appeal of something billions of years old and truly one of a kind.
5. SELECTING A DIAMOND
These days you've never had more options when it comes to purchasing a diamond. You can buy one online, offline, from a "wholesaler" or from a luxury brand. Let's break it down:
Buying an Engagement Ring Online:
The pro's: online retailers offer the widest selection of diamonds at the lowest price. Diamonds are uniquely well suited for online purchase because of the transparent pricing and vast selection.
The con's: it can be difficult to get a sense of scale when viewing stones online, and seeing diamonds side by side in person does bring the 4c's to life. We find a short video shot on iPhone is often more helpful than magnified 360 videos in bringing a stone to life. If you'd like a custom video of one of our stones, just message, chat, or email us and we'll provide one.
Buying an Engagement ring Offline at a Local Jeweler
The pro's: You can see, touch and feel the diamond. There's really no substitute for this. It can be hard to tell how big a diamond truly is online.
The con's: Local jewelers often have limited selection at higher prices. While some can source stones from multiple sources, it's nearly impossible for them to compete with online vendors who have larger supply, lower prices, and lower overhead.
Buying an Engagement Ring From a Wholesaler
Everyone's got a guy. If you live in a city with a diamond district and you know a few people that have gotten engaged, chances are you know someone who knows someone who knows a guy. This guy tends to work out of a windowless room in the diamond district and will often show you uncertified diamonds in white paper envelopes.
The pro's: If you insist on overpaying, at least it's with someone you know?
The con's: It's easy to put your trust into a person like this, but there's no substitute for doing your own research. Never buy uncertified stones over 0.25 carats. The only thing that makes diamonds more affordable is when you buy a lot of them, small operations are unlikely to offer competitive prices. They are likely to take advantage of your lack of knowledge and do everything they can to sell you something from their limited selection.
Buying an Engagement Ring From a Luxury Brand
The pro's: Most of them will serve you a champagne
The con's: Price. Prepare yourself to pay twice as much for the same product. For some, it's worth it. For most it's a poor value.
Purchasing from Frank Darling
Frank Darling offers honest prices and a romantic better than retail experience.
We avoid the entire wholesale market and purchase our diamonds directly from the folks that cut them. This helps us obtain the lowest prices and superior traceability. Our business model is designed for efficiency, without compromising on quality.
Each stone on our site has been chosen from hundreds of thousands that are available. You cannot select a poorly cut stone on our site, each has been evaluated by 26 different quality factors to assure maximum sparkle.
The downside of all that curation is that we may not have the exact stone size you're looking for listed on our site. If that happens, just get in touch and we can usually hunt down just about anything.
If you see something you like – let us know. We can put the stone on hold for up to a week, or even have it shipped to us from the supplier to show you additional videos in different lighting conditions and in temporary settings to make your big decision that much easier. If you're in NYC or nearby, we'll bring the diamond to your home or office.
In the meantime, check out our carat weight guide to better understand how the diamond shapes stack up next to each other or review our definite guide to your preferred shape, and read up on these insider tips to find out how a little flexibility can help you find a bigger stone, without actually paying more.
6. PAYING FOR THE RING
Paying for an expensive product online can be stressful, but doesn't have to be.
Putting the purchase on your credit card can be a great way to rack up miles or travel points for your honeymoon.
If you'd rather pay for it in cash, that's an option too. Most brands, including FD, offer a 1.5% discount for wire transfers, because that's what the credit card companies charge us. On a $10,000 purchase, that's an extra $150 towards your honeymoon.
Last but not least, we offer financing through Affirm, a leading, non-predatory financing service that we're proud to partner with.
Curious how other couples are doing it? So we're we.
7. CUSTOMIZING AND MAKING YOUR RING
If you've decided to personalize your ring, our designer will make any requested modifications compliments of the house. These often include increasing or decreasing the band thickness, changing the side stone size or shape, changing the pavé size, adding or subtracting prongs, custom engraving, or designing something new from scratch – the only limit is your budget and imagination.
Once you're happy with the design, your ring will be 3D printed, cast, set and finely hand-polished. Our gemologist Erica does a final inspection, and once the ring passes her rigorous quality standards, it's packaged along with its certificate and a cleaning cloth and shipped overnight fully insured to you, with signature required for delivery. If you opt for an appraisal, you'll receive the appraisal before shipping so that you can begin your insurance policy the instant you receive your ring.
Congratulations! You are now an expert in the art and science of diamond ring shopping. Ready to get started?
For tips on proposal locations, check out our summer series, 30 second love stories where we're visiting the most proposal-worthy destinations in NYC and asking couples how they met.