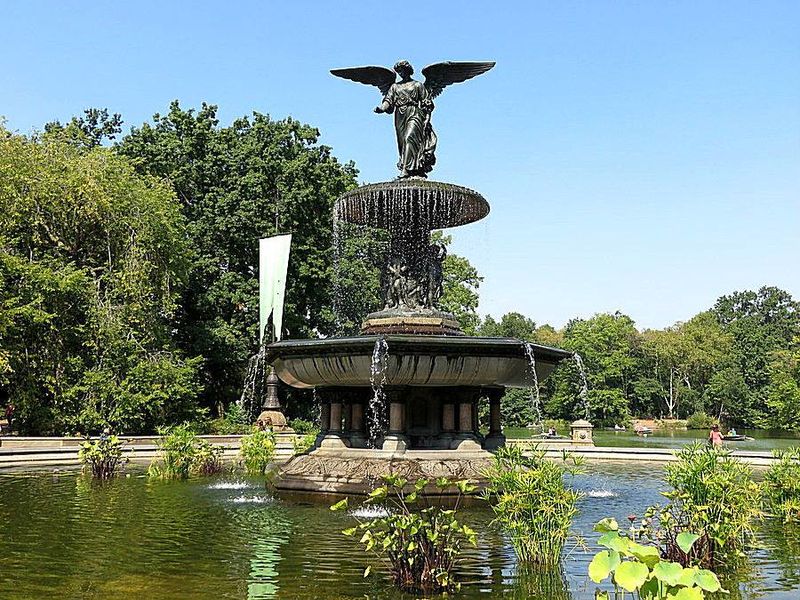 09.06.19
The Best Proposal Locations in New York City — Bethesda Fountain
This summer we're highlighting the best proposal locations in New York City. Our first stop on the list, Bethesda Fountain. Need a ring? You know where to find us.

At twenty-six feet high and ninety-six feet wide Bethesda Fountain is one of the largest fountains in New York. If you take a moment to look up above the water, you'll notice a stunning eight-foot-tall neoclassical bronze angel and four cherubs representing health, purity, temperance, and peace. The angel commemorates the 1842 opening of the Croton Aqueduct, a perfect weekend destination in its own right.

Emma Stebbins designed Bethesda fountain was designed by a woman artist, in 1868. Emma was the first woman to be commissioned for a major work of art in NYC.

Proposals at Bethesda Fountain

Bethesda Fountain fountain is known and loved by New Yorkers for its surprise proposals. With no shortage of eye-balls, and an abundance of smaller connecting paths for a photographer to hide in wait, it's no wonder it's one of the top proposal spots in Central Park.
The edge of the plaza offers a view of the lake and rowboats for a very Monet look — a very picturesque proposal setting. Or you can make your moment directly in front of the fountain for an iconic NYC setting.

If you're planning to propose on the weekend, be sure to get there a little early before the tango dancers and taekwondo classes begin. If you want something bold, you might be able to commission the opera singer (usually seen under the walkway) to serenade your beloved.
Post-proposal, book a reservation with the lake's very own Gondolier and a private table on the Loeb Boathouse patio for an unforgettable day you'll be talking about for years to come.

For a little inspiration, see how photographer, Camille Fontz captured the perfect surprise proposal at this classic landmark.

Best for: The person who wants to be seen

30 Second Love Stories

This summer we're popping up in proposal-worthy spots all over Central Park as part of our series #30secondlovestories. Join us for a free 10 minute couples portrait by artist Zac Karris and we'll share your story with our community.

Here's a sneak peek behind the scenes from our first event at the swooniest fountain in New York — Bethesda Fountain — in which we saw not just one or two, but three impromptu proposals in three hours. Also spotted, two bridal parties and multiple engagement photoshoots. Romance is in season at this picturesque central park location.

Follow us on Instagram to find out where we're popping up next. Meet the couples that we met at this romantic spot, and discover their love story.
Special thanks to artist Zac Karis. Zac grew up Woodstock, NY, attended LaGuardia High School of the Arts in NYC and pursued his focus on illustration at Parsons School of Design. A fixture of the NY art street art scene, Zac considers himself an illustrator, creative cartoonist, observational realist — seeing every day as an opportunity to train his imagination. Follow Zac on Instagram. Hire him for your next event.
Additional thanks to Julia Testa for providing white roses for the event. With local flower shops in SoHo and Brooklyn, Julia Testa curates stunning floral arrangements for home, events and interiors. Julia Testa believes design composition is part of an experience, and no part of that experience should be stressful. Whether in need of flowers, home interiors, or event production, people should enjoy a pleasant, joyous experience. Follow Julia on Instagram for flower-porn, and schedule a consultation you next event.