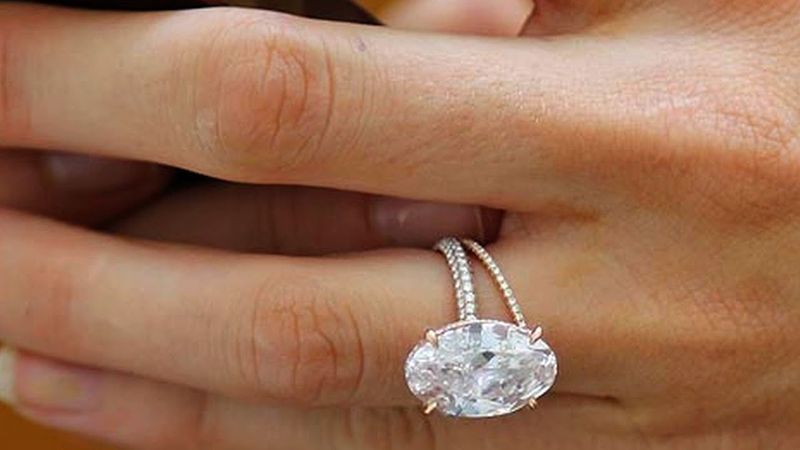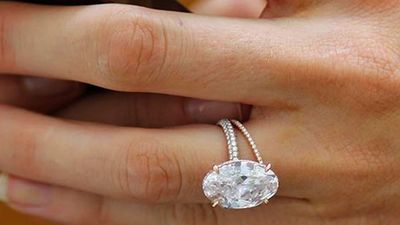 04.07.19
Get the Look with Celeb-Inspired Engagement Rings
So you're looking for the five carat larger than life, finger-spanning, blindingly in your face look of a celebrity engagement ring on a mere mortal's budget, and you don't know where to begin. Easy fix? Go for lab grown diamonds and get the celeb look for less with these celeb-inspired engagement rings.
Lab created diamonds are the no-fail way to get the celeb-inspired engagement ring of your dreams without breaking the bank. Now, we're not talking Paris Hilton 20 carat pear halo big – for that you'd be looking at cubic zirconia – but Meghan Markle – easy. Here are seven gorgeous celeb-inspired engagement rings to which we'd say yes.
No.1 MEGHAN MARKLE
Meghan Markle's ring features a 3-carat cushion cut center stone with half carat side stones. For a similar look in lab-created, opt for the Sidney No. 1 in 18K yellow gold set with a 3-carat lab-grown cushion cut diamond. While your diamond won't be from Botswana, it could be from California and grown using solar energy, which we think is lovely. For the detail oriented, diamond aficionados lusting over whiter diamonds, ask us to customize the setting with platinum prongs if you want to minimize the gold reflecting in the diamond.
Celeb Cost: $350k
Frank Darling Cost: $15k
No.2 BLAKE LIVELY
Years later, and Blake Lively's ring is still going strong. In fact, oval cut diamonds have only continued to gain popularity as a welcome update to their portly round cousins. Blake Lively's ring is a staggering 12-carat ideal cut fancy light pink oval diamond on a rose gold pavé band.
While a 12-carat diamond is likely going to be inaccessible, light-pink morganite is similar in hue and very sparkly. While a stone this size might not be practical for every day wear (unless your Blake Lively) it will cost you less than $2k to get the look. Ask us to customize Harper No. 4 Pavé in rose gold with a morganite center stone and if you want to go all out add our ½ carat eternity band for a perfect replica.
Celeb Cost: $2mm
Total Cost: Under $2.5k
No. 3 KATY PERRY
We can't get enough of this fun, flirty style. It's a Georgian Cluster, and this 5-carat ruby surrounded by brilliant round diamonds is 100% perfect. While most people don't have $5mm to spend on an engagement ring, it's easy to get the look. Ask us how you can personalize Sidney No. 6 with a 4-carat lab grown ruby for a nearly identical ring that comes in at under $1,500.
Celeb Cost: $5mm
Total Cost: Under $1,500

No. 4 JENNIFER LAWERENCE
Jennifer Lawerence's engagement ring is modern, sophisticated and highly wearable, a refreshing contrast to the 10 carats and up celeb styles we're used to seeing. Set with lab-grown diamonds — it's more accessible than ever. Get the look for under $20k with Harper No. 2 in white gold — $180k less than they're rumored to have paid.
Celeb Cost: $200k
Total Cost: Under $20,000
No. 5 MELISSA BENOIST
Like Jennifer Lawrence, Melissa Benoist clearly wants to wear her ring every day, not just when the body guards are on duty. Her 3-carat oval halo set on a platinum pavé band is gorgeous. Get the look with Harper No. 3 Pavé in white gold for $17K. That's $73k less than Melissa's rumored purchase price.
Celeb Cost: $100k
Total Cost: Under $17k