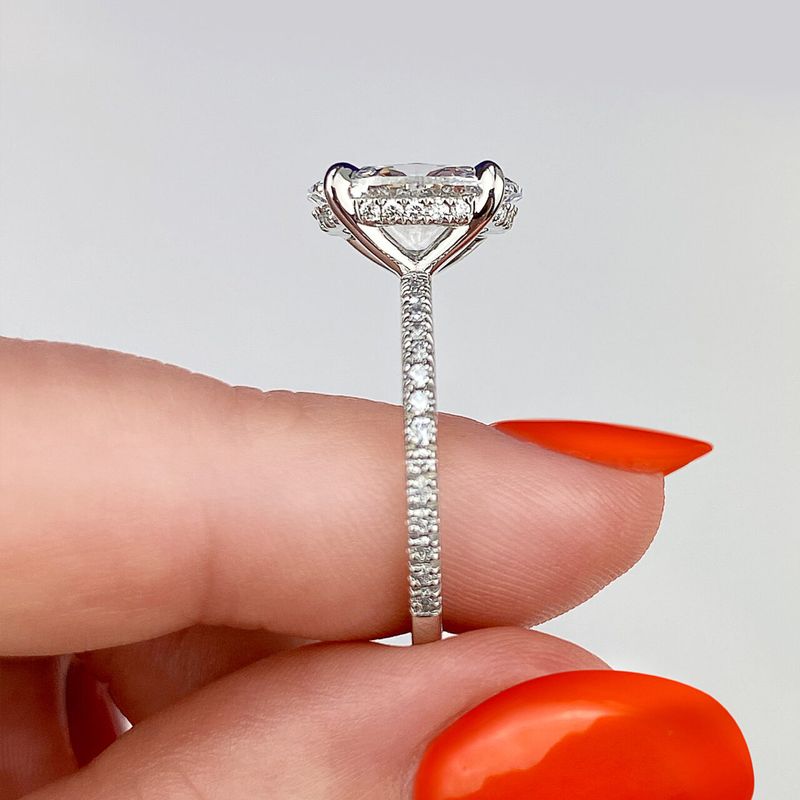 26.04.21
5 Reasons to Avoid a Hidden Halo Engagement Ring
We all know what a halo engagement ring is, right? Arguably the hottest engagement ring trend of the early 2000s and still going strong, it's a style that surrounds your center stone in a ring of light, brilliant diamonds that encircle diamonds, sometimes two rows deep! But the new kid on the block, for those who maybe want something a little less ostentatious, is the hidden halo engagement ring. Yes, that's right, hiding diamonds is a thing now. But this under-the-ring and under-the-radar trend isn't all it's cracked up to be. Here are 5 reasons why.
Like the Name Says
So, like its name says, this halo is hidden. I.e. it's not on the top of your ring, facing out like the center stone. Instead, hidden halos encircle the center diamond from the side, just under the prong tips. Which adds sparkle from a new angle, without seeming too over-the-top. There are a lot of different styles, still, from arched baskets completely decked out in brilliance to single hidden stones set within each side. There's something for everyone. But there are also downsides.

Sideswiped
Putting diamonds on the side of something that you might, say, stack against something else, isn't always recommended. Especially if that something else is more diamonds. See, diamonds may be the hardest material on Earth, but diamonds scratch diamonds, and diamonds scratch gold. So if you're stacking them next to each other, you're raising the stakes on damage or potential stone loss. Let's just say that, in general, the more tiny diamonds you set on various surfaces of your ring, the higher maintenance you're making it. But if you can manage, then by all means. We're not really going to argue against extra sparkle.
Higher Ground
Oftentimes, hidden halo engagement rings sit higher than other settings, given that designers have to make space for those little beauties on the side of something that's already pretty small. If you're looking for a low profile setting, you'll have a tougher time. Our Mason Plunge ring, though, was specifically designed to sit as low as possible, complete with a sculptural hidden halo unlike any other.
Check Your Pipes
If you're the type who wants your engagement and wedding rings to sit together completely flush (with no gaps in between), then the hidden halo isn't your thing…or is it? Many hidden halos, and many engagement rings in general, have a center head that sticks out wider than its band, which creates that gap. Look for a center setting that sits above the band height for your rings to make the perfect stack.

Secret Sparkle
So…why would you want to keep your sparkle hidden away? Good question. Sometimes, it's nice to keep things "business on top" and "party from the side", right? We think so. Most people are looking at your ring from above, but you're going to have a pretty consistent view of it from the side, so do it for yourself. You deserve it. Plus, it won't detract from your gorgeous center stone!
Indulge Yourself
No matter your style, if you're in love with hidden halo, we can help you out. Explore the collection or try out our style quiz to design something unique to you (you even get a free sketch)! Need some more ideas? Send us a note at hello@frankdarling.com with what you're looking for, some inspo pics, and your budget, and our jewelry connoisseurs will get you all squared away.