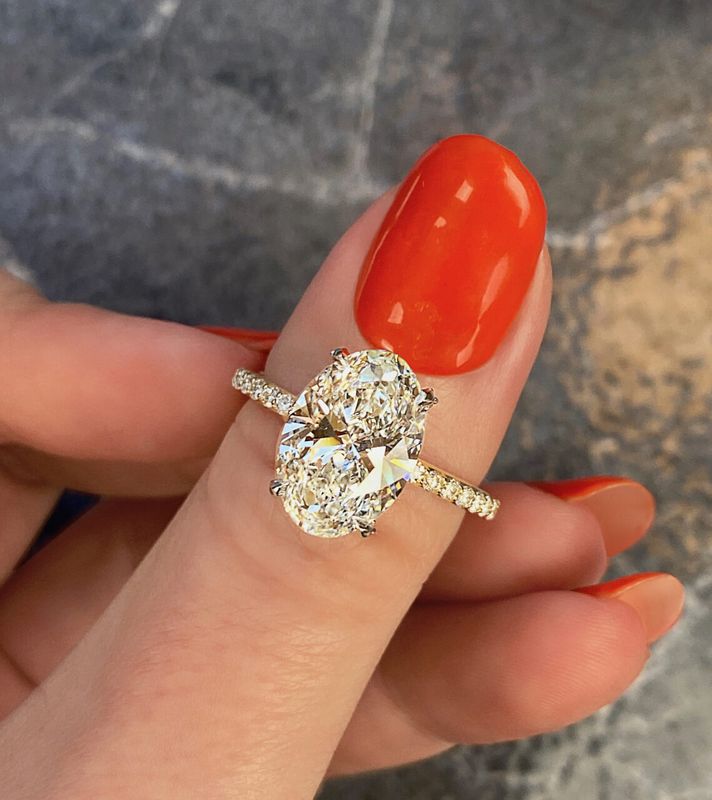 24.06.20
A Beginners Guide to Engagement Ring Styles
Finding your dream ring doesn't have to be hard. Learn all about engagement ring styles and shop from the comfort of home.
You've Got Style, You've Got Grace
First off, the term "setting style" can be confusing. Even in the industry, it's used to describe both the ring style and the actual setting of the diamond in that ring. Stay with us, it'll get easier. We're going to start off talking engagement ring styles, since that tends to be what most people are familiar with, and also what they have the most opinion about.
For Instance:
Pear and tapered baguette side stones sit flatter in the ring and can be more affordable
Half-moon diamonds, trillions, and trapezoids can be a more unique choice, but that also means more expense
Then there are rounds. Again. Classic. But there's always a price.
Rule of thumb?
For center stones under 1.5 carats, you'll want about .12 carat side stones
For 1.5–2.5 carat centers, you'll want about .25 for the side
And for 3 carats or more, you can balance this out nicely with about .5 carat sides
Set it Off
Here's where we're going to get a little more nerdy with you. See, each of the styles above also comes in a variety of "setting types", referring to how the diamond is actually held in place, not just the overall style of the ring. Check it out.
Prong Style Types
We've broken down the various prong engagement ring styles in a handy chart, so you can beat the industry jargon from here on out!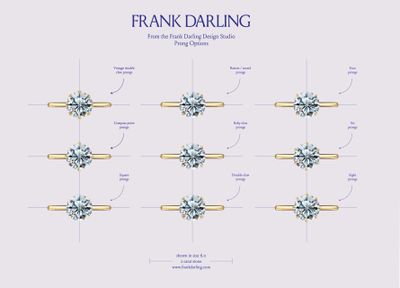 Bezel Set Engagement Ring Styles
A full bezel setting is a thin edge of metal that surrounds the entire circumference of your diamond. A low-maintenance option that can also add a bit of extra protection for your diamond, the bezel offers a clean, modern look. It also tends to be lower profile than prongs. Downside? If not done well, a bezel can look a bit clunky instead of refined. There are also options for half or partial bezels, which are even more minimal. But remember, just like with prongs, the less metal, the less secure, and the more maintenance you're going to have.
Bar Set Engagement Rings Styles
In a bar setting your diamond sits between two straight, parallel bars, most often seen on straight-sided diamonds to accentuate their geometry. Like a half bezel, a bar setting is super minimal and modern, but also not particularly secure. Bar settings are better suited to small side stone accents, as opposed to your main event.
The Bonus Points
While there's a myriad of other terms you might hear thrown around (as well as plenty of brand-specific names) when looking at setting styles, a few common ones include:
Cathedral: This is like a solitaire, but with little arms that arch up towards the diamond
Trellis: A prong setting that has interwoven prongs or basket sides
East West vs. North South vs. Kite: If you have an elongated diamond (think, ovals and emeralds, and marquises, oh my) they are classically set lengthwise, parallel to your finger, or North South. If something is set East West, that means it's set horizontal, perpendicular to your finger. If something is kite-set, that usually refers to a square-shaped diamond turned so that its points face North South instead of square to your finger.
But that's not all…
On top of choosing your diamond setting, there are a few additional considerations that go into the overall style of your ring.
The Band Thickness: Thin is in, but it comes with drawbacks (i.e. the overall security and lifetime wear of your ring). This also has to do with comfort (how much metal sits between your fingers) and whether you prefer a more delicate or bold look. We offer styles from 1.35mm up to 6mm in width to suit your style.
The Band Shape: The profile of your ring shank (the part that goes around your finger) can vary widely. Some of the most common shapes are round, square, or knife-edge (flat inside, but with a subtle edge on the outside).
To Pave or Not Pave: It literally means "paved"—in this case, paved with diamonds—and is pronounced "pa-vay." It can be a single row down the shoulders of your band, a halo, or multiple rows of brilliance. Plus side? Sparkle like there's no tomorrow. Downside? So much maintenance. These tiny diamonds have tiny settings and a simple bump or regular wear can loosen them over time. Regular checks for stone security are key.
The Flush Fit: Most engagement rings you'll find online are not designed to fit perfectly flush against another ring, i.e. your wedding band. You can expect to see a small gap. So if it's important for you to have two or more rings that fit just right, with no gaps, make sure to talk about it with your jeweler from day one. That way you're not committed to a ring with no matching band options.
Need a Little Extra help? 
Take our dream ring quiz and get a free custom sketch. Or try on engagement ring styles in the comfort of your home with Frank Darling's free try at home kit. You'll receive four sterling silver replica rings set with cubic zirconia along with a ring sizer. Everything you need to find the perfect ring and make it yours.