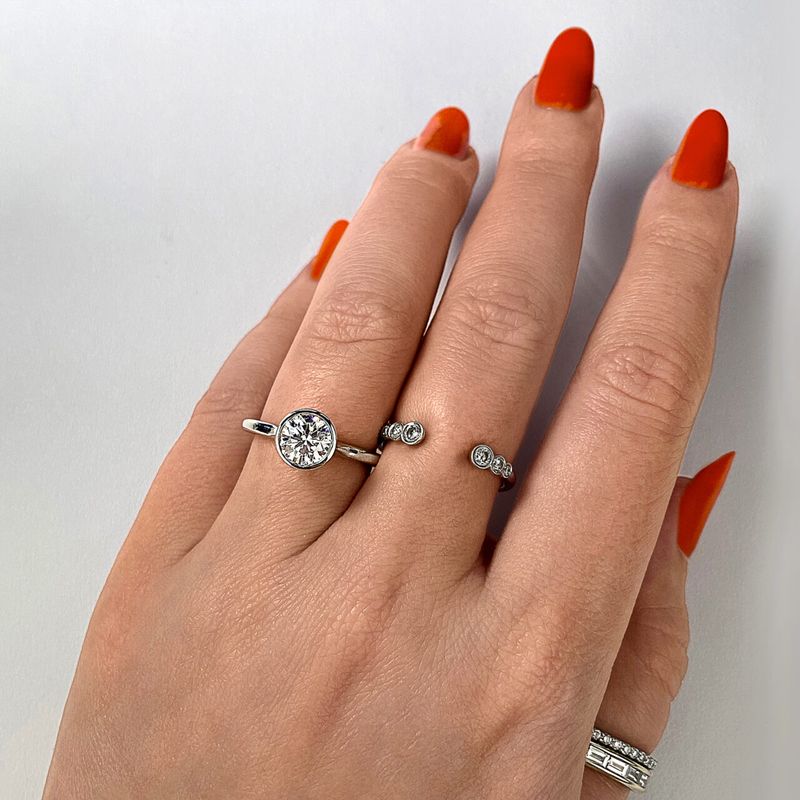 20.07.19
A Buyer's Guide to Bezel Settings
Love them, hate them, there's one thing everyone gets from bezel settings, a strong reaction. The slender metal band that frames a center diamond is the cause of much confusion. Did you hear the myth that a bezel setting dulls a diamond's sparkle? Have you seen a clunky bezel that overpowered a modestly sized diamond? We're here to tell you to give them a second chance, try some on at home, and see for yourself what all the fuss is about.
If it wasn't already clear, we love bezel settings. Their wearability is perfectly modern, and they make for a solid low-profile alternative to the traditional four-prong setting. We highly recommend them for anyone seeking a low-maintenance setting that goes from boardroom to ballroom, and anywhere in between.
Not all bezel settings are created equal. If you're coveting this streamlined style, you'll want to take as much care selecting the setting as you do choosing a diamond.
Beyond the look, there are many reasons why you'd want to choose a bezel set diamond over a prong-set diamond. Since we're all about practicality, let's take a look at the practical benefits of this modern low-profile setting.
Set it and Forget it
Bezel settings are significantly more secure than their prong-set cousins. Bezel set diamonds will not chip or come loose with wear. If you hit your prong-set solitaire on the edge of a glass desk or marble counter, there's some risk that your diamond could come loose or chip. Bezel settings wrap your stone in a band of metal, protecting the most delicate edge from the small bumps of daily life.
High-quality bezel settings are custom made to fit your center stone. To make sure your jeweler sets your diamond correctly, you'll want to inspect the setting post-purchase. If you had the ring appraised for insurance, the gemologist will do this for you. Make sure that the inner edge of the bezel is touching the diamond with no gaps. The stone should be level, the rim should be symmetrical, and there should be no visible damage.
No Snag, No Problem
With prong settings, no matter how high quality the finish, there is always some risk of a prong catching on your favorite sweater or preventing you from slipping on a pair of woolen gloves. In contrast, a bezel settings smooth outer edge is snag-proof. So go ahead and buy that loose-knit sweater you've been dreaming of. You deserve it.
Your Little Secret
Are you looking for a bigger diamond at a better price? An SI1 or SI2 round brilliant with a visible crystal inclusion on the girdle is less than ideal for a prong setting, but perfect for a bezel. The slender rim of gold conceals the inclusion. No one but your jeweler will ever be the wiser. Take it from Frank Darling; your secret is safe with us.
The Shape Game
Bezel set Emerald and Asscher diamonds have a classic art deco look. These cuts look especially stunning in yellow gold bezels which contrast the white of the diamond and frame your stone. The vertical lines of the bezel reinforce the long vertical stone facets for a sophisticated look that never goes out of style.
Bezel set oval, and round diamonds are soft and romantic. This classic look is sophisticated and easy on the eyes.
Bezel set three-stone settings are a unique look that combines decorative metalwork with multiple stone shapes.
Unsure if a bezel is right for you? Why not try on this stunning, modern setting at home, for free. Our try at home service allows you to preview four styles in the comfort of your home, risk-free and without a sales pitch. Ready to get started?