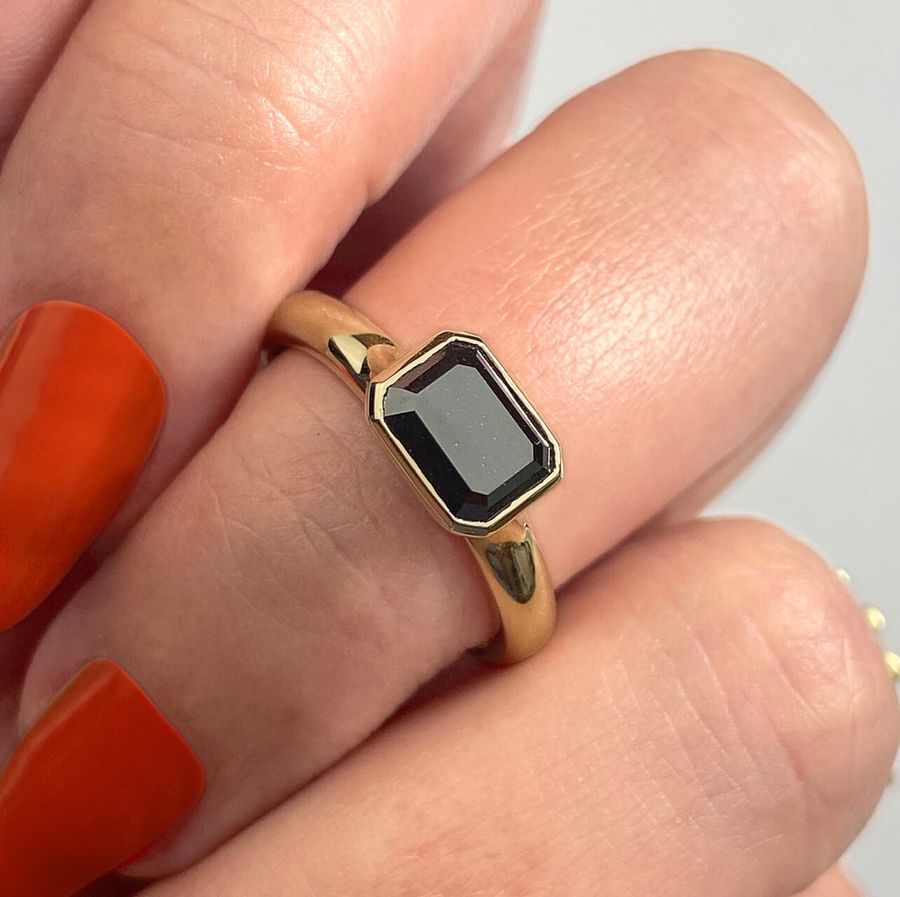 18.09.21
5 Reasons to Buy a Black Diamond Ring
Because monochromatic dressing is a thing. Really though, a black diamond ring is basically the new neutral, darlings. And we're here for it. Whether you're eyeing these dark, sumptuous stones on the ears, necks, and fingers of every edgy celeb around Tinseltown or you just dress in black because it's easier to match, black diamond rings are for all. And you don't have to settle for what you see on the shelf. See what black diamonds are all about, how much they'll break your budget (they won't), and what we can do with these little beauts.
Coloring Book
While it may not seem natural for diamonds — revered for their colorless, clear, sparkling characteristics — to come in the color black, it is in fact a thing. So how do black diamonds get their color? Inclusions! Well, if we're talking about natural black diamonds, that is. Natural black diamonds are basically the pumped up version of salt and pepper diamonds. They're full of carbon inclusions, essentially the inclusions outnumber the clear space in the diamond. Now, there are also heavily included stones that are heat treated to blacken them, or off-color diamonds irradiated to produce a blacker hue. Natural black diamonds are very very rare, so just keep that in mind as you explore your options.
Heavy Metal
Do black diamonds sparkle? Yes! But not like white diamonds. Because black diamonds are more opaque, and due to their carbon inclusions, they tend to have a more metallic sheen that glints in the light. Think about it like coloring over and over with a pencil until you have a totally "black" area on your paper. Really, that area is a sort of shimmery deep gray, and at certain angles looks black, right? That's the effect. They also won't have the rainbow flash of a white diamond. What you're seeing is really light just bouncing off the surface facets instead of reflecting from inside the stone. Think about spotting a shiny object in the distance. An oasis in the sand. A star in the night sky. That's more of what you'll get with black diamond rings.
Cash Money
While a super high quality, ultra saturated natural black diamond can run you a pretty penny, it still won't cost as much as a natural colorless diamond. But if you want to stack up even more savings, there are other affordable options for diving into the dark. Many black diamonds on the market are low color or clarity diamonds that have been treated, with high heat or irradiation, to turn them black. These treatments are stable, and make for a more affordable stone. There's also the lab created black diamond. While these often have a deep bluish or brownish tone (rather than true black) if inspected carefully, they're much more cost-effective and you can find a wide range of shapes and sizes to choose from.
The Black Diamond Culture
Whether rocking a black diamond ring or wearing the lustrous stones in edgy jewelry accents, it girls like Rihanna, Billie Eilish, and Halsey have been seen in these dark sparklers. But darling, don't go thinking black diamonds are only for living on the edge! They can also be super sophisticated, offering a touch of shimmering contrast when paired with white diamonds.
The New Neutral
Want to keep your jewelry look gender neutral? Hello, black diamonds. They work for everyone! You don't just have to pick a black diamond solitaire either. Black diamonds look amazing as an eternity band — worn alone or in a stack mixed with plain gold or white diamond bands — or in a simple row of diamond accents. The wider, signet-style ring is also having a major moment. Instead of lifting the stone way up off the finger like a traditional engagement ring, a signet ring has a lower profile, a chunkier look, and can be accented with any size stone you like, either a subtle sparkle or an eye-catching stone that takes up serious space.
I Love Your Accent
No, we're not talking about foreign romance here, but if you're looking to up the ante on your white diamond engagement ring with some contrast, look no further than black diamond accents. Black diamonds make for a super graphic look, whether surrounding your center stone in a halo engagement ring setting, stepping up as side stones in a three-stone engagement ring, or pick your poison. Really, black diamonds can stand in for white ones in pretty much any style, from micro-pave to the super-trendy toi et moi two-stone ring style.
Black Diamond Ring Deep Dive
Explore our collection of diamond engagement and wedding rings to see what the possibilities are. We can customize just about anything with a black diamond! Just reach out to hello@frankdarling.com and our team will help you hunt down the perfect gem. Or get started customizing your own dream ring with our style quiz and you'll even get a free sketch of your design!