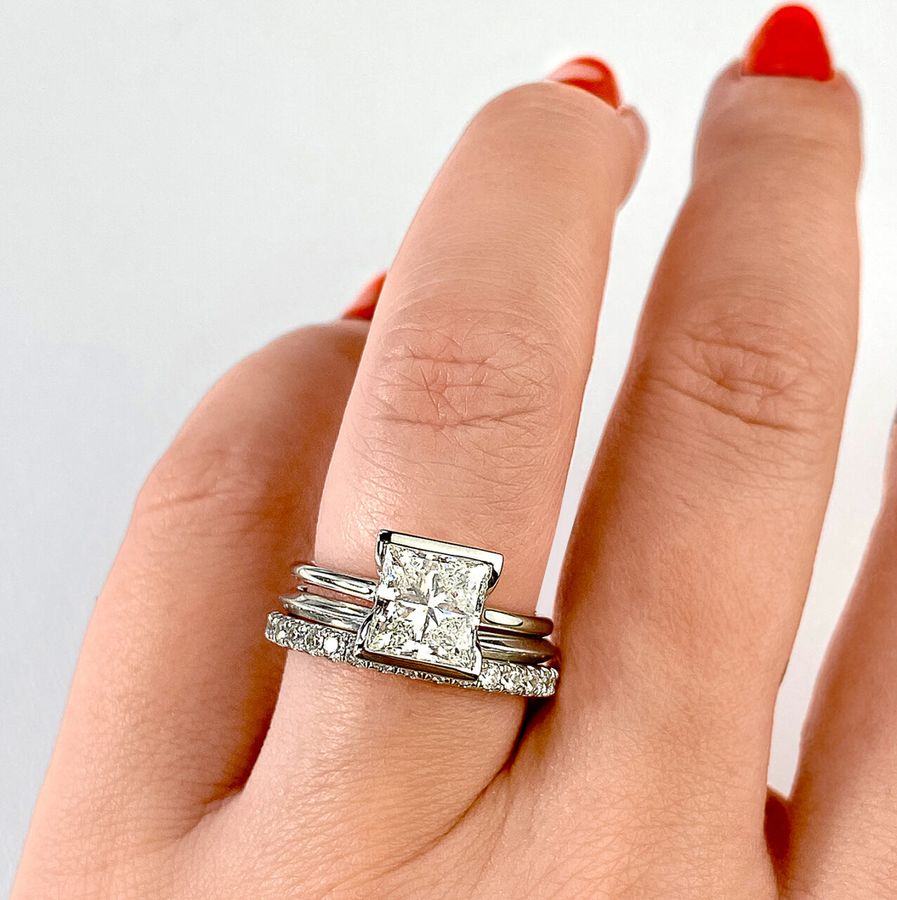 25.06.21
6 Square Diamond Rings We're Obsessing Over
Sure, round diamonds are a thing. But squares are really floating our boat right now. That's right, we said it. Give us sharp corners, step cuts, and geometry, darlings, we're all about the princess cut diamond engagement rings, Asschers, and radiants, oh my! Throw in square cushions too, what the heck. What is it about these beguiling square diamonds that makes them such showstoppers? Perhaps it's just that they're a little different. Maybe they just have that special glint in their eye. Or it might even be their wallet-friendlier price tags. No matter, really, here's 6 square diamond rings we're currently going gaga for.
The Half Bez
Okay, so we're obsessed with the half-bezel ring in general, no matter what shape diamond you choose. But this super modern style (that's still totally secure) looks particularly pleasing with a square shaped diamond. It adds subtle glimmering bars that run parallel to the band for just that extra oomph while also protecting the corners from any snags and smashes that might come up in daily life. Especially when it comes to a princess cut with it's super pointy corners, protection is really of the highest priority. The half bezel also has less metal than the full bezel, providing a lighter, airier look and letting even more light bounce around. Hello, brilliance!
The Full Monty
If you thought halfsies was something, we have to admit we're still also loving the classic full bezel setting for a square cut diamond. A bezel set Asscher engagement ring can be set low, offers full protection for your diamond, and gives you a sleek, geometric look. But you can also do a higher-set bezel that raises the diamond up above the band for that classic Tiffany-like shape with a bit more security. Want to take it up a notch? Add side stones to your bezel! No one ever said it has to be a solo performance.
Go Fly a Kite
The super fun thing about square cut diamonds? If you give 'em a little twist, they're suddenly diamond cut diamonds. We kid. Kind of. But really, turning a square 45 degrees makes it what we call in the industry a "kite". A kite-set Asscher or princess diamond is truly drop dead, y'all. Just that little edgy twist can make a world of difference. And it works super well with the arched or pointed stacking bands that are all the rage. We suggest getting a diamond band custom fit to echo the exact size and shape of your center stone.
The Plunge
Go all in on style and stackability with our latest plunge engagement ring setting. Whether you deck it out in diamond accents or opt for a sleek all-metal look, this design-forward engagement ring adds softness and curves to the edgier square cut diamond. It also has a super open gallery that lets in plenty of light (which means more sparkle) and will sit flush against a wedding band so you can build the ring stack of your dreams.
Three's Company
Forget carbs, we're all about baguette diamonds as the ultimate side stone for your square diamond center. Or any center, for that matter. Sitting atop the shoulders of your band, nestled against either side of your center diamond, these little baguette wonders offer the perfect transition from center stone to band. Their simple stepped facets are sophisticated as all get out, and go with literally everything. Just make sure you get your proportions right. If you're going with a larger center stone, you'll want to bump up the size of your sides too.
Get Your Wings
Some might say that the halo diamond engagement ring had its heyday, oh, a decade ago. Well, not sorry to break it to you, but it's not going anywhere. Why? Well, halos are super sparkly. And we all love that, amirite? And halos don't even have to be round! That's right, any shape! We adore an Asscher halo engagement ring, which adds a softer side to the uber-geometric stone. A halo can also help protect the corners of your square diamond with a little padding. And it can make your center stone look way bigger. What's not to love?
Fit to Be Square
Whether you like the brilliant facets and sharp points of a princess cut diamond, the mesmerizing hall of mirrors effect of an Asscher, or the mixed brilliance of a squared cushion or radiant cut diamond, there's one thing to remember—round diamonds will always be more expensive! So, cheers to you on being brilliant all the way to the bank. Really tho, squares offer so many possibilities for just about any ring style you're after.

Explore our collection for inspiration or get started customizing the square diamond engagement ring of your dreams with our design quiz. You'll even get a free sketch! Can't find what you're looking for? Reach out to hello@frankdarling.com with a quick word about your heart's desire (and your budget) and our jewelry team will get you sorted right away.