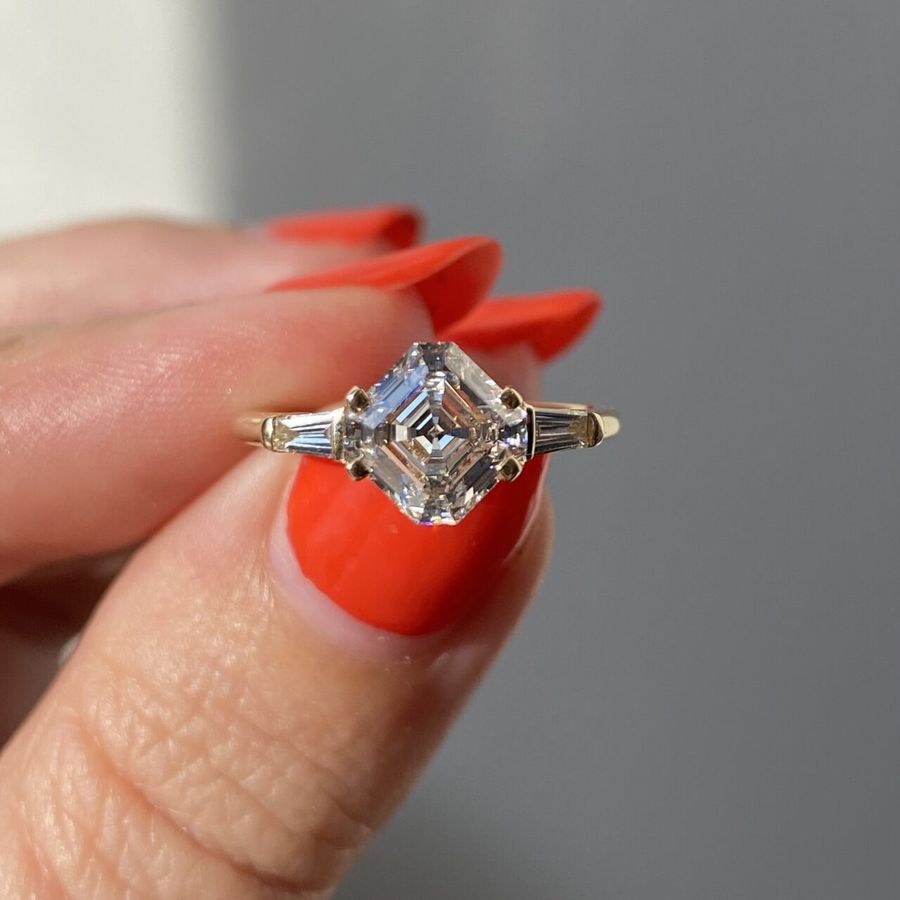 21.08.21
Carat Weight Showdown: Moissanite Stone V. Diamond
So, you want a moissanite! We love that for you, darling. But maybe now you're wondering just which moissanite to choose, and what size. Not surprising. Carat weight is confusing enough, but since it doesn't apply to any gemstone other than diamonds…well…this is when that basic math you tried to forget about comes in handy. Eyeballs getting wide? Forehead wrinkling in befuddlement? Don't worry dears, we're here to help you out with an easy peasy moissanite stone size comparison chart! Thank goodness for visuals, amirite?
Teach a Man to Fish
If we've taught you anything about purchasing a diamond engagement ring, it's that the 4Cs are everything. And one of those is carat, right? Right. So what exactly is carat, anyway? Because guess what, it's not actually a measure of a diamond's size. Instead, it's a measure of diamond weight, and weight only. Just like other weight measures like, oh, pounds for instance, it will tell you the actual weight of the mass you're measuring. But that could be wide and flat (and certainly not sparkly) or perfectly cut and brilliant as all get out. Just like pounds can be distributed differently and still weigh the same. Now, with gems, there are some standard sizes for ideal cuts, and you can use carat as a reference point, but you should always, always, always include measurements and proportions (cut grade) in your consideration. Because nobody wants a big dull rock. Or a little dull one for that matter.
One of These Things
Now, when it comes to lab grown diamonds, they're diamonds, so you can still use the same carat weights. And it would be sooooo easy if we could do the same for moissanite. But of course, life is hard, and moissanite is actually lighter weight than diamonds. About 15% less in fact. Just like sapphires, amethysts, emeralds, pearls…they all have their own weight measures that are different from diamonds. That means that when you have a "1 carat" moissanite, it will actually be larger than a 1 carat diamond of comparable cut. It's also why you'll often find moissanite listed for sale with a diamond equivalent weight (DEW) and its millimeter measurements.
Math is Easy
Well, this math is. And by math we really just mean a moissanite stone's length and width (or diameter) measurements. While it's nice to have a diamond equivalent weight as a reference for a moissanite's approximate size, that can start to get super confusing. Safest bet? Use a stone's millimeter measurements instead. Because that isn't an equivalent but an actual, so you can't really mess up (too much). For instance, an 8mm diameter round moissanite will always be larger than a 6mm round moissanite. Obvi. Here's the breakdown:
Spin Me Right Round
The most popular shape in diamonds is, of course, also popular in moissanite, so let's kick things off there. To make things easy, let's go with 1 carat. A 1 carat round ideal cut diamond averages about 6.5mm in diameter (that's the face up view across the top of the diamond). In comparison, a 6.5mm moissanite averages about 0.88 carats. So, you're getting the same visual size if you use the millimeter measurements, but different actual weights. Buying a 1 carat moissanite just for the "1 carat" label doesn't make sense because you won't notice a visual size difference to the eye. Hence, using carats as a reference but millimeters for actual size.
Fit to Be Square
What does that look like in a princess cut moissanite? A 5.5mm width x 5.5mm length square princess cut moissanite is going to be approximately a 1 carat diamond equivalent. Smaller face up than a 1 carat round. Bump that up to a 6.5mm x 6.5mm princess cut and you're looking at about 1.5 carat diamond equivalent, for a much smaller price tag.
Fancy Pants
Square, but with cut corners and stepped facets (instead of the princess cut's brilliant facet pattern), the Asscher cut stone will still face up smaller than a comparable round. In fact, it'll pretty much be the same at 5.5mm for a 1 carat diamond equivalent. Again, you can go up to 6.5mm square and get a 1.5 carat diamond look.
Same But Different
Similarly, a square cut cushion moissanite of about 6.5mm x 6.5mm will be approximately 1.3 carats diamond equivalent. This will give you a softer square, with curved sides and rounded corners.
Elongation Station
A 1 carat emerald cut diamond will be somewhere in the 6.5mm length x 5mm width range. Remember though, this can change based on whether you go for a squatter or more elongated shape. In comparison, a 7mm long x 5mm wide moissanite will be the diamond equivalent of about 1.2 carats. Starting to get the idea?
Pump it Up
When it comes to oval cut diamonds, they're shallow and elongated and give you lots of what we call "spread". That means more look for your carat weight. In fact, a 1 carat oval diamond can look about 20% bigger than a 1 carat round. Well, with moissanite you still get that big look, for a lower cost. An 8mm length x 6mm width oval cut moissanite will look like 1.5 carat diamond for a whole lot less.
Shaping Up
Now, this is just a few examples of how moissanites stack up when it comes to diamond equivalent carat weights. But keep in mind as you shop that moissanite can be found in a huge variety of specialty cut shapes, crushed ice looks, and even fully custom cut stones, made to suit your specs. Our Diamond Concierge can help you determine the perfect size and shape for your dream ring. Want a single long baguette? We can make it happen. Want a rose cut moissanite? We can find that too.
Speaking of Which
You can explore our collection of loose moissanite gemstones to get inspired or start designing today with our style quiz. You'll even get a free sketch! Can't find what you're looking for off the shelf? Want to customize a ring with your personal flair? You got it. Just reach out to hello@frankdarling.com and our jewelry crew will get you sorted.