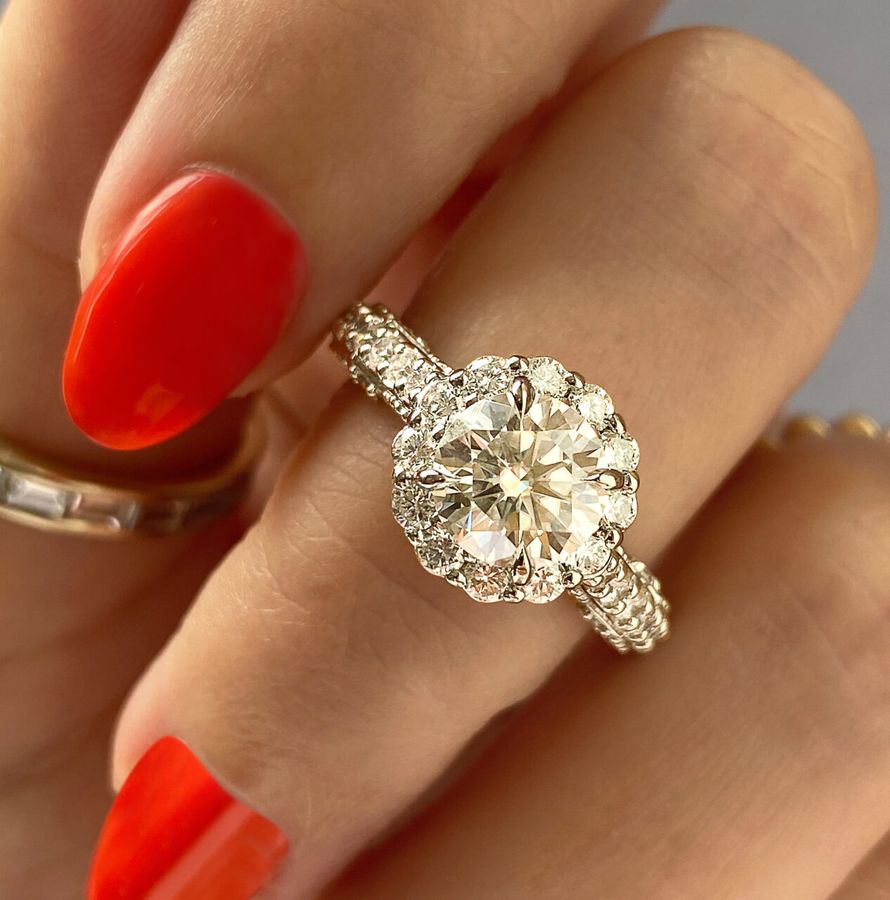 16.11.21
Edwardian Era Engagement Rings- Get the Look
By Stephanie Dore
Everything old is new again, right? So it goes with the Edwardian era — all nature and curvy goodness — and its popularity in engagement ring details that are making their appearance on the fingers of modern folk. What does this look like? Think elongated marquise diamonds (yes, they're still hot), major halos, and delicately refined details in striking white platinum. But don't go thinking you have to go all in. Today's way? Add subtle Edwardian style nods to something a bit more modern to balance out the look. And maybe one day you'll get a style era named after you too!
What's in A Name
Upon the death of his mother, Queen Victoria, in 1901, Edward VII ascended to the British throne, launching not only a short stint as king but also a new namesake era in design and fashion. While the Victorian era, characterized by an emerging middle class and industrialization, brought romance, symbolism, and in fact the birth of the modern prong-set engagement ring to the lovebirds of the world, the Edwardian era refined it. Plus women's suffrage was a thing, so nod to that.

A Little Bit of This, A Little Bit of That
While Edward only reigned from 1901–1910, the period is often extended until the start of WWI in 1914 and given it's short-lived existence, it makes sense that it's a bit of everything. Edwardian jewelry showcases Victorian influence and Art Nouveau, with a bit of Rococo and the early signs of Art Deco thrown in for good measure. What does that add up to? Let's find out.
Fine Lines
In 1903, another pretty major innovation came along that would change the jewelry world for, well, ever. The oxyacetylene torch! What was all the fuss about? Well, this clever little thing allowed jewelers to use extremely high temperatures, high enough to craft platinum into the delicate, lace-like designs popular during the Edwardian era. Want to cop the look for your own modern take? Try an open filigree (tiny wires crafted in intricate designs) basket or gallery for your center stone. Or some delicate milgrain edging — a tiny line of metal beading to give your ring a subtly Edwardian finish.
An Old Flame
If you want to keep your engagement ring design super modern but still have a throwback to the days of yore, try an antique diamond cut like an old mine or old European cut diamond. Each of these styles predates the modern brilliant cuts known for their intense sparkle and are instead cut to shimmer subtly under candlelight. Old mine cut diamonds will have a soft, squarish outline while old Europeans are their round counterparts. But both offer a hand cut and polished look that's perfect for any modern vintage lover.
Smell the Roses
Edwardian era jewelry often features rose cut diamonds as well. With their flat backs they make for easy side stone accents. But you can use them as your center of choice too. In fact, we'd highly recommend one! Again, a rose cut won't have major sparkle moments. Instead, they offer a super low profile (i.e., sweater and glove friendly) and sexy, subtle shimmer. A rose cut diamond can also give you a much bigger look for your money as they have major spread from the top view.

Fancy Halos
Thought halo diamond engagement rings were an early-aughts invention straight out of the celebrity-sphere? Think again! Halos were actually super popular in Edwardian engagement rings. In fact, you'll find them in pronounced sizes and unique shapes that frame a diamond with flair, not just a boring old circle. What do we mean? Edwardian diamond frames (halos) often were elongated rectangles or crosses or floral forms that were filled with multiple diamonds or created massive negative space around a singular center stone? Want to get the look? Try a floating halo that leaves a bit of space between your center stone and the subtle ring of sparkle.
The Edwardian Era Touch
Another great way to nod to the past without going too overboard? A delicate hand engraved detail. This might be a subtle floral engraved band, some of those Edwardian garlands would fit the bill just right, or even a sweet engraved message inside your engagement ring. Engraved details are a beautiful way to add something custom to an existing ring design without having to start from scratch!
Ready to Relive the Past?
Start designing your perfect Edwardian-style engagement ring with our style quiz. Incorporate different shaped diamonds, sapphire accent stones, halos, and more! You'll even get a free sketch to help you visualize the end result. Need a bit more help? Email our team at hello@frankdarling.com with your style inspo and a bit about your budget and we'll get you all sorted out asap.