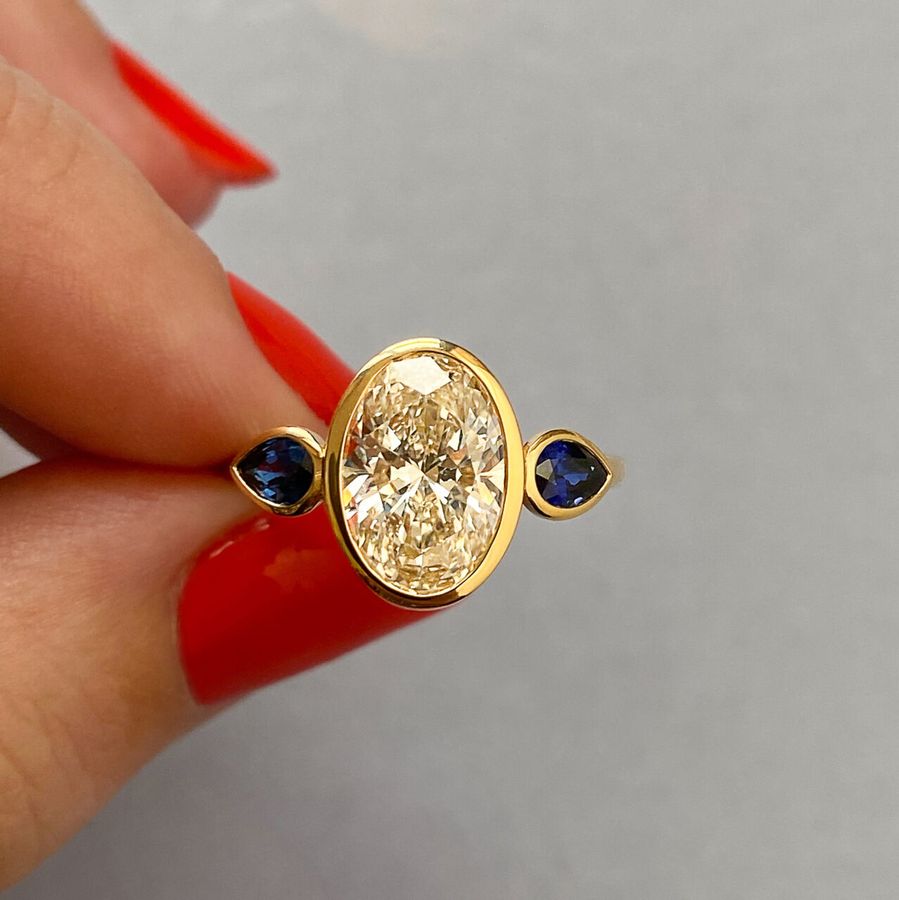 05.01.22
Engagement Ring Rules: Deciding How Much to Spend
When it comes to dropping your hard earned dollars on a diamond engagement ring, we believe in setting a budget before you ever lay eyes on the sparkly stuff. Because that sparkle does things to your brain, your heart, your handing over of every credit card in your wallet. And the last thing you want haunting your forever love is any type of engagement ring buyer's remorse. But how to set that budget? What's the average engagement ring cost? What are the "engagement ring rules"? That's the big question, darling.
Going Rogue
We really thought that by now, all those traditional "two months' salary" rules about what to spend on your engagement ring would be a thing of the past. Alas, those sentiments are still hanging out. So it might take a bit of will power, but we beg of you — break the engagement ring rules. Why? Because those rules don't take into consideration you or your lifestyle. Things like the gig economy, how many vacations you might want to take, or what kind of ring you actually want. And they certainly don't take into account the effects of our recent pandemic.
Surviving and Thriving
It should come as no surprise that our global health crisis of late threw the wedding industry for quite a loop. Weddings were put on hold, as were ring sales. Travel stopped, which meant no destination vacay proposals. Many were furloughed, while others were able to squirrel away some extra cash. So if you're coming out of this whole ordeal affected in any way (um, that's all of us), the rules just aren't going to apply. Instead, you need to take a real look at what you are comfortable spending. And at ways to maximize that engagement ring budget to get what you want. And that's where we come in.
Talk Therapy
First things first, we recommend starting a convo. That's right, your engagement ring doesn't have to be a surprise. Today, couples are totes talking about engagement ring cost before popping the question. And we love this. Because you're about to spend your lives together, so it makes sense to make sure you're on the same page about what types of rings you might want and how much you want to spend on them. Or how much you want to save and throw at a nice honeymoon instead.
Get Nerdy With It
If you want some additional help zeroing in on a number, you can use this engagement ring cost calculator. It will take into account some of those "extras" not included in the simple salary rule, and give you a ballpark budget that might help you close the confusion gap. You'll still need to know what your ring priorities are, but at least this can give you a helping hand with the money stuff.
What To Talk About
Besides simply talking about the money stuff, talk about what you want. What are the must haves and what are the dealbreakers? Does your person want a flawless diamond and only a flawless diamond? While we wouldn't personally suggest spending a bunch of money on something you can't see, if it's important to you, then that should be reflected in your budget. Basically, you'll know to only search for flawless, which might mean you go for a smaller stone or a lower color grade…trade offs, right? The 4Cs of diamond shopping truly are like levers you can adjust to find your ideal diamond within your ideal budget, so do that. Know what you want — a certain carat weight, clarity, color, etc. — and pull those levers to find the right balance.
Phone a Friend
In the old days, folks would often have a local jeweler they went to for all their special occasions. They might start with an engagement ring, but they'd be back for wedding bands, anniversary gifts, birthday presents, and more. But then came a little thing called the internet. While it might have taken a leap of faith to purchase a diamond online 20 years ago, today it's a vast share of the market, complete with photos and 360 degree videos of diamonds so you can really see them sparkle. But honestly, there's still nothing like a trusted jeweler to help you find the perfect diamond ring for you and your partner. Our Diamond Concierge service was created to be just that. No commission, no pressure, all friendly helping folks with tons of expertise and all the right connections. We can help you stick to your budget and find something super special that reflects your love story just right.
Mad Max
Our expert design team can also help you think outside the box to maximize any budget. For instance, a lab created diamond can help cut your price tag nearly in half (and yes, lab diamonds are real diamonds). If you're looking for a big diamond, this is a great way to save serious cash. Moissanite is also an incredible budget-friendly option. These super-sparklers are super durable, just like diamond, and come in an incredible range of shapes and sizes. You can learn all this stuff, or you can rely on our team to help guide you in a direction you'll be happy with come question-popping day.
Break the Engagement Ring Rules
Once you've got that "must have" list in hand, explore our thoughtfully designed engagement and wedding rings, our collection of more than 20,000 certified, ethically sourced natural and lab grown diamonds and moissanite, or start creating your dream ring today with our design quiz, and get a free sketch!
Not finding what you're looking for? Drop us a line at hello@frankdarling.com with a bit about your priorities (and your budget!) and we'll get you sorted, in style of course.