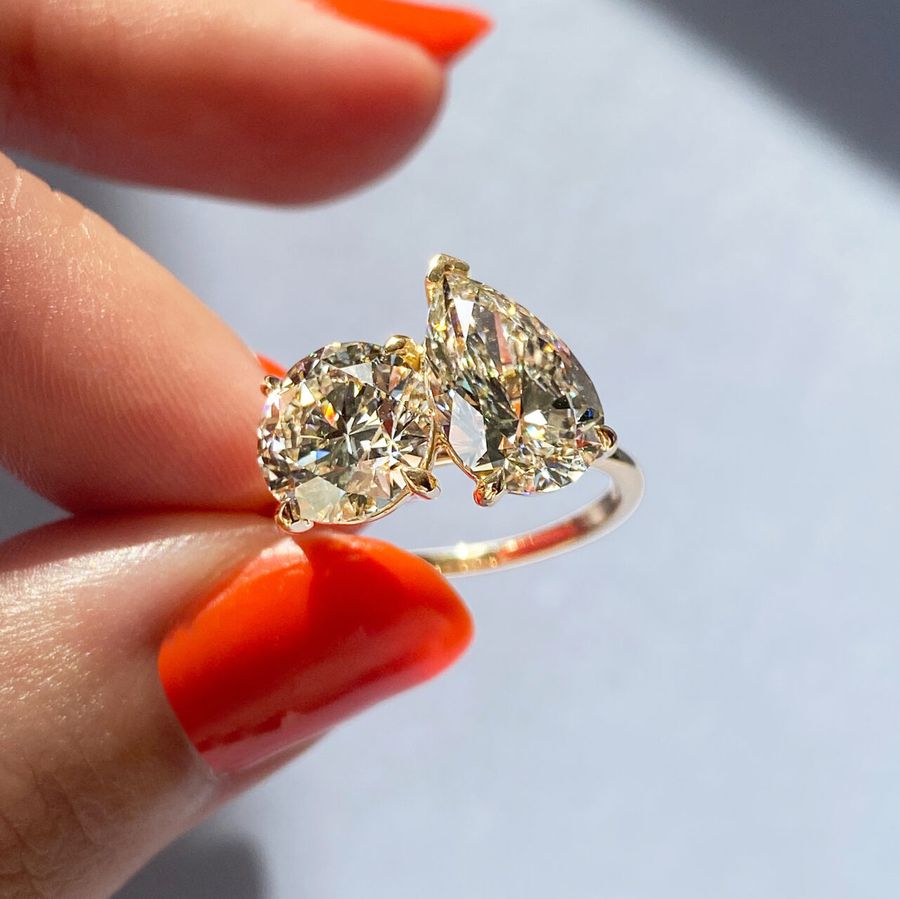 12.02.22
Engagement Ring Trends: 2022 Edition
By Stephanie Dore
Engagement ring trends tend to evolve a bit slower than, say, the latest Tik Tok dance craze, or even the fashion industry because, well, jewelry is personal. And engagement rings are arguably the most personal piece of jewelry of all! In fact, making your engagement ring your own will always be the hottest trend, darlings, so you do you. But that doesn't mean that there aren't celebs and influencers and fashion favorites at play when it comes to the new and now of trending jewelry designs. Here's what our designers predict for 2022:
Toi et Moi
The two-stone engagement ring has been steadily climbing the charts for a few years thanks to celebs like Ariana Grande and Emily Ratajkowski. But with Megan Fox's early 2022 emerald and diamond two-stone engagement ring stunner, we're pretty sure this trend isn't going anywhere anytime soon. Literally meaning "you and I" this style features not the standard single, solitaire diamond but two gorgeous stones representing you and your partner. And here's where things get fun! We adore this style because you have endless options for stone combos and settings. You can play with diamond shape, size, and color, or mix in precious gemstones for lots of contrast.

Doubling Down

Perhaps you're thinking, oh lord, two stones, twice the cost. And yes, that's definitely a consideration when purchasing a toi et moi style engagement ring. But it doesn't have to mean doubling your budget. There are lots of cost-saving options to explore, including lab created diamonds (which, yes, are real diamonds), moissanite, and colored gems. We love when clients explore alternative stones and create unique combinations!
Platinum Power 
Next up on the trend trail is, perhaps surprisingly, platinum! While glowing yellow gold has been warming things up lately (and we don't really predict it going anywhere) we suspect that platinum is going to be making a comeback of its own. For one thing, platinum makes colorless diamonds shine super duper bright, and that icy look (a la early 2000s) is coming back y'all. And another tip from us to you: the platinum value is amazing right now! 
Art Decked Out

Platinum is also the perfect pairing for Art Deco-style engagement rings (which we're also seeing everywhere), with their clean, geometric lines and lots of step cut stones. If you want to make a major statement, there's nothing better than a sleek platinum bezel around a sophisticated emerald or Asscher cut diamond with some blinding baguette accents, baby. While we aren't really buying into the low rise jeans, we're totes okay with these styles coming back around any time.
Brilliant Bezels
Speaking of bezels, you know we love 'em around here, darling, because who can argue with their easy, modern simplicity. But times are a'changin' and styles are moving from minimal to super-max. Blame it on the pandemic driving folks to pump up their personal style and add lots of color and details to their lives, or just appreciate it for what it is — bling. But we're seeing pave diamond bezels in our future (and in yours). Now, this can mean a lot of things. A bezel set diamond with pave down the band. A sweet little hidden halo. Some pave accents on the basket…the choice is yours. But we're all about adding some brilliance to your bezel this year.
Chunky Rings with Texture

Big, chunky rings are having a pretty major moment too, with or without diamonds. We are loving bold, textured bands like our uber-popular Rigatoni Ring that, yes, it's inspired by pasta. Or a heavy cigar-band style ring with a hammered or matte finish to make it your own. Adding texture to any ring style can totally change up its look, whether a matte finish, a milgrain edge, some hand engraving…or dream up something unique. Our design team will work with you to customize a look that's 100% you.
Sign of the Times

Another trending look that's big on size and style is the signet ring. Or chunky bands with chunky diamonds in general. These are gaining traction for gender neutral engagement rings and can be uber simple or a more complex design depending on your style. We love a radiator-style ridged band with a stunning flush set step cut diamond in the top. Plus, these low profile bands without pokey prongs means your sweaters are safe from snags!
Oversized Warm Diamonds
Love big diamonds but not big price tags? Well you're in luck, because warm diamonds are here to stay. What's a warm diamond? Think lower on the color scale, in the K-M range, champagne hues, soft warm tones. Who doesn't love bubbly? These stones are spectacularly beautiful in their own right and will save you more than a pretty penny over a colorless diamond. Which means more money you can put toward carat weight. We love the modern statement an oversized warm diamond makes and can help you source a stone to fit any budget.
Tipping the Trends
What we love most of all is helping you create your dream ring, whether that's something from our collection of signature engagement and band styles. Or something you whip up with our style quiz, where you can answer a few simple questions and get a free sketch of your custom ring design! Need a little more help realizing your dreams? Drop us a line at hello@frankdarling.com and our team will do the heavy lifting.