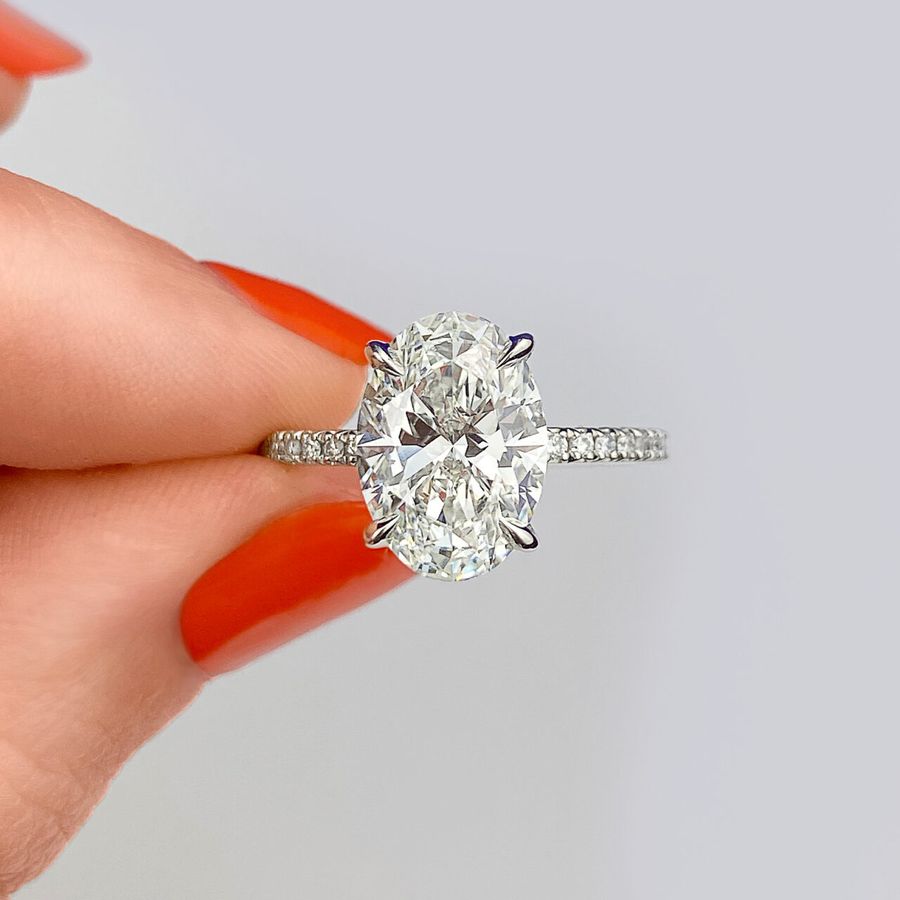 30.04.21
Five Ways to Add a Diamond Accent to Your Engagement Ring
Sometimes less is more. Sometimes it's not. And my darling, that's totally okay! While we love a classic, solitaire diamond, we also understand that some of us need a little extra oomph to make an engagement ring our own. And we're all in favor of owning your style. So whether you're trying to spice up a solitaire with loads of extra bling or just add a little surprise sparkle to make your ring stand out from all your friends', here are five of our favorite ways to add a diamond accent to your engagement ring.
Always By Your Side
We'll start with the most basic option for adding extra diamonds to your center stone—and that's with side stones. You can go with a three-stone ring, a five-stone style, floral accents, or pave down the sides…I know, so many options. But really, it's all about making it your own. A classic emerald-cut three-stone ring will give you an Art Deco-style elegance, while a scattering of marquises will create floral decadence for a more feminine twist. Or try some tiny pave stones on the band for just a hint of sparkle that wraps around the finger while leaving your center stone at, well, the center of attention.
Dominate the Details
While most of us think of diamonds as big and sparkly, they also come in sizes small enough to put just about anywhere—including on your center diamond's prongs. Yes, it's a little over-the-top, but again, who says that's a bad thing? What you need to know is that pave prongs are a super cool way to add just the hintiest of hints of extra sparkle. But they also are at way higher risk of falling out. Why? Well, the prongs of your center stone are the outermost edge that will take the brunt of everyday wear and tear. Put some diamonds on them and, well, there you go. If you have an extra active lifestyle, you might want to steer clear. But with regular maintenance and stone tightening, pave prongs can be a totally doable option.

Oh, Halo There
While the halo engagement ring has been topping the charts for the last decade or so, there's a new kid in angel town. Meet the hidden halo. Now, you might be wondering, why would you want to hide diamonds? Well, we say, why the heck not? A hidden halo actually offers you some surprise sparkle from the side view of your ring, encircling the center diamond's basket just underneath the edge of the diamond. Need a visual? Say no more.
Buried Treasure
Ok, so now we're talking about actually hiding diamonds. We repeat: why not? We do what we want. And what we want to do for you is hide a little diamond detail inside your band. Yes, we know, you can only see it when you're not wearing your ring. But that's the fun part. It's like a little love note that's just for you and your partner to enjoy.
Hue Do You
Want to expand your options besides just diamonds? You can do any of the above in fancy color diamonds, precious or semi-precious gemstones. We love a birthstone accent that celebrates you, your partner, your kid, your kitten. You get the idea.
Picture This
Have some ideas of your own, or want to combine all of the above? Try our design quiz! You can select from lots of style options, stone types, and metal colors and get a free sketch to help you visualize your dream ring.