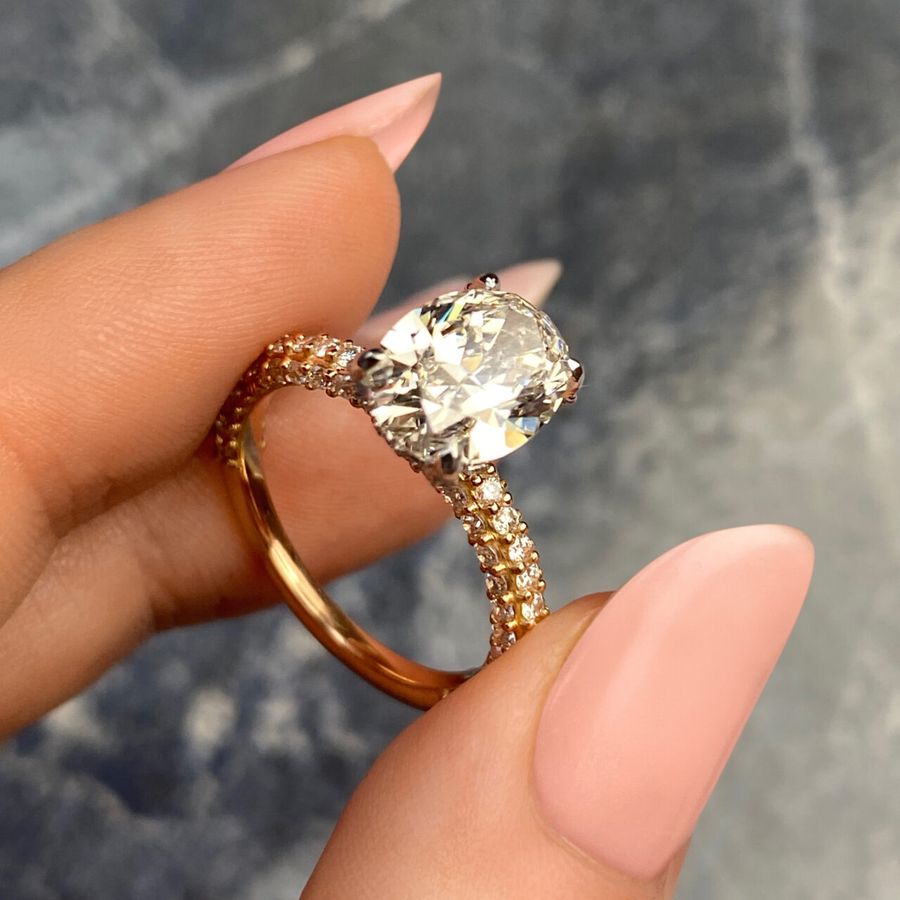 19.05.21
Get the Look: Blake Lively's Engagement Ring
Sometimes a celeb comes along who just seems to really have it all. And sometimes that celeb also has the cherry on top. Enter Blake Lively. Who not only rocks her own superstar talent, humor, style, and class, but married sweetheart Ryan Reynolds who has, well, all of the same. But let's get back to that cherry. That's right. The engagement ring. The one we're all still obsessing over a decade post-proposal. Let's just say Reynolds (along with celeb fave designer Lorraine Schwartz) did everything right when it came to custom-designing THE Blake Lively engagement ring. We get it, you're jealous. But not to worry—we're going to tell you how to get the look.
Pink Like Paradise Found
First off, let's talk color. See, Blake's rock isn't just your average flawless white diamond. It's pink! Albeit, it's a barely-there blush tone. But still pink. Natural fancy pink diamonds are some of the most rare on the market, but can be found in all sorts of cool shades from a vivid orangey-pink (think hot coral) to a soft, light brownish-pink that's basically the next best neutral. While fancy color diamonds tend to run your price much higher, try shopping lab grown diamonds to save your wallet some stress.

Hot Topic
Another way to keep your budget intact? Explore the alternative side. I.e. gemstones! Who says your engagement ring MUST be a diamond? Certainly not us. There are a ton of great pink precious and semi-precious gemstones to choose from. Try sapphires for deeper, darker shades or a peachy pink morganite for something on the softer side.

Get Some Clarity
Sources tell us that the diamond in Blake Lively's engagement ring is flawless. And all we hear is ca-ching, ca-ching. What is it with celebs and flawless diamonds? It's a pretty unachievable standard to set, much less desire. After all, if you go flawless you're really paying for nothing. As in, you're paying a super big markup for something that doesn't add any visible value to your diamond. Our advice? Go lower. Say, VS1. You still won't be able to see any inclusions but you will be able to still afford that honeymoon.
Better Than a Hashtag
What's the hottest way to trend? By setting one. Which is exactly what Blake did with her brilliant oval diamond. Considered a fancy shape (anything other than a round), oval diamonds are elongated, finger-flattering, and give you all the sparkle of round brilliant cut diamond in a more affordable (about 25% less than a comparable weight round), contemporary package. Already a stunner of a deal, you can shop a bit lower in clarity and still have your inclusions disguised by the brilliant facets, or look for length-to-width ratios just outside of the most common to save even more cash.
Don't Go Too Crazy Tho
Since fancy shape diamonds don't have cut grades (long story), you will want to really look at an oval diamond's proportions to make sure it's well cut, doesn't have a strong bow tie effect, and gives you that jaw-dropping brilliance you're looking for. Make sure to check for photos and videos you can compare, or get eyes on one yourself before purchasing.

Rose All Day
Blake Lively's engagement ring ring doesn't just flaunt a pink diamond but it's also set in rose gold—which, despite being around for a long time, got super popular right around the time of…well, Blake's gorgeous ring! This blend of yellow gold, copper, and silver is now widely available and totally appropriate for your everyday jewelry. It also helps perfectly set off the color of a pink diamond. But set anything in this blushing metal and you'll have a super romantic, feminine style that stands out from the crowd.
Slenderize Me
For the celeb set, usually rolling with some pretty major rocks, a skinny banded ring is going to look that way no matter what. But Blake's stunner really defines what it means to go all the way. Her huge diamond is set on a super slender diamond band, which makes the diamond look even bigger, and gives just a whisper of sparkle. While Blake Lively's engagement ring did it a decade ago, the super skinny band trend is still sizzling hot.
Speaking of Sparkle
Blake's band is drenched in tiny diamonds, called pave. This two-syllable French word with a soft "pav" like Pavarotti, then hard "a" like, well, the letter "a", is the French word for "paved". As in paved with tiny diamonds. It's a great way to add a touch of sparkle to a simple band in lieu of larger side stones. You can go for just a sprinkling or a pave eternity band with diamonds that go all the way around your finger.

Stack it High
Blake Lively doesn't do boring. What she does do is rock a glittering stack of bands to keep her engagement ring company. Whether you wear a full stack every day, save it for special occasions, or mix and match to your heart's content, this is a great way to make your ring your own. It also means you can go with a smaller center stone and still get massive visual impact. Our favorite ways to color outside the lines? Play with different diamond shapes and vary the metals to get totally unique combos.
Help is on the Way
Ready to try on some engagement rings for yourself? Get a free try-at-home kit to sample stone shapes, different sizes, and replica designs to suit your style. Or take our style quiz to customize your dream ring from scratch! You'll even get a free sketch! Need a little more? Email our jewelry experts at hello@frankdarling.com with some details of what you're looking for and your budget and we'll get you sorted out.