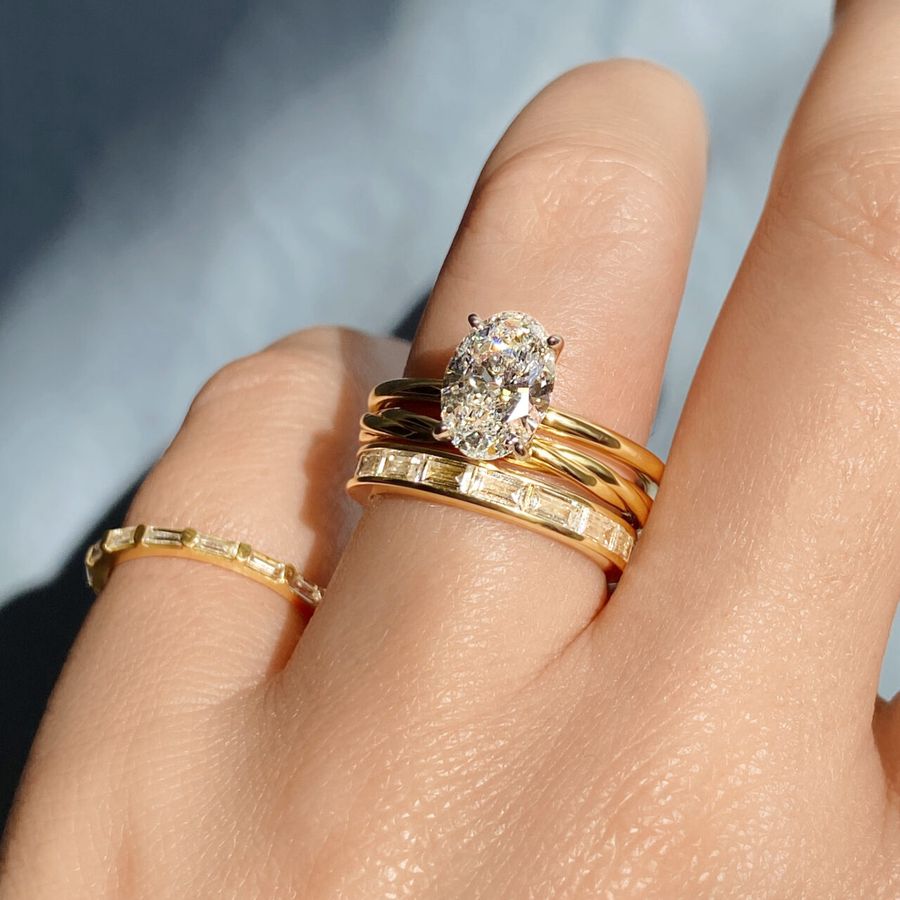 17.03.22
Gold Wedding Rings: Tacky or Timeless?
By Stephanie Dore
When it comes to takin' it back to the old school, nobody does it better than the yellow gold comfort fit band. It's been around for literally ever, checks the "if I must wear a ring…" box for those not so into sporting jewelry on the daily, and won't drain your savings if you'd rather spend your money on a super-luxe honeymoon. But then there's the forever fashionable question: are gold wedding rings timeless? Or are they just plain tacky? Fashion trends aside, gold wedding bands aren't going anywhere. But if you see a gold band and think "blah" then here's some easy ways to spice up a stuffy old style and make it your own.
Fresh Finish Your Gold Rings
One of the biggest things people worry about when purchasing shiny new jewelry is scratching it. But don't worry. You can have nice things. First off, every piece of jewelry will show wear over time, especially if you're wearing it every day. There's just no getting around this. In fact, many people really love the softer, worn-in feel of a nice patina instead of that fresh-out-of-the-box polish. If you're into it, you can even customize any gold band with a matte finish first, so you'll hit the ground running. Will it still show wear? Yup. Will it be a cool modern twist? Absolutely.
Want to go a little more outside the box? On wider gold wedding bands a hammered texture is also a cool look, giving you that rough around the edges feel. It also catches the light in a cool way, if you're into that sort of thing. Or try stripes! Yep, that's a thing. You can add bands of milgrain (a tiny beaded texture), matte finish, cut out grooves…get funky with it and make it your own.
The Shape of Gold
If you want to take customization of your gold wedding ring up a notch, play with profile instead of (or in addition to) finish. By profile, we mean if you cut your band open, what shape would the wire be? Is it rounded? Usually to some degree. But you can also do a shaper square profile, or a knife edge that tapers to a point, even while maintaining a smooth, curved comfort fit on the inside so it's super cush against your finger. This works for both thin and wider bands, just know that the thinner you go, the less detail you can squeeze in.
Explore the Pastabilities
We love playing with unique gold band shapes so much we designed a whole collection of them! Dedicated to the great city of New York and in honor of our fave dish (pasta, obviously), our signature pasta collection features super sweet, extra curvaceous noodle profiles like rigatoni (a house favorite), barbine, and the sweet lil canule. You can stick with yellow gold, or explore other metals including white gold, rose gold, and platinum to suit your style.
Sparkle Up Your Gold Wedding Rings
Whether you're loving a curved profile band or something more flat, you can make it extra special with a sparkly diamond or gemstone set in the top. We love a soft oval cut diamond in a curved band, or perhaps a straight-edged baguette in a square band. Either way, setting the stone just inside the metal will keep your stone from snagging and your gold band super comfortable to wear. Signet-like styles or chunky bands with larger stones set in the top are also having a major moment in fashion right now, so don't hesitate if you're thinking about pushing the envelope. We love pushing envelopes!
Hidden Gems
Want to add some sparkle but in a slightly more subtle way? Hide a tiny gem inside your band, like a little secret just for you. You can go with a classic diamond or choose a favorite color or birthstone to represent you, your partner, your furbaby…you do you. We also love a wide band with tiny glittering pave diamonds set along the edges, facing outward, so that you get just the tiniest glimpse of sparkle when it's on your hand, without, you know, blinding anyone.
Mixed Metals
One of the best ways to keep your style from getting stale is to create a mixed metal ring stack. Instead of choosing all one metal for your engagement and wedding rings, or whatever rings you're choosing, try mixing a gold band with a white gold or rose gold, or, heavens — try all three together! We love pairing a platinum and diamond engagement ring with a yellow gold band, for instance. Not only will it give you a unique look, but if you're wearing your ring stack every day, you'll have a bit more freedom when it comes to coordinating all your jewelry. We know you matchy-matchy folks are still out there doing this.
Royal Flush
Even the most simple gold wedding ring can be an item of function and fashion when it comes to creating the perfect wedding and engagement ring stack. If you're rocking an engagement ring style that won't sit flush with a larger diamond wedding band, try sandwiching a thin gold band in between. Sometimes just that tiny bit of extra space can make all the difference in creating a seamless wedding stack. Or max it out by playing with sizing and pair a whisper-thin engagement ring style with a wide gold cigar band for a totally modern look. This is also ideal if you don't want to wear your engagement ring every day but still want a sizable look on your finger with a single band. The gold band, darlings, really is here to the rescue.
Gold Ring Simplicity? Timeless
Ready to rock your own gold band? Explore our signature band collection for a bit of inspo and then try your hand at our style quiz where you can answer a few simple questions to design your dream ring. You'll even get a free sketch! Need a little helping hand? Drop us a line at hello@frankdarling.com and our designers will help you zero in on your ideal style.