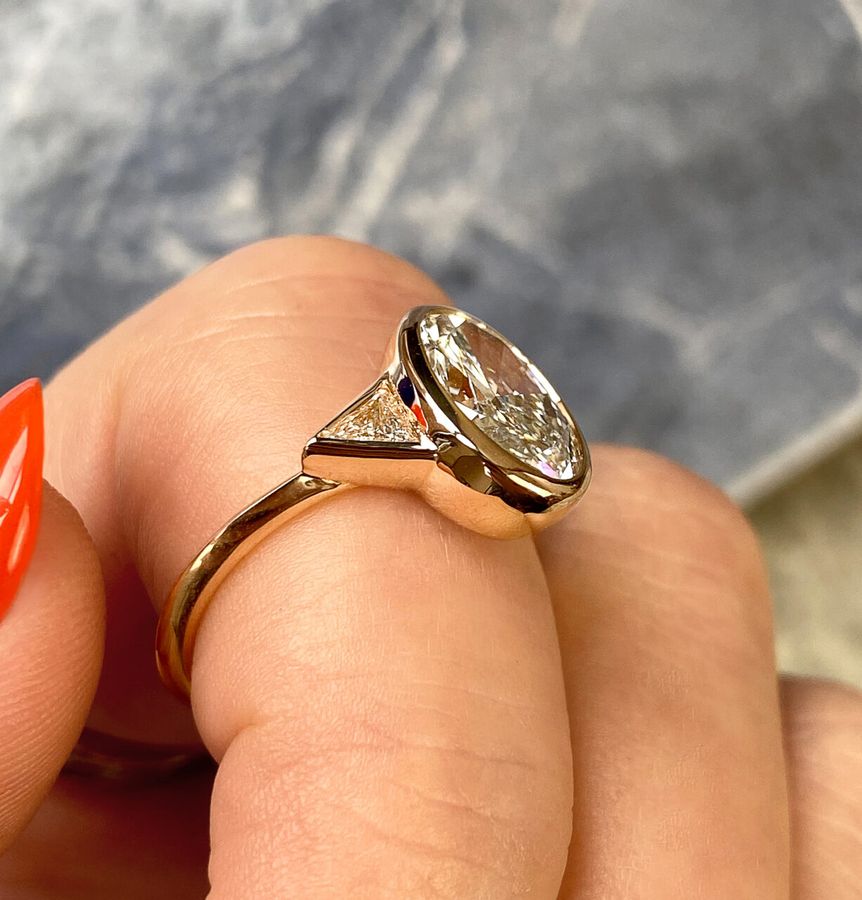 23.12.20
How to Avoid an Impractical Engagement Ring Setting
By Stephanie Dore
Whether you're shopping for a unique, custom engagement ring or vintage setting, by definition, engagement rings are decorative items. They are not necessary or, for that matter, necessarily functional…they are extra, plain and simple. So it makes sense that when choosing an engagement ring setting, most of us are in it for pretty more than practical. We want some sparkle, some size, something that stands out. But also, you're going to wear that ring pretty much all the time, so we threw together a few practical considerations that might be, well, worth considering when it comes down to picking out your perfect diamond engagement ring setting.
The Catch
You want a big ol' diamond. You love sweaters. These two things often don't play nice. Yes, ring height is a real concern, folks, especially if you put that rock in a classic engagement ring setting where it's elevated all sparkly and bright waaaay above your hand. Think Tiffany-style solitaires and you've got nothing but prongs tearing up your favorite cashmere. Or perhaps your work has you wearing gloves? (Shout out to all the essential workers!) Don't even think about it. What you need is something a little more low-profile, that hugs your hand, with smooth, rounded edges. Like perhaps a bezel, a semi-bezel, or…stripped down to the bare essentials, our Harper No. 1 setting sits flush with a wedding band and as low on your finger as possible.
The Softer Side
You work hard, you play hard, metal is hard, right? No worries? Wrong. Here's the deal: Gold is harder than platinum, but platinum is stronger. Platinum will bend where gold breaks. And the lower the karatage, the harder the gold (i.e. 14k is harder than 18k). When scratched or worn, platinum just sort of shifts itself around, where gold will wear away and lose material over time. This makes platinum highly recommended for diamond settings, as the material doesn't disappear with wear. A two-tone setting with platinum prongs on a yellow or rose gold band can give you the best of both worlds. No matter what, though, if you're going rock climbing, take off your ring.
The Mirror
You want sparkle and brilliance and light, oh my! Don't we all. Well, the beautiful thing about well-cut diamonds is that you'll probably get it. See, that's what all those tiny facets are made to do—to literally take all the light around them and bounce it back to your eye. Like 58 tiny little mirrors. The only problem is, those mirrors can also reflect other stuff back to you, like the color of your metal. And when you've got a bright, colorless diamond shining yellow gold back to you, well, you've got what can look like a not-so-colorless diamond. This is especially important if you're looking at fancy and step-cut diamonds like an emerald cut ring setting in yellow gold. A two-tone setting might be the way to go, or save yourself some dough and get a lower color grade diamond so you're not spending money on colorless that doesn't look like it.
The Fall Out
You want all diamonds, everywhere, and these days it's totally possible. You can have tiny pave diamonds on everything from the side of your setting to the band to individual prongs. Just be aware that with every diamond you have, you also have the added risk of losing it. Worth it if it makes you happy. But remember, metal moves or wears away with time, and it doesn't take much to knock those micro-pave stones right out of place. If you're especially active, or just don't want to worry about it, definitely consider avoiding too many extras, or find a setting type that is more protective of your side stones.
The Maintenance
Speaking of safe and sound…owning fine jewelry is like owning a fancy car. It requires regular tuneups to look and behave its best, including not dropping diamonds in a sad trail of breadcrumbs everywhere you go. Setting a regular maintenance routine (including cleaning, prong and setting tightening every 6–12 months) is super important for the well-being of your engagement ring), and are complimentary with purchase at Frank Darling. But — the more diamonds, the more risk. Depending on your activity level, a setting style with a little more metal, like bezels or channels, can offer more protection for the life of your ring.
The Safety Net
You want to rock a big ring and to not have to worry about it. We get that. Our how-to? Insurance. Look, purchasing an engagement ring should be a beautiful, memorable, lovey-dovey moment. Have that moment. And then make sure it's not followed by a flood of tears if that ring is lost in your luggage, damaged, or stolen. Especially if you're spending some serious savings on it. You'll need an appraisal to figure out your ring's replacement value, and then it's worth it to shop around. If your homeowner's policy doesn't cover it, you can check out options like Jewelers Mutual for a special policy aimed at protecting your most precious moments.
The Dream
And with that practical advice in mind, we set you free on the path of finding your dream ring. After all, a little education never hurt anybody. Check out our collections to explore the possibilities, or design your own perfect (and perfectly practical) engagement ring with our style quiz and get a free sketch!