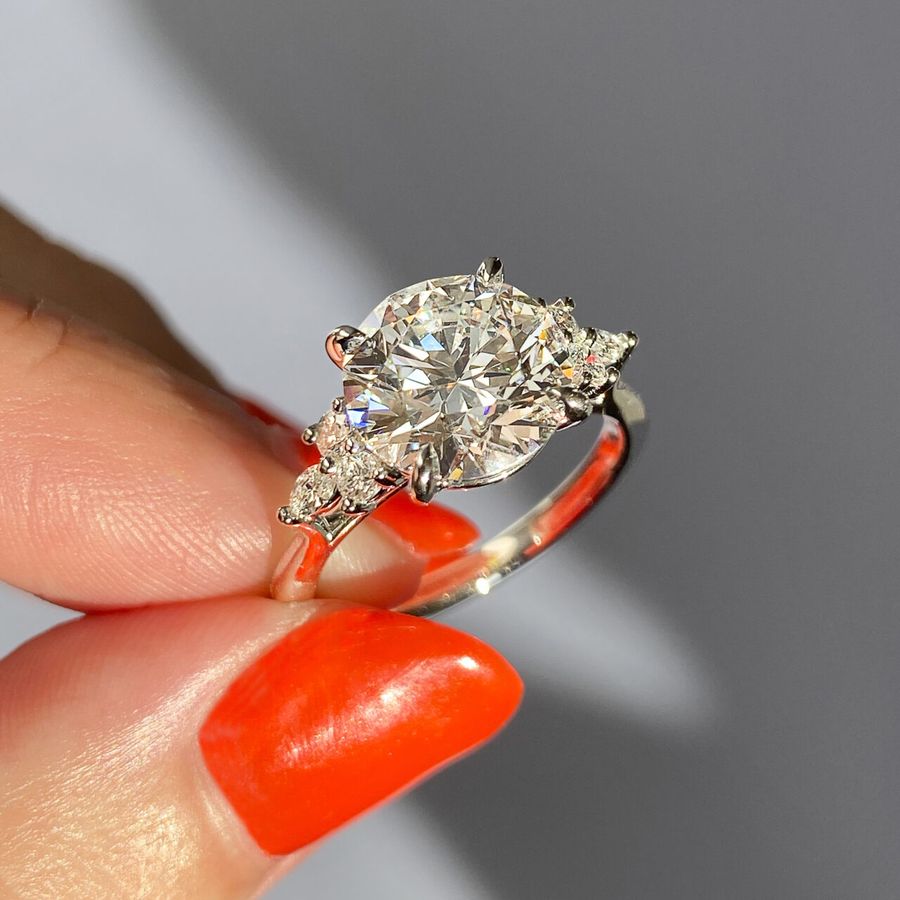 07.01.22
Inside the Cluster Ring Trend
By Stephanie Dore
On the tip of everyone's tongue, not to mention their fingers, is the cluster ring trend. For real, y'all. What started as an indie designer alternative to gumball diamond solitaire traditionalism is now, well, kind of mainstream. While I'm sure "cluster ring" probably conjures a specific look in your brilliant brain, the real beauty of cluster rings is that they can actually be anything — including an engagement ring. Well, anything but a solitaire, of course! And they're absolutely perfect for those looking to really make their engagement ring a creative endeavor. Ready to express yourself? Here are some of our favorite ways to customize the cluster ring of your dreams.
Different Strokes
If you thought deciding on a single flavor of ice cream was hard…why on Earth would you subject yourself to deciding on a single diamond? Like the split scoop (or double scoop, we'll admit), a two-stone ring can give you the best of everything. Can't choose between a round and a princess? A pear and an Asscher? A cushion and well…anything else? Well, you don't have to! A two-stone ring is your entré into the cluster ring trend. Two-stone styles, a la Emily Ratajkowski and Ariana Grande, are a mega-trend of their own, too. While you could certainly match stones or colors, we've been loving two-stone rings with a little contrast, whether that's via shapes, diamond colors, or different gemstones altogether!
A Handful
What's even better than two stones? Five, of course. Yep, we blew right by three stones (too traditional) and four (even numbers just don't tend to have the same design appeal) to bring you the modern five-stone engagement ring. You'll definitely hear "five stone ring" at the old school shops, but you'll get a different result. Traditionally, a five or seven stone ring was more of a simple anniversary band, with that number of small, matching diamonds in a super simple row. Well, not anymore, darlings. Today's five stone ring is a whole nother thing.

Large and In Charge
We love a chunky five-stone ring that pumps up the volume on traditional, and honestly kind of looks like a massive diamond eternity band but without messing up your finger spacing. You can add a subtle split shank to transition from the bigger stones to a super slim band for full on comfort and perfect sophistication. Or do a truer cluster with five stones all jumbled up on the top. If you're going this route, we love mixing and matching diamond sizes and shapes to add a bit of extra visual interest. But if you're into it, you can totally stick with one shape and get a nice mix of classic and mod.
Flying Colors
Cluster rings are one of the easiest ways to play with colors — whether diamond colors or different gems — when it comes to creating a unique engagement ring. You can go a couple of different routes here. First, you can do the subtle thing and choose stone colors in the same family, think ombre effect but in a cluster instead of a row. We love this look in champagne diamonds, created with a subtle mix of different shades. Or go bold and choose really contrasting colors (that are still complementary). Mix black, white, and salt-and-pepper diamonds! Mix blue gems with orangey yellow goodness! Mix purple and green!
Cluster Ring Rock Candy
Speaking of colorful gems, you definitely have some options here. A cluster ring is the perfect way to add precious or semi-precious gems to your look. Sapphires are a go-to favorite here, because they're ideal for everyday wear and come in a gazillion colors. Like, pretty much every color, in fact. You can even just choose blue and still get many different hues, from purply blueberry to soft aqua. Or go with pink sapphires, where you can find sweet baby pinks and deep clay tones. Or mix and match with different stones! Mix diamond and morganite and pink sapphire for a blushing affair. Or white diamonds, pale sapphires, topaz and aquamarine for a seaworthy style.
Set it Off
Now, once you have an idea of the stones you're into, don't forget about the setting! You'll often see cluster rings with simple prong settings. This is great for keeping the attention on the stones and the metal at a minimum. But it's also a lot of prongs…which are prone to snagging your favorite sweaters. We actually love mixing in some bezel settings, which create a thin band of metal around the stone (or stones!) and are super duper secure. This is great if you have an active lifestyle. Also, it's a major modern moment if you're into that kind of thing.
I'm With the Band
You might think we're getting a bit ahead of ourselves talking about matching bands here, but it's never too early, folks. Admittedly, it's not super easy to match a wedding band to a cluster engagement ring, but that doesn't mean it can't be done. For instance, a curved or pointed band. Or two! You might just have to go custom. Did we mention that's kind of our thing? We love to help you find or create interesting ring sets that have as much or as little gap as you'd like. But we do suggest planning for this up front. That way we can design multiple rings to really sit perfectly together and create the overall look of your dreams.

Togetherness
Creating your own cluster ring can start anywhere. Search our vast collection of natural and mined diamonds for some sparkling inspiration, or explore our signature ring styles for a good starting point. Then get down to business (ok, it's actually really fun, y'all) with our style quiz to totally customize your cluster ring — everything from stones to metal to style — from start to finish. You'll even get a free sketch! Need a little helping hand? Kick off a convo with our experts at hello@frankdarling.com and we'll get you all sorted.