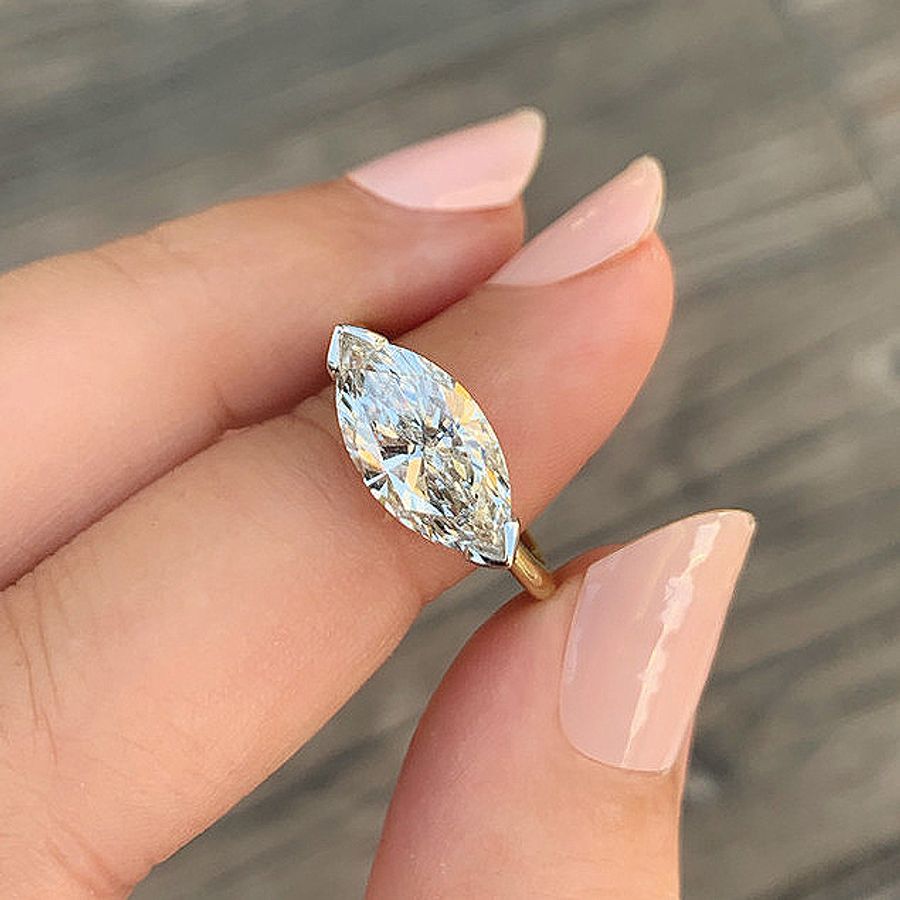 13.11.20
Is the Marquise Diamond Dated or Darling?
By Stephanie Dore
It's nothing new in the world of fashion for things to have a major moment and then suddenly feel "so yesterday"—only to have them pop back up 20 years later. After all, what goes around comes around. Over and over and over again. So if you're thinking "ooooh, marquise diamonds are so outdated" you're not wrong. You're also not right. Much like the chokers and ditsy florals of the 90s made a serious comeback, this football-esque diamond shape is, in fact, having another heyday of its own. Just don't go expecting it to be in some grandma material. Today's the marquise diamond marches to a much more modern drum.
Yes, it's Pronounced Mar-Keys
That's just a need-to-know if you're going to start asking around for this unique shape.
Ro-Ro-Ro-Romance
Also called the "navette", which means little boat, this shape goes back to the 18th-century, when good ol' King Luis XV decided he needed a diamond shaped like the lips of his mistress, the Marquise de Pompadour, and thus, the marquise was born. But the name comes from courtiers wearing this shape to show off their rank. It's shallow, elongated form can appear almost twice the size of a comparable weight round diamond, and it is beloved for making the finger appear long and slender when set traditionally in a north-south direction.
With a Twist
One of the biggest ways designers today are giving the marquise a makeover is to take its elongated shape and turn it east-west, so that it sits horizontally across the finger. It offers a modern aesthetic—or even an edgy one—that is less likely to catch on everything. While typically set in prongs, we're also seeing more minimal bezels or semi-bezels for a cleaner look. But no matter how your marquise is set, just make sure its precious points are protected!
A Particularly Good Vintage
Not feeling the mod look? Marquise diamonds are a go-to option if you're into vintage style. Just check out Ashlee Simpson's jawdropper engagement ring, for example. It even magnifies the shape with a ruby and diamond halo! Marquises are great for creating leafy, floral looks, giving off an icy fairy flair, or just plain making you look and feel like the queen that you are.
Who Wore It Best?
I Love Your Accent
Not sure you want to make the marquise the star of the show? Try some smaller accent stones on for size. Their uniquely leafy shape lends a beautiful floral look to nearly any center stone. Or line them up in a row for an easy band that doesn't over-commit to one huge rock. Not sure what it'll look like? Try our design quiz to customize your style and get a free sketch!
Choose Your Own Adventure
When you're looking at purchasing a marquise diamond, just know that because they're a less popular shape, the pickings for a good one will be significantly slimmer than for, say, a basic round brilliant. But once you know what you like, it'll be much easier to zero in. For instance, you want to decide on length-to-width ratio (how long or how wide your diamond will look) first. Some people prefer a longer, skinnier marquise while others like a wider, shorter one. Think about how you will set it (north-south or east-west) when choosing.
You'll also want to keep an eye on color (which can show more at the marquise's shallower tips, clarity (that elongated table can show off a lot more stone than you might expect), and bow tie (the dark area that runs horizontally through elongated diamonds).
Take Your Window Shopping to the Next Level
Ready to make the most of a marquise for your own engagement? head over to our diamond selector, where you can browse over 10,000 lab grown and ethically mined diamonds in full 360° video. Don't see what you're looking for? Email us at hello@frankdarling.com. We'll curate a list of 5-7 exclusive stones that are just right for you.