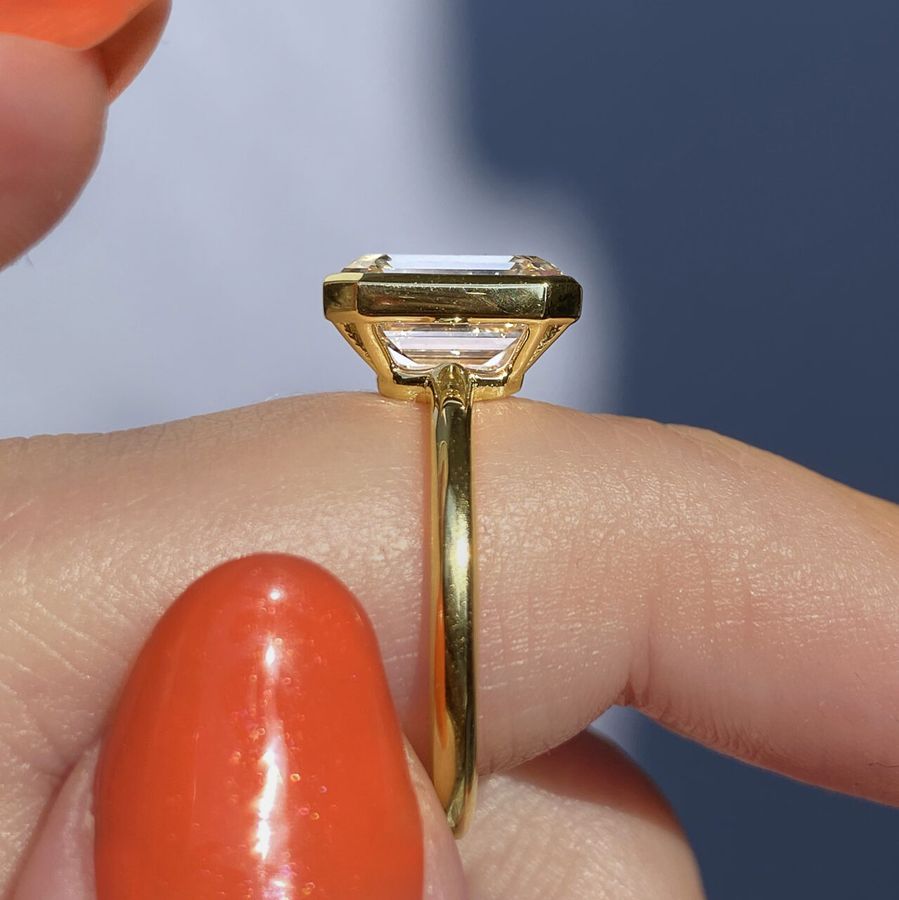 10.09.21
Ring Anatomy 101 – How to Talk Like a Pro
If walking into a jewelry store has you weak at the knees (for all the wrong reasons) or you're thinking of getting a custom engagement ring but don't know where to start — you're not alone. We know all too well — and from our own experiences — that talking to gem geeks can feel a bit like you're speaking a foreign language. Why? Because you kind of are. To jewelry connoisseurs, a ring is never just a ring. It's a head, shoulders, knees, toes…kidding. Partly. But not to worry, darlings, we're here to school you. Welcome to Ring Anatomy 101, where we'll have you talking like a jewelry pro in no time.
Love on Top
We'll start with the basics. To make this easiest, imagine a classic diamond solitaire engagement ring. One diamond, held by metal atop a ring. The part that goes around your finger? That's called a shank. Many often call it the band, but a band is its own thing, (a solid band without a center stone, basically). So, the shank. The center stone sits in what we call a ring head. Where the head and shank meet? You guessed it — the shoulders. If the shoulders have two little points that rise above them toward the head, those are cathedral shoulders. What's in a name, right? Now, that ring head is also made up of lots of its own little parts, depending on what style of setting you're looking at.
First and Foremost
The ultimate classic, a prong setting, is probably what you're picturing. Prong set ring heads can vary widely, but it essentially boils down to prongs — which are the upright metal pieces that curl over the top of a diamond to secure the stone. These prongs can vary in number, depending both on the size and shape of your stone and personal preference. Classically, you'll see 4 and 6 prong settings for round brilliant cut diamonds. But a pear cut stone, which has one rounded end and one point, might have 3 or 5 prongs. A square stone will typically have 4, one at each corner…you get the idea. More prongs can equal more security, but can also limit the amount of light that can get into a diamond, so striking a pleasing-to-the-eye balance is key. One of the biggest plus sides of prongs is that they raise your diamond up in the air, off the finger, to catch light. One of the biggest downsides? They tend to snag on all your favorite sweaters.
White Walls
Now, before we get into more goodies, turn that imaginary ring to the side, with the shank facing you in an O shape, and the head at the top. The area on the side of the ring head, that's called the gallery. It goes all the way around the head, kind of like a support system. You'll hear the term gallery used to describe many different settings. But don't go thinking a gallery is just empty space. It can totally be a design detail all on its own. You'll also hear the term "basket setting" which looks like just that, a tiny woven basket. A prong basket, for instance, would typically have 4 vertical prongs with a horizontal wire that spans between them for extra prong support.
Plant Parent
That gallery, or basket area, doesn't have to be plain and simple. One of our favorite ways to fancy it up is a floral gallery, with a basket that consists of petal shapes that interlock to support the diamond. Similarly, a trellis setting is a classic spin on the four-prong basket, where instead of going straight up and down from the shank, the prongs criss-cross over each other in a trellis-like pattern, with or without an upper basket bar.

Hide and Seek
Another uber-trending basket style is the hidden halo, where instead of seeing a diamond halo from the top view of the ring, pave diamonds are set into the basket bar, encircling your center head from the side view. Our unique plunge style prong setting, with all its gorgeous curves, can also be set with a row of glittering pave diamonds. Its open, airy gallery and sculptural style is designed to sit as low as possible while still stacking flush with your wedding band.
Safe and Sound
If you're more of a security-minded sweetheart, or just love you some major metal, you might want a closed gallery — forget open and airy. A closed gallery basically means there aren't all those open spaces on the sides of the setting. This might be a full bezel setting, a semi or half-bezel, or even a super-low prong setting that's solid metal on the sides.
Speaking of Bezels
A full bezel setting, unlike prongs that secure your diamond with 4 or 6 points, goes all the way around, with a thin edge of metal pushed over the stone to hold it nice and tight. The most classic look, what we like to call the "bathtub" looks like just that, from the side. It's a super smooth, modern setting that plays well with puppies, sweaters and all things fuzzy. A half or partial bezel typically secures the diamond from two sides, as if you cut away half of the bezel. Bold yet delicate, our clutch setting is a play on the half bezel designed with an open side gallery so you get the half-bezel look from the top and minimal metal from the side.
Just the Tip
Since we're not sparing any details, let's talk about prong tips. This is the very tippy top end of the prong that curls over the diamond. And even here there can be significant style differences. Do you want plain metal prongs? Or do you want diamond accents on the tips or sides of your prongs? Yep, we can put itsy bitsy micropave diamonds there too! And think about shape: prong tips can be claw like (think, birds of prey) and pointed, soft and round, squared off and angular (which will emphasize the geometric look of, say, an Asscher or emerald cut diamond), or even doubled up, you know, two for the price of one.
Seat at the Bar
Somewhere sort of in between a prong and a bezel is the bar setting. Again, this is an industry that calls it like it looks. A bar setting is typically used for straight-sided stones (think baguettes and princesses and the like) and from the top just looks like the stone is secured between two straight bars of metal. It is, really, but the bars also have tiny notches cut in them to fit your stone. You can change things up by using a bar on one side of your stone and prongs on the other, too, which is also great when it comes to setting trillion cut diamonds!
Sick Burn
Although slightly less common for engagement rings, a burnished set stone is an old-school diamond setting that looks totally new. Instead of a raised metal bezel that encircles your stone, a burnished set diamond sits within the metal of your band, ring shank or even a halo! A hole or groove will be cut into the metal, a diamond set in, and a tiny bit of metal then pushed (or burnished) over the edge to secure it in place. And yes, we said halo. If you want to avoid having a bunch of tiny pave set stones on your halo, burnished set diamond halos keep a super low profile around your center stone, give you a bit more metal flash, and a totally modern look.
Split Personality
Another way to make your ring stand out from the crowd is the two-tone setting, where the ring shank is one metal and the head (whether prongs, basket, bezel, et al) is another. Besides just liking the look of different metals, you'll often see yellow gold rings with platinum prongs. This is to keep a white metal on the diamond and avoid yellow reflections that might make the diamond look like a lower color grade than it is. The reverse is also true — if you like a warmer diamond, or a fancy pink or yellow stone, you can use yellow or rose gold prongs on a white metal band to accentuate the color. But, as with all things, you make your own rules. Choose the metal color, or colors, that suit your style!
Meat and Potatoes
Now that you know all there is to know about ring heads and setting styles, let's get back to that shank. Because you know we have to design that too! First of all, let's talk fit. Comfort-fit that is. A comfort-fit shank is softly rounded on its inner edges, to be, well, more comfortable. Now that that's out of the way…the outside of your ring shank can be just about anything, and we're talking profile view (looking at the O edge-on). Is the wire of the shank squared? It might be! Rounded? We can do that too. Knife-edge is, again, pretty much like what it sounds, where the profile is sort of triangular, with an edge facing out from your finger.
Makes Wide Turns
Now, profile is one thing, and shank width is another. Engagement rings often have tapered ring shanks, meaning they are a bit wider at the shoulder and skinnier underneath, on the inside of your finger. This is mostly for comfort, so there's less metal in the crease of your finger. You might also prefer a straight shank that is the same width all the way around. This is especially great when we're talking about super geometric squared shanks! While you can go as wide as you want, just remember that the wider the shank, the snugger the ring will fit, so you might need to size up in finger size. It can also be more difficult to get over larger knuckles. As far as minimums, for the safety and security of your ring (you wanna wear it for life, right?) we don't recommend anything skinnier than 1.5mm.
Stop and Stare
You know we can't let you leave without talking about more sparkle. There definitely hasn't been enough sparkle in this post. So here we are, talking side stones and diamond-accented ring shanks. Whether you're looking at a few shoulder accents or a full eternity band shank (with diamonds that go all the way around), there are several setting styles to know about.
Hit the Road
Pave setting, in its translation, literally means "paved with diamonds", you know, like cobblestones. Standard pave setting involves placing diamonds and the metal and pulling tiny beads over the edges to secure them in place. A French pave style has the same tiny beads, but with triangular cutouts to reveal a bit more of the diamond edge. You'll often notice it has a more angular look to it. Scalloped pave, in contrast, has u-shaped, or "scalloped" cutouts along the side to provide a bit more open look.
The Essential
Not only can your center stone be set in prongs, but you can have prong-set side stones. All the same details above apply. Now, when it comes to side stones, you might shared prongs or u-prongs, too. Shared prongs are frequent for eternity bands, to limit the amount of metal. Basically, where two diamonds meet, instead of having one prong facing each diamond, there would be a single prong notched on each side and shared between the diamonds. This might be two shared prongs (one from each side of the shank) or if you want to go super minimal, a single shared prong in the center of the shank, between each diamond. Shared prongs can be done with classic baskets or with u-prongs, when you look at the ring from the side, where they literally look like little 'U's of metal.
Smart and Versatile
Want a little detail but not all those extra diamonds? Ring shanks (and galleries and prongs) can also be accented with some stunning metal accents, especially popular when it comes to vintage-style designs. There's milgrain, for instance, which is a small pattern of metal beads often found along the edges of a shank. Filigree, which is tiny open wirework. And engraving, which can be just about any pattern or design carved into the metal.
Making Design Matter
Now that you're a jewelry know-it-all, here's what you really need to know. You're in charge. Explore our collection of thoughtfully designed engagement and wedding rings to see all the details in action (and show off your stuff to any unassuming friends you can), and remember that we can customize just about anything! Want to change the shank profile? Check. Want diamonds on your bezel? Done. You can start creating your dream ring today with our design quiz (and get a free sketch!) or drop us a line at hello@frankdarling.com with a bit about what you're looking for (and your budget) and we'll get you sorted, in style of course.