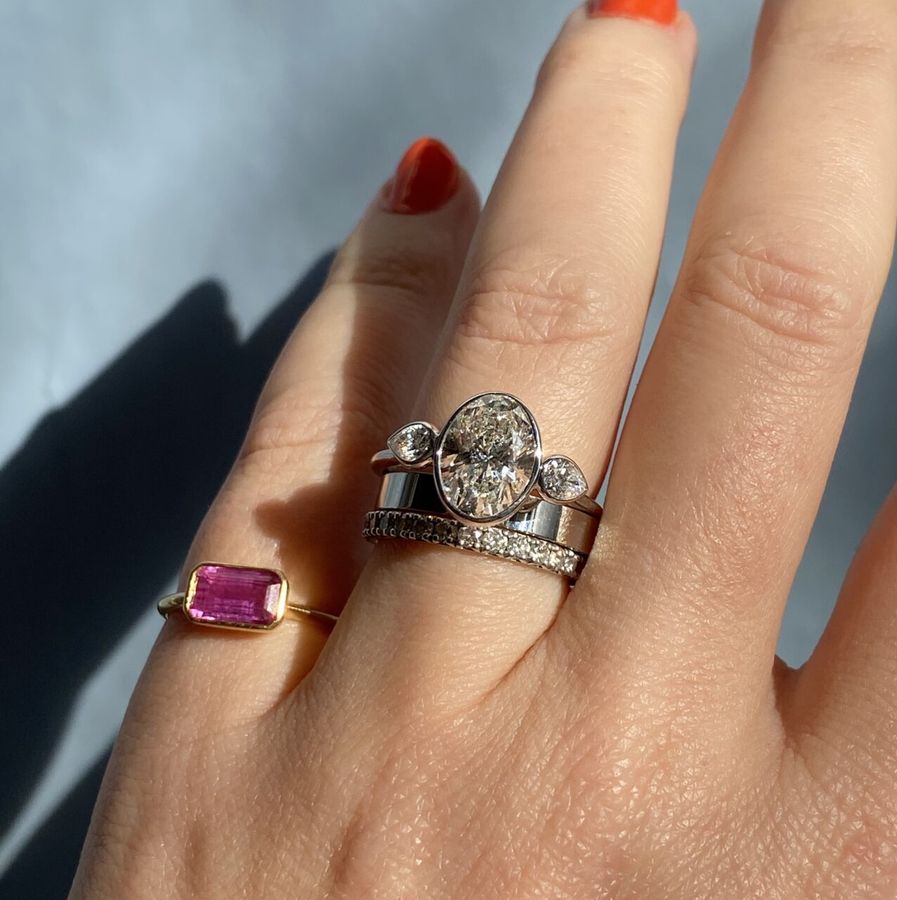 14.05.22
Ring Stacks for the Modern Minimalist
By Stephanie Dore
While ring stacks are definitely still a thing, you know it's not the same as it was. Sure, there's the perfectly matched engagement and wedding ring sets if you like the traditional look. But if you're looking for a modern ring stack that's totally you, we've got you covered. And by covered, we don't necessarily mean with diamonds, either. That's right, darlings, modern ring stacks can actually be totally minimalist! How's that possible? Let's see for ourselves.
First of all, what is a ring stack?
Well, it's simple, really. Ring stacks can be any two — or more — rings worn together. This trend started when people began adding anniversary bands to their matched wedding sets (an engagement and wedding ring meant to be worn together). Stacks started growing higher and higher, and people started swapping in all sorts of styles or upgrading their original rings for bigger diamonds down the road.
Fashion, of course, took the ring stack on a ride of its own, with no ceremony involved. Think, major diamond eternity bands three or four to a finger. Or interlocking bands of different metals that offer a braided look all in one. The takeaway? A ring stack can be anything you want it to be!
Metal to the Front
Just because every jeweler in town wants to throw pave diamonds at you (and believe us, we've got nothing against sparkle) doesn't mean you have to buy into the brilliance. We adore a metal forward ring stack that plays up bareness while being super bold. Our ultimate inspo? David Rose, of course. The Schitt's Creek fashion icon rocks a bold band on every finger, which you can easily do too. Dad bands are a fave. Or play with slimmer metal bands stacked on a single finger.
We love a bold diamond engagement ring paired with a plain metal wedding band too. But plain doesn't have to mean plain, either. Gold and platinum wedding bands come in all different shapes, sizes, and textures too. Our Rigatoni ring offers a major look that clients are going crazy for stacked with a diamond engagement ring, and it's part of our Pasta collection that pays homage to our beloved city of NYC with all sorts of pasta shaped metal bands. You can also add a unique matte finish to any metal band for a contemporary look that's got a bit of an edge.
All Sizes Welcome
In what might be the style of the year, mixed width ring stacks are flying out the door. How can you get the look? Try a super slim engagement ring setting with a wide band. This works to stunning effect with a simple solitaire — bezels or prongs will do — and a bold, flat band. You can go as wide as is comfortable, but popular sizes range from 3-6 mm. If you want more sparkle, a chunky diamond eternity band should do the trick. But no one says your ring widths have to match. Play with the look, make it your own.
You could also do the reverse and pair a major diamond engagement ring like our radiator style, a wide domed diamond ring, or the reinvented signet style with thinner accent bands. Just mix and match to see what you like together, or have a whole bunch of rings you can swap out on any given day. We say, the more interesting, the merrier!
To the Side, To the Side
While traditional engagement rings tend to be easier to stack (sometimes) with bands in a seamless, gapless look, the ever-popular east-west style engagement rings can be a bit trickier. We say — embrace the gap, gorgeous! Play up the east-west look with some horizontal baguette bands for a look that's drop dead. Into the toi et moi style engagement ring but don't have a clue what to stack with it? Anything! Really, tho. Throw some slim bands in there and let that gap give you negative space nuance.
We also love the look of an off-set ring jacket that can give you a sort of toi-et-moi look by surrounding your center stone with an open-ended band. This can also elongate the look on your finger, which is super flattering, especially if your center ring is on the simpler side. Similarly, play with negative space by using curved or pointed diamond bands stacked on one or both sides of an engagement ring, or go engagement-ring less for a super spacey style!
With the Band
Speaking of band stacks without traditional engagement rings…that's right, everyone, a ring stack doesn't have to have a single feature stone. If you want big diamonds but not a single stone popping off, bezel set eternity bands offer protection for your diamonds and a sleek, minimalist look that keeps the fuss at bay. Play with stone shapes and sizes to make this look your own.
You can get a similar look with a channel set diamond eternity band that's the ultimate in modern minimalist wedding rings. Baguettes are one of our favorites for super sleekness, set flush against each other for a solid line of diamonds with a thin edge of your choice of metal. If you want a wider look, try baguettes facing north-south instead!
Mixed Pairs
If you want a minimalist look but still want to keep things interesting, try a mixed metal ring stack. You can achieve this with a two-tone engagement ring or with bands of different metals. We also love a three-metal stack with yellow, white, and rose gold all mixed together. Simple metal bands or slim pave diamond stacking bands in different metals can give you a little extra look without going overboard. Or you can try some of the styles above, like a thin yellow gold engagement ring paired with a wide platinum band, or vice versa!
Build Your Own Ring Stacks
If you're ready to dive right in, explore our collection of engagement and wedding rings to see what suits your style. Or try designing your own with our style quiz (which you can do over and over again!) and you'll even get a free sketch! Want some help figuring out what works best together? Drop our team a line at hello@frankdarling.com with a bit about what you're looking for and our designers will get you all sorted.