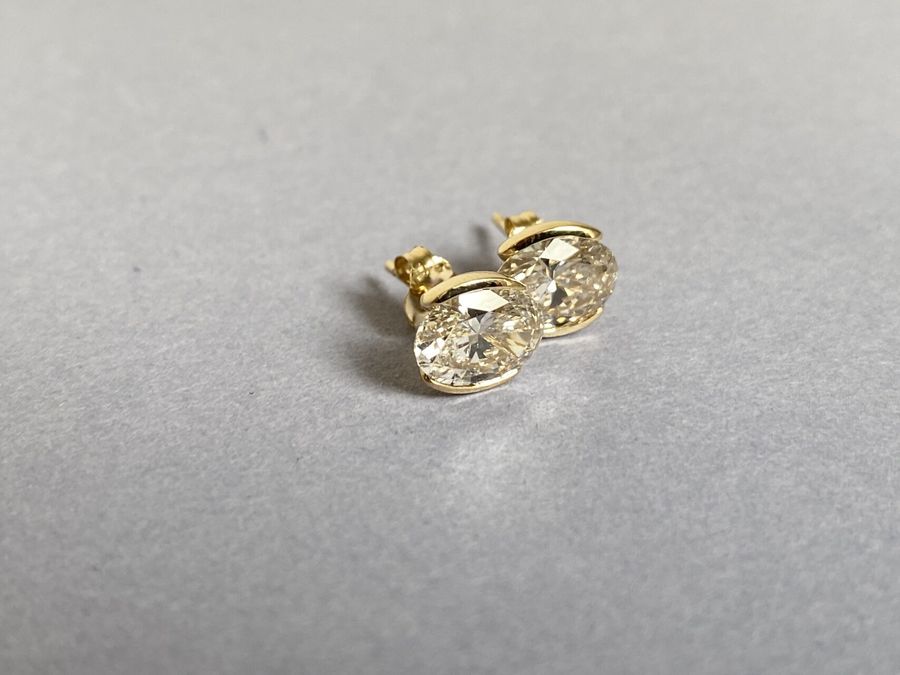 13.06.23
Squeaky Clean: How to Keep Your Diamond Earrings Sparkling at Home
By Afton Thomas
Hey Darlings, let's talk shiny, glinting, fiery diamond earrings. Yes, we love to chit chat about all things rings—engagement, wedding bands or just-for-fun rings—but they aren't the only things we daydream about. We've gotten into the broader fine jewelry game with some seriously stunning Frank Darling Diamond Studs. After rocking them day and night, it's vital to take care of your ear candy so it lasts multiple lifetimes. That means cleaning them properly and storing them in a safe place. Whether you're looking to purchase your first pair of diamond stunners, are already a proud owner of a few pieces, or practically have an entire display case, these are the pro tips you need for cleaning your gorgeous diamond earrings at home.
Building the Foundation
Diamonds ARE forever, but it's not just the diamonds you need to worry about when we're talking earrings. From hoops to studs to drop earrings, construction and metal matters when you're considering the best method of care to maintain their value. First up, identify the type of metal your earrings are set in.
Metals Matter
For the most part, you can clean Platinum, Yellow, Rose or White Gold, Rhodium and Sterling Silver jewelry using the same method (we'll get into just how to clean them in a bit). Sterling Silver does have the tendency to tarnish, aka, the metal may start to appear brown, dark grey or even black in some spots. It's a natural phenomenon when the metal is exposed to sulfides in the air. Read: not your fault. But storing your jewelry in a soft cloth and tucked away from air exposure is the best way to keep your Sterling Silver accessories as pristine as possible.
If your jewelry is going through some tough tarnished times, we definitely recommend bringing it into a professional, (like, us) since it might need a little extra love, and you don't want to mess with harsh chemicals around diamonds or other gemstones. It could dull their sparkle and polish, or much worse, sacrifice the integrity of the stones and cause breakage—worst case scenario. When looking for a statement piece like Diamond Studs, we def recommend sticking with a tougher metal that will hold up to the test of time a little better than silver. We typically use Platinum, 14k or 18k Gold since they won't fade or tarnish, but we can always source other metals if you had something else in mind. 
Under Construction
Second, the literal design and setting type of your earrings are not something to ignore. I mean, they're cute, how could you?! But actually, cleaning a set of pavé hoops is going to be different from cleaning 3ct diamond studs. Teeny tiny pavé diamonds can pack a ton of sparkle, but with so many prongs, sometimes a few can get loose and you can risk losing a stone or two. Something a little more solid like a stud or bezel set diamond can take a bit more of a heavy duty clean. Great rule of thumb: if it looks delicate, treat it delicate. Makes sense, right?
This might sound silly, but a little cleaning prep will go a longgg way. Create a safe space for your jewels where they won't end up in the worst case scenario—knocked into the sink, a crack in the floor, down a vent, etc. Laying down a soft towel on a solid surface like a kitchen table (awayyy from the drain) will do just fine.
The DIY Clean: Our At-Home Fave
For the easiest and most cost-effective way to DIY clean your jewelry at home, you'll need a bowl, warm water, gentle dish soap, a soft-bristled toothbrush, and a soft cloth. Combine the water and a dash of soap in the bowl—you don't need to create an entire mini-bubble bath, add just a few drops so the soap can do its job. Also, can we emphasize using ~gentle, non-abrasive~ dish soap. Added moisturizers, essential oils and fragrances can dull the polish of a stone over time, so def avoid those for jewelry cleaning purposes.
Okay, so you've got your materials. Drop your jewels (carefully please!) into the solution for approximately 15-20 minutes. You can def add a few at a time, but we wouldn't reco dumping your entire collection in at once. If you've got more fragile earrings with pavé details, let it soak a little longer to really get into all those hard-to-reach spaces. Once they're done soaking, take them out, lay them on your towel, and use your toothbrush to lightly scrub your earrings.
Squeaky Clean
You don't have to brush too hard on the face of the diamond, that will clean pretty easily, but make sure to really get into all the nooks and crannies in the basket of the setting. AKA, the part that touches your lobe in diamond studs; the open space at the bottom of the setting. Give the post and the backings a good clean too. If you've ever had pierced ears, you know that posts can get icky just from normal wear. Hey, no body is perfect!
When you're done scrub-a-dubbin', rinse your earrings in warm water (extra carefully, please)!!! Definitely do not hold them under running water with your drain wide open. Use a traditional sink plug, bust out a mesh colander, or just use another bowl of water to gently rinse the soap off. When you're finished, make sure to dry each piece off with a separate clean cloth thoroughly before stowing in its jewelry bag or box, or directly back into those lobes.
If you're finding that you didn't get every last spot, you know how the saying goes: lather, rinse, repeat.
Ultrasonic & Steam Cleaners: Meh… Maybe Don't.
You're probably wondering why we've gotten so deep into this blog and we haven't mentioned other at-home cleaning methods… it's because we don't really recommend using them. Are they convenient? Yup. Are they generally pretty affordable? Also, yes. But the high heat temperatures and high sonic vibrations can wreak havoc and loosen prongs on diamond pavé earrings, rings, bracelets. They can wear away at gold hinges or delicate drop earrings. And, worst of all, they can increase pressure on fractures inside diamonds and especially softer gemstones, which means tiny breaks will get bigger, or the dreaded, could crack a stone completely.
While most jewelers will steam clean your jewelry when you take them in to get them professionally done, they are ALWAYS taking a good look at your pieces under magnification to make sure they're in an acceptable condition to put through those high temps and pressures. So, as a diamond pro, we're siding with the rest of the pros out there. Just bring your ear candy in to us, and we'll get it all sparkling like new.
Clean Slate
The key to keeping gorgeous, gleaming earrings looking their best is to avoid harsh chemicals, extreme temps, moisturizers, fragrances, makeup, hand sani, and similar products from the get go. Getting a spray tan? OFF with your jewelry. Taking a dip in the pool? Skip the diamond drop earrings. Your skincare routine might do wonders for that dewy glow, but it can dim the sparkle of your diamonds. So just be wary of what you put your precious jewels through, and they'll shine for you over and over and over.
Got a special occasion? Bring in your pieces and we can make sure they'll be ready for anything—girls night, a big presentation, your wedding day, or the Met Gala. We'll professionally clean your diamond and gemstone jewelry free of charge. But there's nothing wrong with doing regular maintenance yourself at home. In fact, we encourage it! When in doubt, you can always DM us a photo of your jewelry to @FrankDarling on insta and we can let you know if you should bring in a piece or if we think you can handle it at home. Hit us up for all of your jewelry needs: cleaning, designing, engagements, marriages, and the best reason: simply treating yourself.