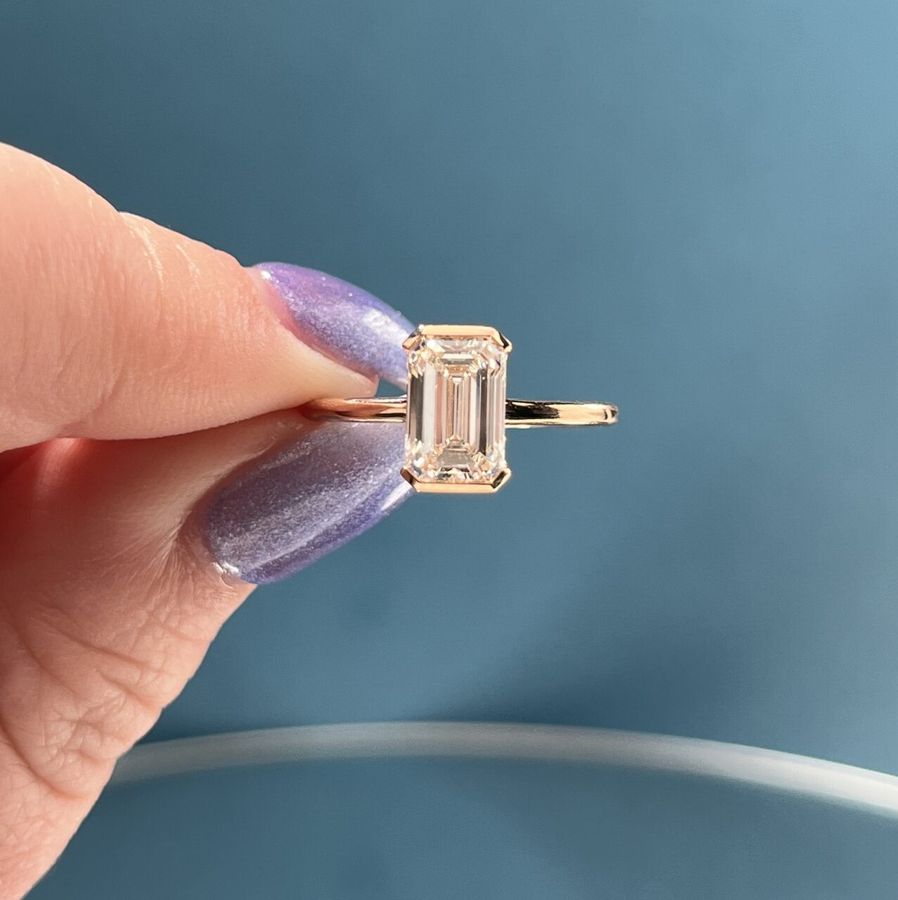 06.06.22
The 7 Best Ways to Wear an Emerald Cut Ring
Sure, sure, emerald cut diamond engagement rings aren't anything new. In fact, the emerald cut is one of the oldest diamond shapes, dating back to the 1500s, give or take. But we think its sophisticated elegant form is actually one of the most fun to flip on its head in cool, modern designs that show off your unique style. We love reinventing the emerald cut engagement ring for you, and can customize nearly any style you're looking for. What are some of our favorite ways to wear an emerald cut ring? Let's take a look!
What is an Emerald Cut Ring, Anyway?
Not to get ahead of ourselves, if you're not quite sure what an emerald cut gemstone is, let's cover some of those basics. An emerald cut is a rectangular shaped diamond or gemstone with clipped corners, meaning its four sharp points have been cut diagonally so it's like a stretched out octagon. Instead of radiating facets like a brilliant cut stone, emerald cuts are what we refer to as "step cuts" with long, rectangular, concentric facets that give them a sort of hall-of-mirrors look. While this shape has been around for ages, it really took off in the early 20th century with the rise of the geometry-heavy Art Deco style and hasn't lost its luster since.
Modern Masterpiece
While you can (and many do!) certainly go for a classically cool emerald cut diamond solitaire engagement ring, there are loads of simple ways to pump up the volume without going totally overboard. For instance, our signature clutch engagement ring, which wraps the emerald cut stone of your choice in a sleek half-bezel. Or a golden bathtub for a heavier-metal look that's bold and super low maintenance. Want to go even bolder? Try an on-trend signet or domed band with an eye-catching emerald.
Triple Threat
If you want something with major finger coverage, try an emerald-cut three-stone engagement ring. You can triple the emerald's hall of mirrors effect by choosing emerald-cut side stones to accent your emerald-cut center and believe us, you won't be disappointed. Our breezy three-stone style makes light work of this look with an open side profile and super-skinny band. Just make sure when you're choosing larger side stones like this that you match them within one color grade so that there isn't a noticeable difference. The baguette three-stone is another stunning option that nods to Art Deco styles and keeps things a bit more focused on your center stone. Two tapered baguettes offer a sparkly transition from your center diamond to the band, and will save you a little cash instead of going for a bigger look.
Five-stone Feast
A five-stone diamond engagement ring is one of our all-time favorite ways to play — there's really so much room to make this look your own, so don't feel like you have to just go with a super classic style. Traditionally, a five-stone ring consists of five stones in the same shape and size, usually in a simple prong-set band, often with round diamonds. Give it a modern update with emerald cut diamonds set in a unique scalloped setting, complete with a mini split-shank band for something with flair.
Or go all the way wild and mix and match stone shapes and sizes for something that truly stands out. Start with an emerald cut center stone and build from there. What looks great with emeralds? Anything! Really tho, folks, add in some trapezoids, bullets, shields, epaulets, baguettes… you name it, and we can make your cool combo happen. For extra pop, do a bezel setting that will lend your five-stone ring an Art Deco appeal.
Dashing Art Deco
Speaking of Art Deco… if you want to drool over your engagement ring like architecture lovers drool over the Chrysler Building or the Empire State… our two-tone underline bezel engagement ring is, like, so hot. Seriously tho, it might look simple from the start but get a look at this side profile. It's a total swoon. The white bezel keeps your diamond looking super colorless and sharp, while you can choose a metal of your choice for the butterknife-edge band that's comfort-fit to be, well, super comfy of course.
You can play with Art Deco to make it your own, too, whether that's in a sleek east-west clutch with channel set accent stones or by adding a bit of color to a three-stone style. Black and white diamonds make a major statement that's totally Deco-ed out.
Horizon Lines
As if you didn't already know — because we've been raving about it everywhere — the east-west emerald cut engagement ring is still totally trending. What's an east-west setting? Well, traditionally an emerald cut is set vertically, or parallel to your finger, running up and down. This is said to elongate the finger and will give you a classic, sophisticated look. East-west turns that diamond 90 degrees so that it runs perpendicular, or horizontally, across your finger. What's so great about this? Well, for one it gives you major finger coverage but it also can make a 1-2 carat diamond look bigger. Call it an optical illusion. Call it crafty. Call it love. While you can set any elongated shape this way, emerald cuts are super flattering as this look accentuates their long facets when parallel to the band of your ring.
Color Theory
As we said up top, the emerald cut shape has been around for ages, and yes, got its name from, well, emeralds. As in the glowing green gem of the same name, darling. Why? Well, this particular cutting style is perfect for emeralds because it echoes their natural crystal structure and is therefore less risky or damaging when cutting. Why do we bring this up? Well, because we love color. And emerald cuts are one of the shapes you'll find most often in colored gemstones! Who says your engagement ring has to be a diamond, after all? Whether you choose a green emerald, a deep blue sapphire, or even a colored diamond, our expert team can help you source natural or lab created gemstones in all sorts of shapes and sizes.
With the Band
Because we like to break all the engagement rules, let's not leave out the emerald cut diamond band. One of our all time favorite shapes for this look, an emerald cut diamond eternity band can be worn on its own as an engagement or wedding band or paired with other rings in a stunning stack. I mean, an emerald cut diamond band with an emerald cut engagement ring? Yes please. You can find emerald cuts set vertically (which is more traditional) or horizontally in a solid band that goes all the way around your finger. Just remember that chunkier eternity bands take up more space on your finger so you might need to size up a quarter or half ring size. And eternity bands are NOT resizeable, so you'll want to measure carefully!
In the End
Choosing your dream emerald cut diamond is only a few clicks away! Check out our diamond collection where you can view 360-degree images of more than 10,000 diamonds, or book a virtual or offline appointment at our New York salon to view certified lab-grown and natural diamonds in person.
Not finding what you're looking for? Email us with what you're looking for at hello@frankdarling.com. We'll curate a list of 5-7 exclusive stones that are just right for you.