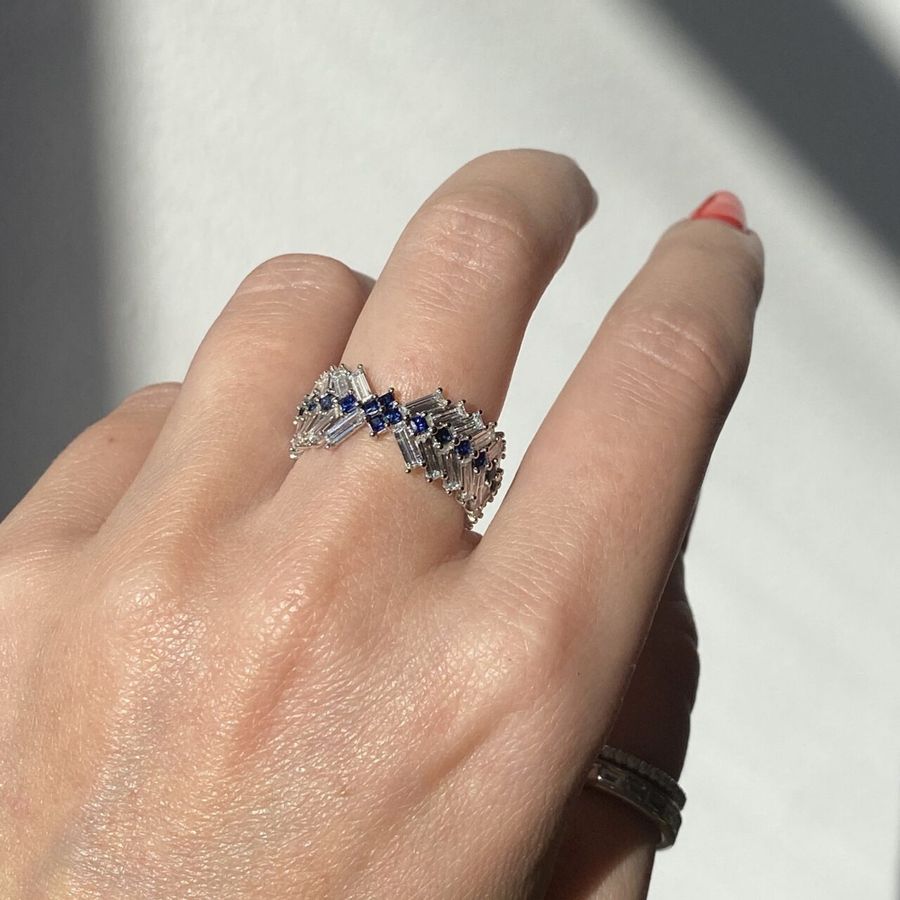 17.07.21
The Baguette Ring: How to Wear this Staple
We already know baguette diamonds are the hottest ticket in town. Like a basic white T or the perfect pair of denim jeans, baguette diamonds look good with everything. They can go super classic or decidedly modern depending on how you pair them. They come in countless sizes and slightly different shapes, from tapered to straight, giving you plenty of options to customize your engagement or wedding ring to suit your style. And they offer just the right amount of flash to catch the eye without being too over the top. Still not sure if a baguette ring is right for you? Let's see if we can't convince you…
The Icon
We might as well start at the tippy top with the ultimate classic baguette three stone diamond engagement ring. Really tho, this is where baguettes beat out every other diamond shape in their ability to accent your center stone without stealing the show. While you can definitely find styles set with straight baguettes, we love the tapered baguette—wider on one end than the other—for a subtle, smooth transition between your center stone and the metal band. Hugged by polished bars of gold or platinum, two tapered baguettes are your diamond's ultimate BFFs. They look fantastic with a round diamond, a cushion, an emerald, you name it. And lend a slightly Art Deco design element to boot.
The Marching Band
Want to go all in on the baguette for your wedding band too? Love it. Pair a baguette eternity band with your engagement ring for a style that stacks without distracting. Made from recycled precious metal and lab grown diamonds, our bar-set baguette eternity band will be the perfect match. It's sleek, smooth, won't catch on your favorite sweaters, and looks perfect with an emerald or Asscher diamond engagement ring. It also makes a gorgeous single band if that's more your style!
The Hug
Sometimes you're rocking a solitaire diamond engagement ring and you want a band that isn't quite so understated, we get it. Enter the open baguette diamond band, complete with 6 sparkling baguette diamonds. The open setting quite literally hugs your center diamond with brilliance, giving you a bold, Deco-inspired look that you can customize to match the size and shape of your own stone.
The Halo
Yep, baguettes even look good encircling your center diamond in a super cool halo setting. This is like the ultimate Art Deco display of goodness. Imagine—an Asscher cut diamond set with an angular platinum halo holding brilliant baguette diamonds that really just accentuate the elongated facets of any step cut diamond. They can get more modern if burnished set—slightly below the surface of the metal to create a super smooth look.
The Minimalist
Not to worry, baguettes aren't just a side dish, darlings. We love, love, love them on their own as well. For instance, just a few on a simple band look stunning on their own, and make a perfect engagement ring choice for the modern folks out there who don't want some giant rock rolling round on their ring finger. Especially if you work with your hands or wear gloves a lot, the straight baguette band creates a simple but still bold look with a graphic styling that's perfect for the modern minimalist.
The Bigger is Better
Our all time favorite way to rock a baguette ring? The channel set diamond eternity band, darlings. Duh. Really tho, if you haven't seen us rocking this one on social by now, you definitely aren't following us. Low profile, super secure, snag-deterrent, and sparkly like whoa, a bold baguette cut diamond eternity band is ideal on its own or stacked with other bands or your engagement ring. That's right. We made ours the perfect size (2 carats!) and profile to sit with your engagement rings in perfect harmony.
The Solo Act
If you really, really love the baguette tho, then why not make it your center stone? Just pump up the size a little bit and you've got what might just be the world's most minimal masterpiece. A stunning horizontally bar-set baguette diamond on a band of its own is a popular gender neutral engagement ring choice, giving you diamond without too much fuss and muss. Choose a tapered or straight band to make the look your own.
You Really Got Me Now
Did you really think we couldn't convince you how beautiful baguette diamond rings are? Do you even know us? Go deeper by discovering our collection of baguette diamond engagement rings and stunning baguette wedding bands. Or go all the way by customizing a style that's all your own with our design quiz. We'll even send you a free sketch! Have questions? Email hello@frankdarling.com and our team of jewelry geniuses will help you procure the ring of your dreams.