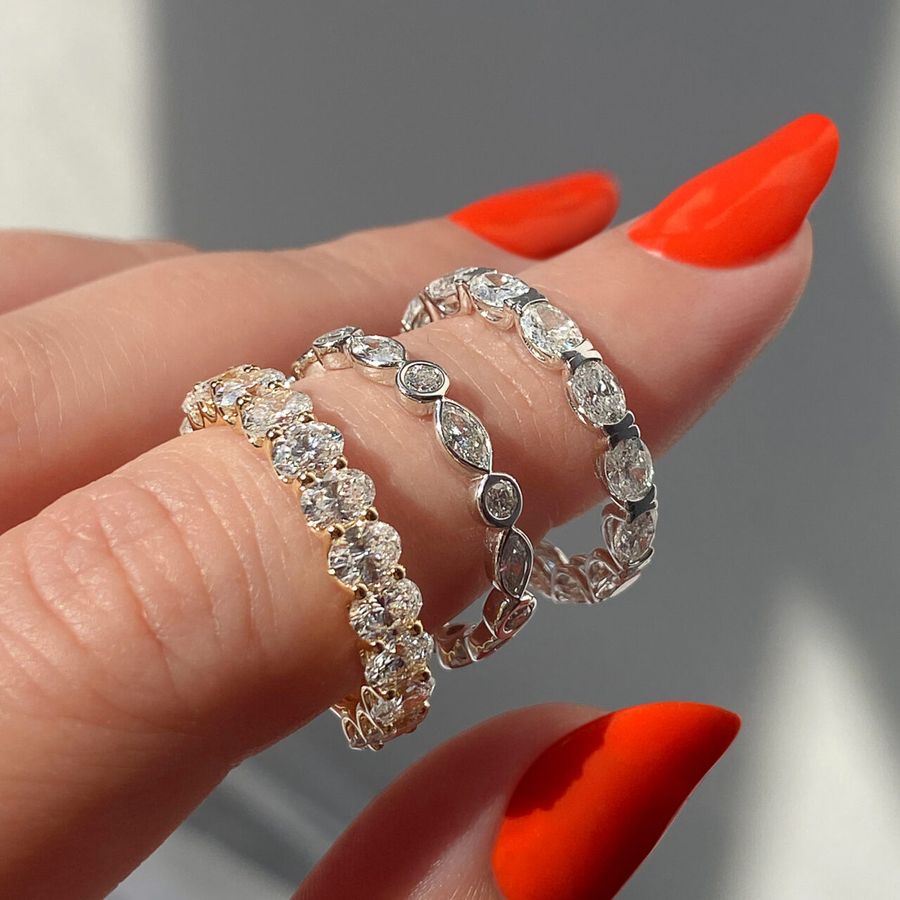 14.09.21
The Eternally on Trend Eternity Band
If something is always cool, then it's not really a trend, guys. Enter, the eternity band. It's not going anywhere because it's basically the GOAT. It's all diamonds, everywhere. Hard to argue with that, amirite? And that also means it's all sparkle all the time. From every. Single. Angle. But that doesn't mean they all look the same. Nooooo. Eternity bands come in countless different styles, diamond shapes, sizes. So many that it can be a bit overwhelming to just choose one. I mean, we're not going to stop you from stacking them, darlings, they're perfect for that too! What can't the eternity band do???
Pretty Little Things
One of our favorite things about eternity bands is their ability to keep things subtle but still stunning. A petite pave diamond eternity band that snuggles right up to your engagement ring for just a hint of extra sparkle is the ticket. You can also add to the stack for anniversaries, babies, promotions, Tuesdays…and put them on either side. They're also great on their own for a delicate, day-to-day style, and perfect in a stack with a few different bands. Try mixing and matching for a look that's all your own.
Foolproof Functionality
The uber-classic prong set diamond eternity band is a mainstay, and probably the most common when it comes to larger carat weight styles. Prongs, especially shared prongs that support the diamonds on either side, offer minimal metal with a lot of support. And they're easy to flex to perfectly accommodate various shapes and sizes of stones. Which, when it comes to bigger diamonds, is pretty important. You can keep it on the straight and narrow with a round prong set diamond eternity band or explore other shapes, from cushion cuts to princess, emerald to oval. So. Many. Options.
Let's Kondo This
Keeping things simple is very now. And always. So simplify your eternity band with a style that's set with a single bead! That's right, we're talking super minimal, major diamond, all joy. Our Bubble Band is set with 2mm round diamonds that totally seem to float off your finger, with the gold beads between them glinting in the sun.
The Low Low
Want a set it and forget it eternity band style? The bezel is where it's at. You won't find a ton of bezel set eternity bands out there, because it can be a lot of metal taking away from all that brilliance. But we've made our Caviar Bead Eternity Band with that in mind. See = petite bezel set diamonds that are soft on the fingers but easy on the eyes and extremely low maintenance.
Don't Change the Channel
One of the downsides of eternity bands is that more diamonds equals more risk of loss and damage with wear, and with diamonds going all the way around, you're going to see wear and tear all the way around too. One way to offset that for those who might be a little harder on their hands? The ultimate eternity band equalizer = the channel setting. Not only is it super protective for daily wear, but the channel set gives you a lot of bold, unfussy, modern look for your money. We especially love this linear style with baguette and princess diamonds for max geometry.
XO, XO
The hottest goss? The half bezel. Striking a balance between simplicity and romance, airiness and bold bling, our XO Eternity Band was designed to be a reflection of the ultimate loving sign-off, in diamonds and gold of course. We took our fave oval diamonds and set them horizontally between glimmering x-shaped half bezels with sweeping, open galleries from the side view. That means you get security and brilliance for the price of one.
Big Top
When you're shopping for eternity bands, just remember that the bigger the stones, the more room they'll take up between your finger. This can be a comfort concern, if you don't like to feel a major ring between your fingers. It can also mean you need to go a half or full size up in finger size with larger widths, as it takes up more real estate. Especially if you're stacking multiple rings together.
Measure Twice
Since we're on the subject of finger size, we'll leave you with this tip: eternity bands cannot be resized. We repeat. Eternity bands cannot be resized. While other ring styles that have plain metal on the bottom can be resized to fit if you don't get the right size on the first go round, when a band has diamonds all the way around, that's not the case. That means you need to 1) do your best to accurately measure your ring size the first time and 2) make sure there's a solid exchange policy in place just in case.
Stack 'Em High
Dive into selecting your own stack by exploring our collection of wedding and eternity bands or try designing your own with our style quiz. You'll even get a free sketch! Can't figure out your perfect style? Don't see what you're looking for? We can still help. In fact, custom rings are kind of our thing. Just send us a note at hello@frankdarling.com with a bit about your ring dreams (and your budget, darling), and we'll get you sorted.