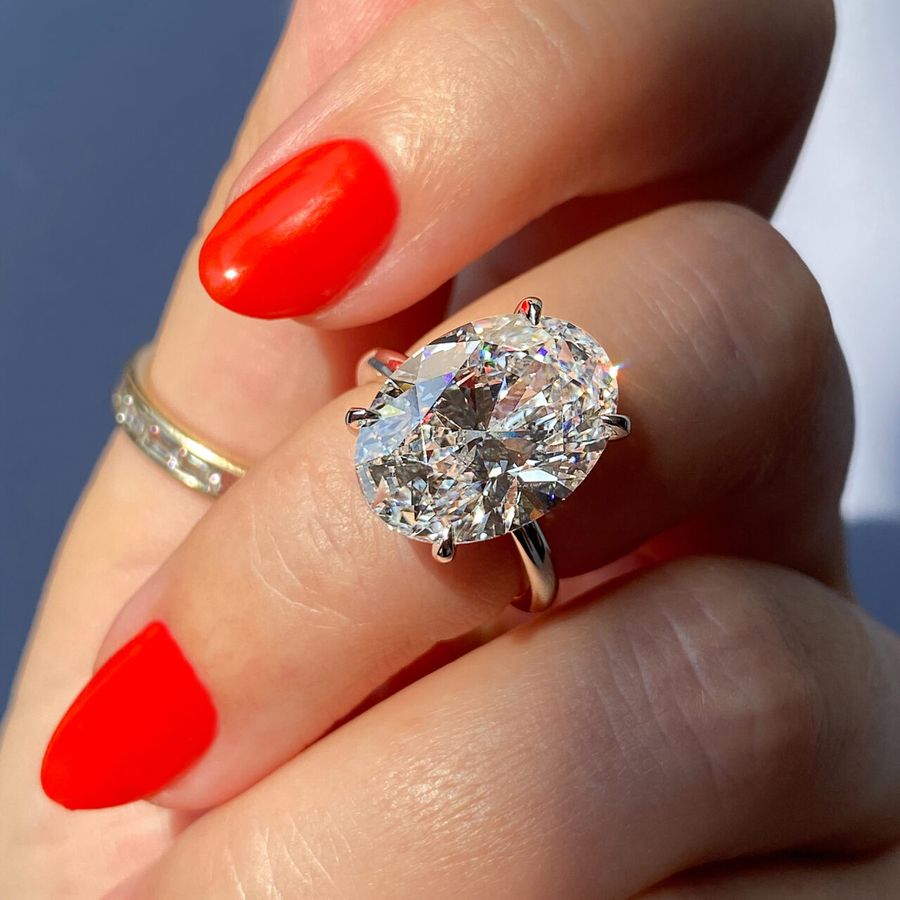 26.01.22
The Kourtney Kardashian Engagement Ring Breakdown
Looking for all the juicy details about Kourtney Kardashian's stunning new engagement ring? Well, darling, you've come to the right place. But we're not talking dollar signs here, because we're not about that life. What we are about, though, is helping you get the Kourtney Kardashian engagement ring look in a way that fits your own personal style. Oh, and your own personal budget. Whether that's the same as Travis Barker's budget or not. Let's dive in.
The Diamond
As if you haven't seen it by now, Kourt's jaw dropping center stone is a massive oval brilliant cut diamond. And by massive, we mean maybe 12-15 carats (and reportedly flawless too!), which is, by any measure, over the top. And you can have the same if you're up for dropping a cool mil or so. But if that's not the case, you're in luck. Why? Because oval shaped diamonds, by nature, have a lot of natural spread. Their shallower cut and elongated shape means they face up looking about 15% larger than round diamonds of a similar carat weight. So you can shop a little smaller and still get a lot of look with loads of sparkle.

The Heavy Metal
We have to assume that Kourtney's engagement ring is set in platinum. Why? Well, it's definitely a white metal, which means platinum or white gold. But for the design of the ring, with its dainty diamond band and giant center stone, along with its price point, it's probably platinum. Platinum stays super silvery-white for life, without needing any replating like white gold. Platinum is also perfect for this style because its nature allows for delicate metalwork that is still super strong. Did we mention platinum is naturally hypoallergenic as well? Bonus points. While platinum may cost a bit more than white gold, it also helps highlight a super colorless stone. In love with yellow gold? Try a two-tone setting with a yellow gold band and platinum prongs to keep your white diamond looking super crisp but get the look you love.
The Other Diamonds
Celebrity engagement rings tend to fall into two camps: the first being super simple solitaires, the second being lots of stones that make a major statement. Kourt's falls right in the middle. See that dainty band? It's covered with micropave diamonds. Tiny, sparkly, yet subtle. It's a great look to accent any shape stone, and it doesn't compete for attention with your center stone. You can 100% get this look for yourself, adding pave diamonds to almost any band design, whether you like a knife-edge, a round profile, three rows of brilliance…take your pick! And you can choose whether to just have diamonds on the shoulders, a pave diamond eternity band — where the diamonds go all the way around — or we love a half or three-quarter band so the ring stays sizable.
The Skinny
Speaking of dainty, Kourt's band is one of the super skinny variety, which is about as on-trend as it gets. This uber-minimal band emphasizes the center stone's size and gives it an almost "floating" feel on your finger. How thin is too thin? We suggest 1.5mm in width as a minimum for a "super thin" style ring shank, especially if you want to set those micropave diamonds on it. Thinner than that and your ring can become too delicate for daily wear.
The Setting
On top of that super slim band, Kourt's center stone appears to be held in a classic four-prong setting, but looks can be a bit deceiving. This is the magic of a hidden halo! If you look closely, and from the right angle, we're pretty sure we spy one of these super on-trend hidden halos surrounding Kourt's diamond from the side. Unlike the standard halo that encircles your diamond from the top view, the hidden halo runs under the top edge of your diamond, surrounding the basket setting, with the diamonds facing outwards, so you see it from the side (a great view when it's on your finger!) instead. We've been adding hidden halos to many different engagement ring styles, so if you like the look but can't find it, just ask!
The Reality Check
Let's get back to how we're going to get you this look, though, and talk about major diamonds. Lab diamonds to be exact. And yes, lab diamonds are real diamonds — the same physical, chemical, and optical properties of mined diamonds — they just cost a whole lot less. Think of it like the ice you make in your freezer. Ice is natural, it forms in nature, but we've figured out a way to make it ourselves. Same with lab diamonds. But besides saving you nearly half the cost, which means you can get a bigger stone for your money, lab diamonds are great if you're looking for a unique size, shape, or cut because they can actually be created custom. No joke. What's not to love about that?
The Other Option
We also love, love, love Moissanite if you're looking for a big stone with a limited budget. Moissanite is another stone that is created in the lab (though it's of natural origins) and has been used as a diamond simulant in the past, but is making a name for itself for its own unique qualities. Not only is it majorly affordable, but Moissanite is extra sparkly too. In fact, it has more rainbow flash than a diamond. Drop dead gorgeous. And it's nearly as durable, coming in at a 9.25 on the Mohs scale of hardness, so it's a great alternative for daily wear. If you go this route, we suggest also using Moissanite for any side stones so that you get the same type of sparkle throughout your ring design.
The Answer
Is "yes," of course! And we're going to help you get there. Start by checking out our collection of more than 20,000 natural and lab created diamonds and moissanite to find a stone ready to star in your love story. Or reach out to our diamond concierge at hello@frankdarling.com to let us know what you're looking for (and a bit about your budget) and we can help source just the right stone to fit your needs.