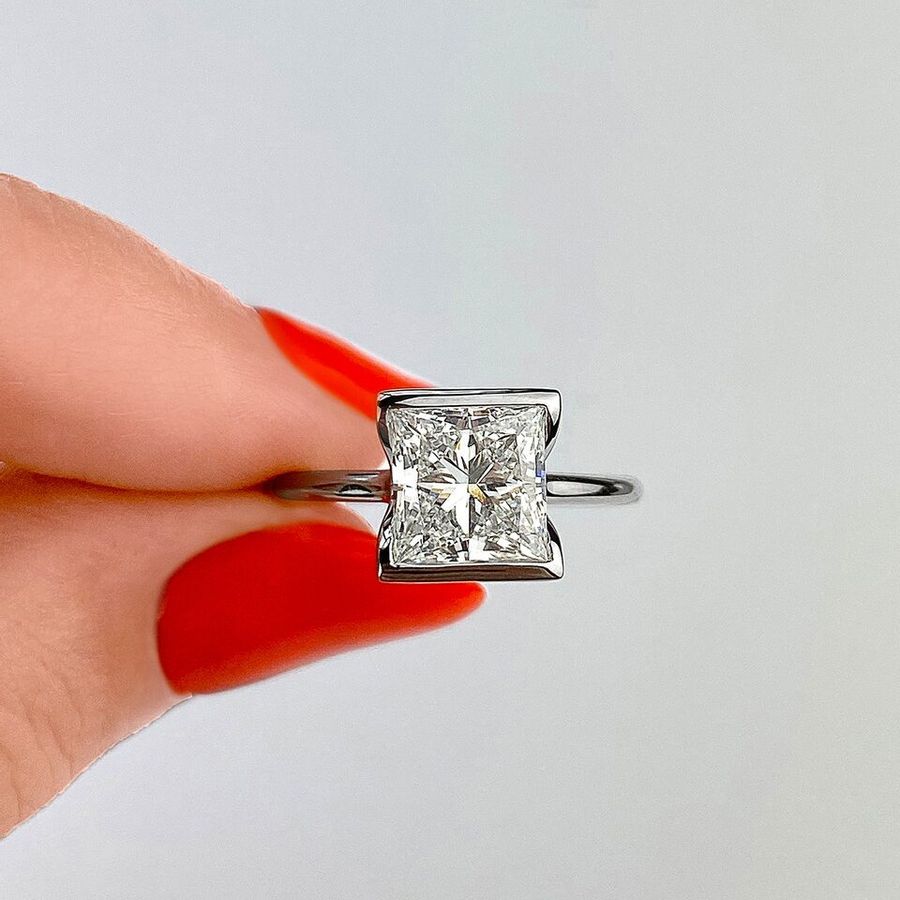 09.12.21
The Princess Cut Diamond is Staging a Comeback
By Stephanie Dore
Round diamonds are very clearly the winner of every engagement ring popularity contest. And, trust us, there is definitely a contest. The industry is always looking at trends, who's buying what, and what the next big thing will be. Ovals, emeralds, rounds, and asschers dominate the trend maps, but we're not here to talk about a trendy shape. We're here to talk about a cut that has gotten an unfair rep, the princess cut diamond. Now, we're not saying they're going out of style by any means. They're actually the second most popular diamond shape. But they do tend to bring to mind a more, um, dated style. Maybe it's the name? If we know you (we like to think we do), we know that's not the look you're looking for. So we rounded up a few ideas for those of you who are looking for ways to make the princess cut a modern staple.
What is a Princess Cut Diamond, Anyway?
Well, it's only been around since 1960, so you won't find it in any antique stores. It's basically the square version of the round brilliant cut diamond. Or the brilliant version of the step-cut Asscher cut diamond. Either way, it's a square (or slightly rectangular) diamond with brilliant, radiating facets, a large center table to let lots of light through, and pointed corners (instead of cropped corners like the Asscher). You'll see it listed as a "square (or rectangular) modified brilliant" on its certificate. And it makes the most of the rough diamond shape during cutting, so it'll save you serious cash compared to a round.
The Softer Side of a Princess Cut Diamond
One of the major downsides of a princess cut diamond is its four pointed corners. Because points are breakable. They're thinner, more fragile, and they have a tendency to snag on all your favorite sweaters. Perhaps not a shape for the super-active, one way we like to see folks soften the look (and add a little protection for their center stones) is with a princess cut halo engagement ring setting. Adding a ring of diamonds around your center will create a softer look, some extra sparkle, and at least a little barrier between your center stone and the big wide world.
Unmatch, Set
Sure, you can find a princess-cut three stone engagement ring. But this play on the traditional round three stone ring isn't winning any glam contests. Instead, it tends to look a bit outdated. We recommend pairing a princess cut diamond with some unexpected side stones to modernize the look. Baguettes will give you an Art Deco-inspired spin. Half-moon cut diamonds will give you a sleek lozenge shape. Or gather a few rounds in there for a real party. Or even incorporate the princess cuts as the side stones and set a step-cut in the center. Go wild, have fun, get creative with this shape and you'll be rewarded by a totally unique style.

Don't Be A Square
What's a square flipped a few degrees? A diamond! Ok, so we call it a kite in the industry, but this is probably our no. 1 way to change up a princess cut diamond's look with the absolute least effort. Kite-set princess cut diamond engagement rings set the diamond with its points facing directionally north, south, east, and west, instead of squared off parallel to the band. It's a nice angular spin (pun intended) that can be paired with all sorts of different design elements from halos to side stones to, well, whatever you want, really.
Get to the Point
Another great way to take advantage of a kite-set princess cut? The never-ending ring stack trend. This is where you get to totally play up the angular nature of your princess cut diamond with pointed bands that echo the shape. Add baguettes pointing out like rays of the sun. Throw some colored gemstones in there. You do you.
Also, thanks to Emily Ratajkowski's unforgettable two-stone engagement ring, princess cut diamonds are back on the trend radar. The two stone trend is another way to incorporate a kite set (or any other direction) princess cut diamond.
Full Coverage
Most princess cut diamonds are set in a classic four-prong setting (which is not only secure but protective of those points). But you know what else is protective, probably even more so? The bezel. Or even the semi-bezel. A princess cut diamond in a bezel setting is, like, whoa. So gorg, y'all. That sleek band of metal creates an edgy, modern look. Or try a semi-bezel for less metal but still super clean lines.
See You in a Princess Cut Diamond
Want to get creative with your princess cut diamond? Try our style quiz to design your own dream ring and get a free sketch (as many as you want, in fact). Or reach out to our diamond concierge at hello@frankdarling.com with a bit about what you're looking for and what kind of budget you're working with and we'll get you sorted in no time.