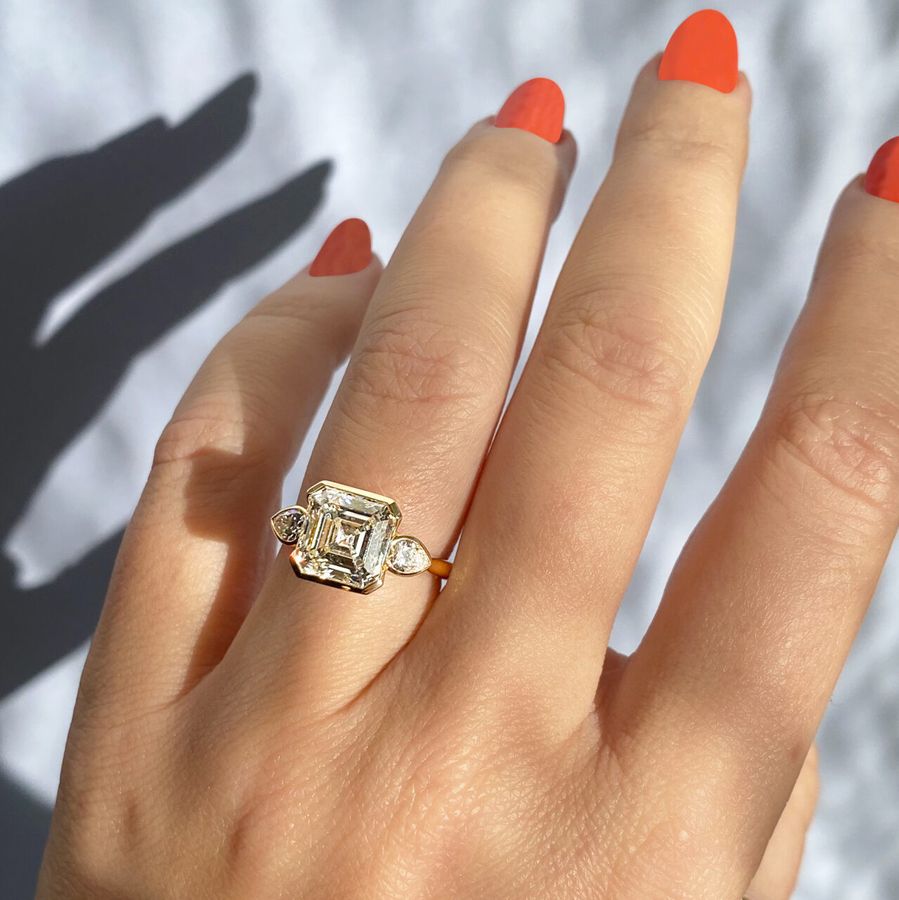 15.02.22
The Red Flags of Ring Design
Just like your love story, darlings, when it comes to designing your own engagement ring the last thing you want is to run into any red flags. But DIYing a major investment can be daunting. So how exactly does the average human go about the process with as little pain as possible? You have us, that's how! Here's everything you need to know about the custom ring design process, including potential pitfalls and how to avoid them.
A Sketchy Commitment
The best place to start when designing your own engagement ring is, well, with a design. Now, we know this sounds scary for those of you who maybe didn't go to art school or don't know the first thing about jewelry. But we also know it can be scary to make design choices without a visual. So we've made getting that visual as easy as possible with our custom design quiz. All you have to do is answer a few basic questions about what gemstones you like, what color metal you want, if you want a single stone or more…you get the picture, right? And at the end you get a free, yes FREE, sketch of your final design. No drawing skills required.
Don't Worry
Once you've got a sketch in hand, you're actually not at all committed to purchasing anything, or even to liking your design choices. Pitfalls, begone! Because, darling, you can take that quiz as many times as you'd like. And you'll get a new sketch every time! And while we've tried to incorporate lots of basic options within our quiz, if there's a detail you'd like that isn't an option, or you're not sure about something, that doesn't mean it's not possible! Our custom jewelry design team is always happy to help you incorporate unique details into your dream ring. Just ask!
Ping Someone
Speaking of connecting with a designer, that is in fact the next step in the process. With your sketch or other ring inspiration in hand (we love a good Pinterest board or photos of pieces you like), simply email our team at hello@frankdarling.com and we'll get you all sorted out. To avoid any potential awkward convos, we suggest that you also let us know what you're thinking on budget (working this out before starting the process will help you get the most for your money and help us help you get what you want).
Learning Curve
Once we've got your deets, and you're ready to go, we'll work with you to schedule an initial consultation — virtual or in person — but darling, don't freak out. During your sesh, we'll cover all the important stuff, from diamond education to ring sizing to any little questions you've got. None of which are stupid. No commission, no pressure, all fun. And trust us, it's super fun to look at diamonds all day!
You're On Your Way Now
If you've decided to move forward, our team basically becomes your personal concierge — finding the right stones and finalizing all the design details to fit your budget. Ah yes, that budget. Don't worry tho, darling, you've got us. And we have all the hookups. Meaning, we'll help you source the right stones to fit your dreams and your dollars. Whether that's going all natural, exploring lab created diamonds (a great way to save!), or choosing a different gemstone altogether (we love Moissanite or colored gems), we've got your back, and we'll schedule consults along the way to make sure you're super comfy with each decision you make.
It's Getting Real
Once you've given the signoff, you'll pay for the piece (or put down a deposit) and our team will create a three-dimensional rendering (or CAD) of your custom engagement ring design. You'll get to see all those unique details come to life on screen in a way that will give you the best possible visual. This is your chance to make any little changes you'd like before the ring is cast in fine metal, so look closely and if anything isn't quite right, speak up. We're here to be your support system, not to sell you on something you don't love.
If You Build It
And we're here. Finally in production. The real deal. Deep breath. I know it seems fast, but in reality this entire process can take a few weeks. It's a good thing to keep this timeline in mind (and keep it as flexible as possible) from the get-go so you have plenty of time to completely customize before you start planning to pop that big question. We suggest giving yourself 4-6 weeks from your initial consultation until having the ring in hand to avoid any freakouts. After all, with every ring made to order just for you, you want it to be right in addition to right on time!
Check, Please
We're talking about quality check, darling. And we do it pretty thoroughly every time. We'll give your ring a once, twice, three-times over to make sure all the details are just right and the production meets all of our (pretty high) standards.
Love is Real
Once all the boxes are checked, the ring is all yours! But we're not saying goodbye yet, darling. We're still here to make sure you love your new ring, everything is fitting just right, and help with any alterations necessary. And we have a 30 day return or exchange window just in case. And if by chance you need any help popping the question, we're pretty good for that too! We know some great proposal planners that can help you out with all the details (all you have to do is show up) or just help you think of something creative and make sure a photographer is there to capture all the lovey dovey reactions in real time.
Ready to Roll?
Start by exploring our collection of engagement and wedding rings for a bit of inspo, then dive into the style quiz to get started on your custom design. Already prepared to chat? Hit up our direct line at hello@frankdarling.com and we'll get a consultation scheduled asap.