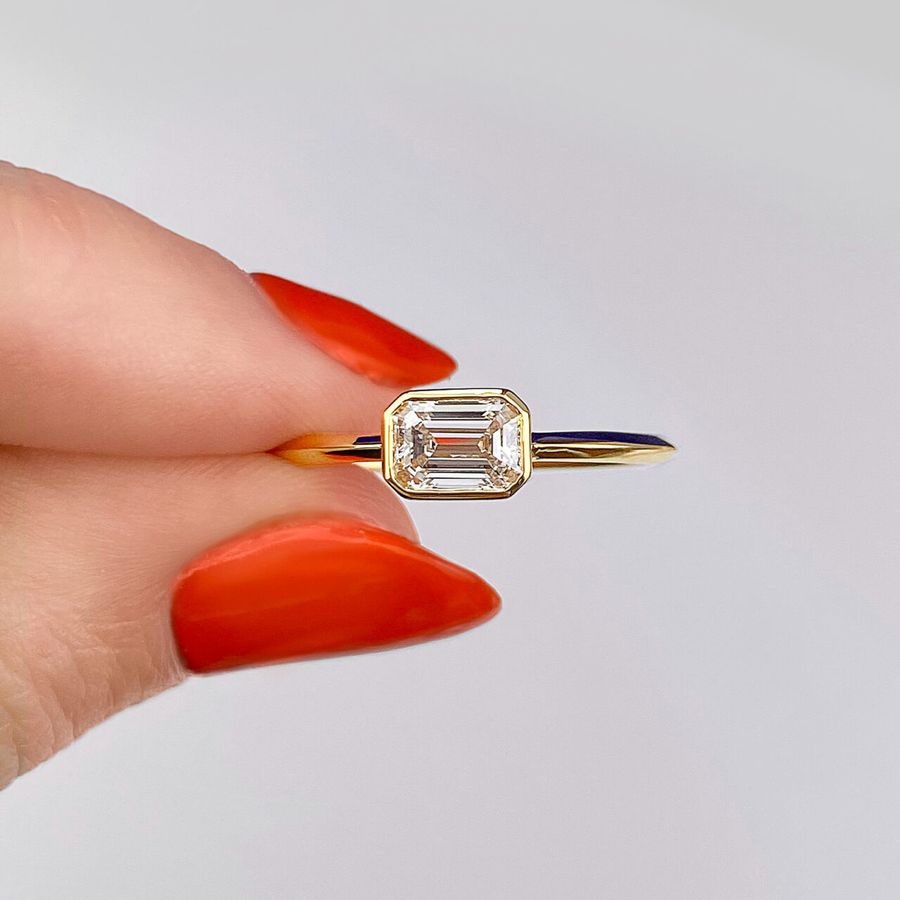 24.11.20
The Secret Superpower of the East-West Ring
By Stephanie Dore
Often, when shopping for the perfect engagement ring, folks are wholly concerned with the diamond, leaving the setting unconsidered, unappreciated, or just flat out underwhelming. It's like hanging a Picasso with a couple of thumbtacks when it deserves a luxe, gilded frame. After all, the best ring settings don't just hold your diamond securely on your finger, they make it really shine. Think of it like fashion for your diamond. Find a flattering outfit and your diamond will be able to look its best every day! One of the latest trends? The east-west ring. But what is it? What's so great about it? And why should you care? We're about to break it down.
Easier Than Asking for Directions
For the directionally challenged, setting a diamond east-west means it's turned horizontally, perpendicular to your finger. You know, side-to-side instead of up and down from palm to fingertip (the usual old way). While this doesn't really do much for round or square diamonds, when you have an elongated shape, it completely changes your ring's personality. Not only that, but the long and, well, long of it is that setting your diamond in an east-west orientation can just plain make your diamond look bigger.
Like Butter
What's happening here? Let's call it spread. More finger coverage for less. An optical illusion. No matter how you slice it, the east-west setting can take 1-2 carat diamonds and emphasize their assets to make them look significantly larger. Now, if you're going to buy a diamond over 3 carats in the first place, that's where you hit the diminishing returns, and an east-west ring won't give you much size effect.
Size isn't everything, though.
The east-west ring isn't just flattering, it's fresh. To death. Do you part. The trend has recently taken off as a modern spin on traditional north-south settings. Today, you can find them with horizontal halos, pave diamond accents, or sleek metal bezels to suit your taste. While it might not elongate the finger like a north-south would, it offers an alternative look that doesn't scream "trying too hard to stand out".
Our favorite stones to set this way?
Oval
Almost as sparkly as a round brilliant, oval cut diamonds can appear almost 1.5x the size of an equivalent carat round, for a lot less cash. So setting that horizontally? Like, whoa. Just watch out for the bow tie effect, which can be accentuated even more when you go east-west.
Emerald
Striking sophistication, but make it cool. The emerald cut offers lots of options for an east-west look. For instance, you could go with a shorter emerald and add more side stones to create a full row of brilliance. Or pick an extra long emerald (check in on that length-to-width ratio) and go solo to accentuate its long, clean lines.
Marquise
Always on point, the marquise cut diamond might seem outdated but, surprise, it's actually having a major moment, especially when it comes to horizontal settings. Setting a marquise east-west can create a real conversation starter. Plus, you can get elegant cathedral shoulders to protect those precious corners. Less catching, less chipping, more love!
Cushion
Not all cushions are created equal, especially when it comes to setting one east-west. If you have a squared length-to-width ratio, east-west won't do much for it. But an elongated cushion? Pure magic. Those curved sides and corners and fiery flashes really pump up the softness of an east-west engagement ring setting.
Orientation Obsession
While it might not seem major, the direction of your diamond can be a real game-changer. Whether you gussie it up with diamond accents or go for modern minimalism, an east-west engagement ring setting is an on-trend yet timeless twist on tradition. Explore our collection for east-west styles or design your own with our dream ring quiz and get a free sketch!
You can always get our free try at home kit to compare setting features at home from the comfort of your couch. But if you need a little extra input, we're here to help. Just email us with what you're looking for at hello@frankdarling.com and we'll get you sorted.