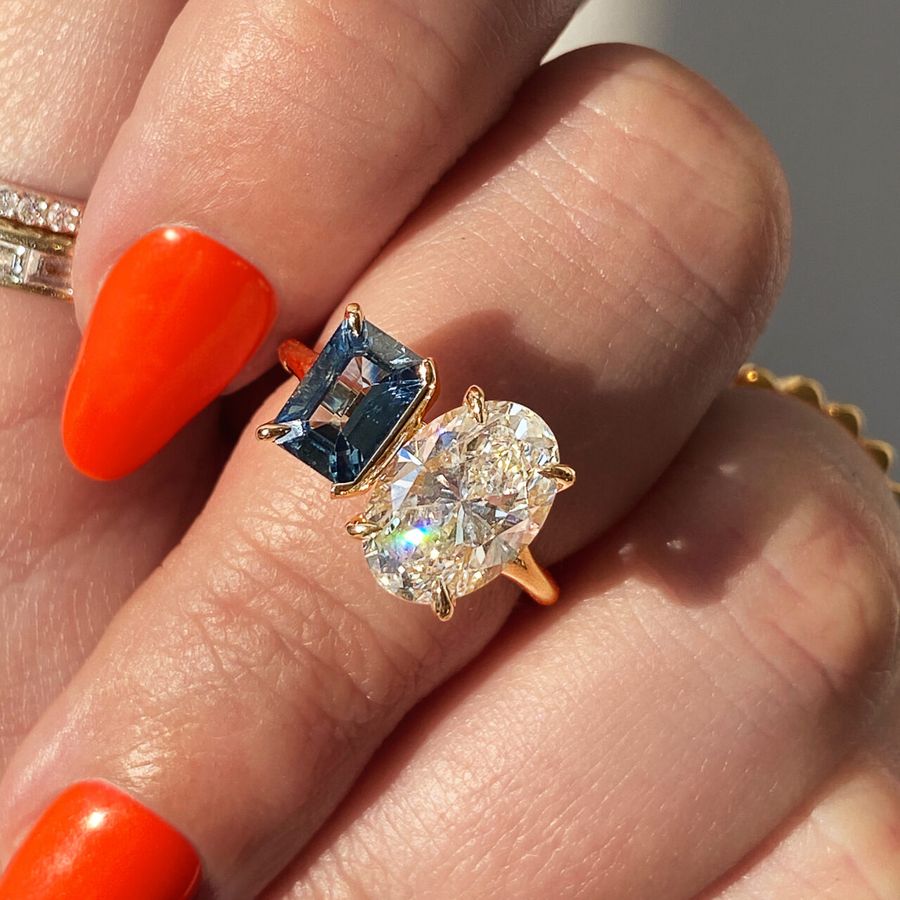 28.09.21
The Toi et Moi Ring – the Celeb Trend Everyone's Talking About
We love lovebirds who keep things interesting. Enter, the Toi et Moi ring. All the celebs are doing it. All the awesome regular folks too, y'all. What exactly is this super trend? Besides being the literal translation of "you and me" the two-stone engagement ring classically features, well, two stones instead of just one. But what's all the fuss about? And is this really a style you want to wear forever? Here's what you need to know about the celeb engagement ring trend everyone's talking about.
Double the Pleasure
Why get one diamond when you can get two? Easy rule of life, folks. Really though, two-stone rings are having a major moment, and it's really not that new. In the old school, two stone rings usually feature two stones of the same size and shape, symbolizing two people coming together as one. You know. Love. But lately, jewelers are taking liberties with the style and getting pretty creative with colors, shapes, and stone types to make the toi et moi ring a little more unique.
Modern Woman
Emily Ratajkowski made the style mavens go mad as far back as 2018 (whoa) when she started rocking her two-stone engagement stunner. Set with contrasting pear-cut and princess diamonds at irregular angles, and paired with a wide gold cigar band, Emily's toi et moi engagement ring is definitely a standout.
It certainly wasn't the first though.
One of the earliest modern celeb two-stone engagement rings to make waves was that of the iconic Jackie O. Yes, darlings. JFK himself popped the biggest question to Jackie Bouvier with a drop dead emerald and diamond two-stone engagement ring back in 1953. While both stones were gorgeous emerald cuts, the contrasting color really emphasized the double play. You can get the look yourself by mixing any two stones! Try a white diamond with a colored gem, a white diamond with a colored diamond, two different gem colors, you get the idea.
The Way Back
Even JFK wasn't that original though! In fact, you have to go back to 1796 when Napoleon Bonaparte slipped perhaps the first toi et moi engagement ring on the finger of his future wife Josephine. Modest by today's standards of celebrity engagement rings, the yellow gold band featured a pear-cut diamond and pear-cut sapphire of approximately 1 carat each. Don't worry though, when it came up for auction in 2013, the simple jewel fetched nearly $950,000!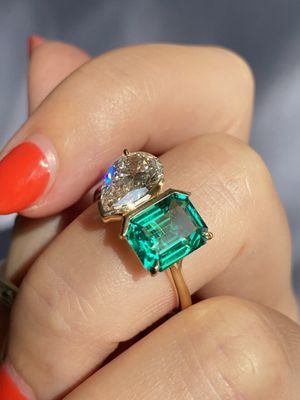 Who gets it?
Ari and Megan. Recently stolen off the hot singles list by her real estate agent BF, Ariana Grande is rocking a toi et moi ring as well. Her choice of contrast? A two-stone ring of oval cut diamond and lustrous white pearl, which mixes shape, stone, color, and texture for a super neutral look that screams "bride" from every angle. Megan Fox and Machine Gun Kelly recently opted for matching pear shaped stones with contrasting gems, a dazzling diamond and stunning emerald. While we wouldn't typically recommend wearing a pearl, or an emerald, for your engagement ring (they're soft and scratch easily, and are readily affected by chemicals in everyday substances like soap and lotion), if you're not going to rock it every day, then be our guest. Just be careful. And get insurance! (You should get insurance no matter what stone or style your ring is.)
Set it Off
Just because having two stones instead of one already stands out from the crowd doesn't mean you have to play down everything else. In fact, we say go all out and get creative the whole damn thing. Try mixing bezels and prongs, halos and more! Play with side stone arrangements, diamond direction, mixed metals. You can start designing your own dream toi et moi engagement ring with our style quiz. And you'll even get a free sketch!
Not Sure Where to Start?
Custom engagement rings are kind of our thing. Explore our collection for inspiration, shop loose stones, or simply reach out to our experts at hello@frankdarling.com with a quick lil note about what you're looking for (and your budget, my dear) and we'll help you hunt down the perfect two stones and style just for you. Our artisan craftspeople will then create your ring from scratch. No two alike.