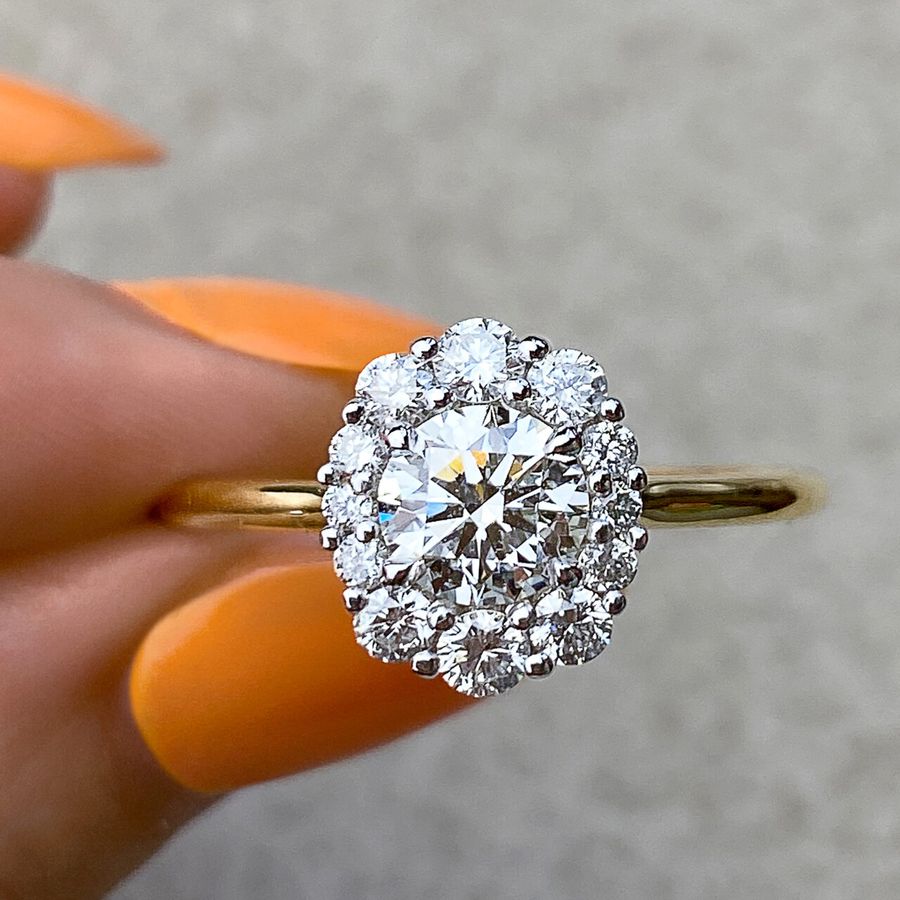 24.010.20
Three Surprising Twists on the Halo Engagement Ring
Are halo rings going out of style? Discover three surprising ways to make your halo ring your own with alternative shapes and styles.
By Stephanie Dore
When I think about halo rings, I inevitably hear Beyoncé's voice ringing in my head. Just in case you were wondering. Speaking of things from years gone by … While the halo engagement ring style made a go of it in the early aughts, the trend seems to have turned the way of, well, not so tasteful. But just because they've been done—by every girl you went to high school with—doesn't mean halos have to be dated or boring. In fact, today, halos come in all shapes and sizes, colors and styles. So if you just have to have one, here are a few of our favorite ways to really make it your own.
Skinny Dipping
Halos have gotten a bad rap because they're thought of as a way to make a small diamond look bonkers big — and don't even get us started on the double halo engagement ring. While they can definitely up the visual impact of a diamond (of any size), an ultra-thin micropavé halo will be more brilliance than bounty.
Under the Sea
Out-trend the halo trend by adding some vintage inspiration. A burnish set or scalloped halo will give you a softer, more romantic look that stands out from the crowd.
Shorty, Get Low
Who says halos have to be on top? One of our favorite versions is a hidden halo, encircling the setting with a little secret sparkle.
Wrap it Up
Go bold with a bezel-set center stone. In fact, prongs are kind of the enemy of a halo (and of your best knitwear). The clean lines of the bezel mean a super modern, snag-free finish.
Other Do's and Don'ts
Do — If you're going for that all-diamond look, make sure to coordinate the size of your halo diamonds with the size of the diamonds down the band for a more balanced visual.
Do — Go for French-set diamonds (they share prongs, which means a less metal-heavy look) if you want a more seamless, diamond forward style.
Do — Pair step-cut emerald and Asscher stones with a round diamond halo ring for a softer look.
Don't — Get a premade setting that leaves a gap between the stone and halo. Your halo engagement ring should always be custom made to the specifications of your diamond so everything looks just like your love—meant to be.
Don't — Go so big you overwhelm the center stone. While there's some amount of freedom in the size of your halo diamonds, they're meant to compliment your center diamond, not swallow it whole.
I Can See Your Halo
Ultimately, the style of your engagement ring should be a reflection of you and your love story. And something you will be proud to wear. So if you've just gotta have a halo, make sure it's the one you want. Shop our full collection or take our style quiz to customize something completely unique, complete with a free sketch.