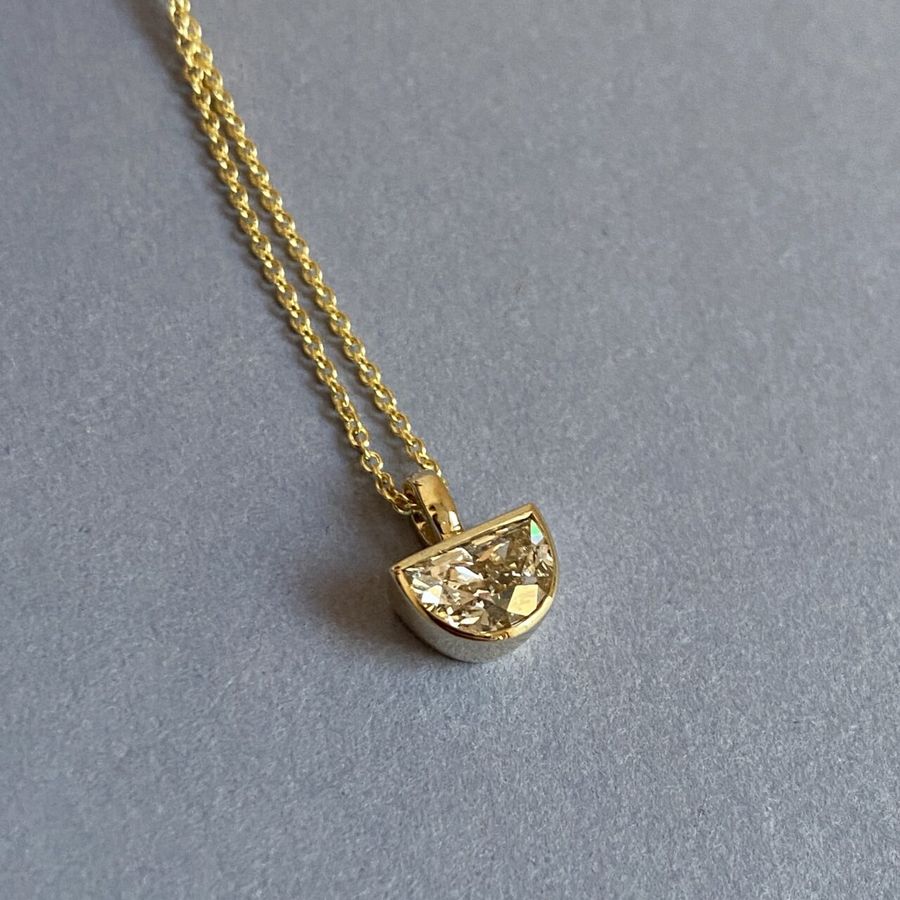 01.02.22
Unique Valentine's Gifts: Jaw-dropping Jewelry Gifts
By Stephanie Dore
There's enough heart-shaped jewelry out there in the world already, and chances are your partner has seen their fair share. Perhaps they've even re-gifted some. So this Valentine's Day, forget the cheese factor and go for something full on glam instead. And what's a more unique Valentine's gift than custom jewelry? Frankly, darling, nothing. But not to worry, customizing a piece of jewelry doesn't have to be daunting or cost you a gazillion dollars. That's what we're here for. Plus, it's 100% more likely your love will actually want to wear it!
Choose Your Fighter

When you're starting the custom jewelry design process, the first thing to do is figure out what type of jewelry your partner wants or needs. Are there any obvious holes in their jewelry collection? Do they love classic pieces or appreciate something more on trend? Do they work with their hands? Do they have countless piercings lining each ear? The more thought you put into choosing the right piece up front will make all the difference down the line. But if all else fails and you're just not sure, we recommend something timeless.
Can't Go Wrong
Diamond stud earrings are — assuming your partner wears earrings — the go-to choice for gifting. For starters, you don't need to know their ring size! And there's actually more room for personality here than you might think. You can totally go with a standard prong set round diamond solitaire stud and they'll probably love them. But you can also change it up by playing with different diamond shapes: think ovals, emeralds, baguettes, and trillions for instance. Or try a unique floral basket setting, or even our signature clutch style semi bezel setting for a super modern, sleek look.
Get Creative

A diamond earring can also be customized by doing a drop, with a simple hoop and some dangling pear diamonds. Or add pave for extra sparkle! We love unique metal accents as well, like a front-facing hoop with a diamond accent. Or do some floral, cluster diamond studs! If your person loves hoops or drops or threaders, that's cool, just let us know what unique style you're looking for and our design team will help you customize something super sweet to fit your love story (with a little extra sparkle)!

You Can Hang

Diamond pendants and necklaces are also a great choice for gifting. A classic solitaire diamond pendant in any shape is perfect for everyday wear. We love a horizontal east-west set stone like an elongated baguette or marquise for something modern. Or go with a more classic shape and a unique bezel or semi-bezel setting to change things up. And remember diamonds don't have to be white! Warm champagne diamonds or stunning salt and pepper stones are also great options. And so are colored gemstones. Choose your partner's birthstone, yours, or both! Or go with their favorite color for something they can wear endlessly.
Brace for It

If you want to take things up a notch, a diamond tennis bracelet ought to do the trick. These solid lines of brilliance encircling the wrist are a super classic gift but that doesn't mean boring, baby. We love unique shapes and settings for a tennis bracelet, like elongated rows of oval shaped diamonds, a mix of shapes like baguettes and rounds to keep things interesting, or design elements like an XO setting style to really show all your love. Want to keep your pricing down? Ask our team about stone options like lab created diamonds and moissanite, which are both more affordable price points and still super sparkly!
Love for Always

Now, if you want to go with a ring, there's no better valentine to give them than a stunning custom diamond eternity band. With stones that go all the way around the finger in an endless line of sparkle, an eternity ring can be worn on its own or in a stack with other rings. You can even make it a V Day tradition to add to the stack! Just remember that if you're stacking, you might need to go up a quarter or half size, especially with three or more rings. And the bigger the stone sizes, too, as it'll take up more finger space.

Mix it Up

You can always go with a simple pave diamond band, but we love to change things up with our eternity bands. Our XO band, for instance, features clutch-set ovals between beautiful gold or platinum accents. We also love a chunky metal band with a thin line of diamond accents. Or choose unique stone shapes and colors to really make it your own. Sapphire bands can be absolutely stunning. An ombre effect can be super cool too. Or try black diamonds set in a sleek channel band for something edgy yet totally effortless.

Eat it Up

TBH, our love for pasta is almost as strong as our love for jewelry, so of course we had to mix the two in our Love & Pasta collection, an ode to New York restaurants and our favorite nosh! These sumptuous bands are great for a gender-neutral gift, crafted with a subtle, sexy nod to some classic pasta shapes. These rings are all about curves and texture and shine, but we can also add a matte finish if that's more your speed.

At Your Gifting Service
Remember that customizing jewelry can take a bit of time, so give yourself some runway if possible, to get the best result. Otherwise, our team is here to help you create your dream jewelry, whether that's something subtle and perfect for everyday or a major statement with lots of sparkle. Just reach out to hello@frankdarling.com with a bit about your budget and what you're looking for and we'll help you source stones and customize a design that's super you (and your partner too)!