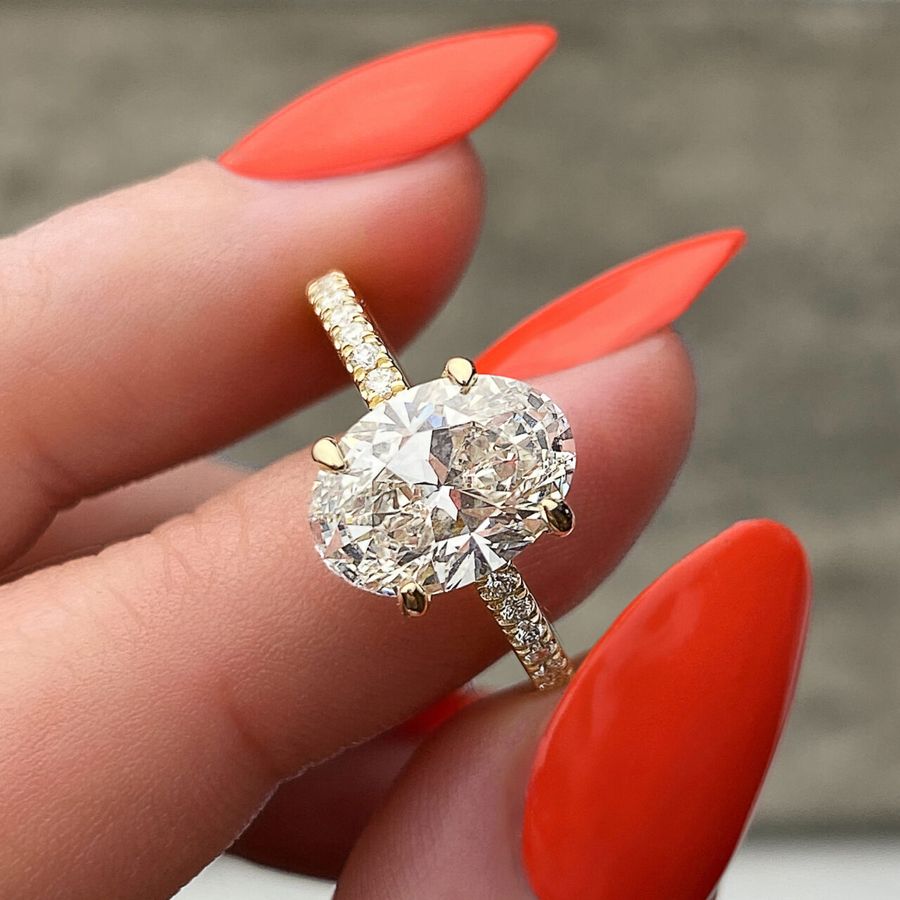 20.03.21
Here's Why Pave Diamond Bands are Always in Style
By Stephanie Dore
Carte blanche, je ne sais quoi, savoir-faire, fiancé, even your cocktail party faves hors d'oeuvre … anytime something comes with an untranslated French moniker, that means it's extra fancy, right? Well, yeah. Pretty much. And the same is true for pavé diamond bands. But what exactly is this fancy-pants diamond setting type? Should you want it? Should you stay away? And how on earth do you pronounce it? Here's what you need to know.
Pahhhhh-vay.
If you're interested in a little extra sparkle, who isn't, you'll want to know more about pavé. Pavé is the french word for "paved." Pave diamond settings are decorated with small diamonds that literally pave the band to give it nearly continuous sparkle. If you're wondering how to pronounce pavé your not alone. It's two syllables. First "pav" with a soft a, like Pavarotti or pavilion, then "a" like "a table" or "a rug." Got it? Great! Let's move on.
That's it. You got it. This two-syllable French word with a soft "pav" like Pavarotti, then hard "a" like, well, the letter "a", is the French word for "paved" like "the road to hell is paved with good intentions."
And mind you, pave diamonds are definitely paved with good intentions (think, major sparkle). Unfortunately, these lil babies also come with a lot of maintenance, so if you're going all in, you should be prepared.
It's all in the Details
To be clear, pavé refers to a setting type, not a diamond type or size. It is a bunch of (typically quite small) diamonds nestled closely together with tiny beads of metal between them, slightly covering their girdle edges to hold them down. This all-diamond-everything look is often accomplished with single-cut melee (pronounced like "smelly") diamonds, which have 16-18 facets (compared to a larger round brilliant which boasts a whopping 58). Now you know two French words!
These 1-2mm diameter diamonds (or even smaller, if you're going micro-pavé) can give your ring a little bonus sparkle in many ways. Pros and cons comin' atcha.
French Fantasy or Beaded Beauty
If you're thinking of going with a pavé diamond ring for your engagement ring, you've probably come across two types. And, you've probably thought to yourself, "What's the difference?" Let's clear things up for you.
We'll start with french pavé, or fishtail pave depending on who you ask, a unique detailing that holds your diamond accents in v-shaped grooves (that slightly resemble little fishtails). The french pave shows less metal while looking straight down at your ring, and gives the illusion of a row of floating diamonds encrusting your band. This one is for the diamonds as the main course, metal on the side crowd.
Beaded pave is true to its name. Your diamond accents are secured with tiny, bead-like prongs. From the top-view, you'll definitely see those little metal beads, but you're trading off for more sparkle in the profile view. Contrast lovers, this one is for you.
Heaven on Earth
Your partner is an angel right? Wink, wink. A Halo setting is exactly what it sounds like—a circle of smaller diamonds that surround your center stone in a ring of light. They've been supes popular throughout the early aughts as a way to make your bling look bigger, since they can add the appearance of an additional half-carat or more. But they're also just like, extra sparkly. So we're not complaining.
These days, you can put a halo on just about any shape diamond, from round diamonds, to ovals, even Asschers, though you should always have one custom-fit because fancy shaped diamonds are each unique and no one likes a gap. You can also choose a contrasting gemstone for a halo—think rubies or sapphires—to create a look that's all your own. One halo not enough? Double it up for two rings of brilliance if you're really daring!
Even though all this sparkle is never a bad thing, pavé halos are for sure higher maintenance. This is especially true if the setting is raised higher above your finger, where those tiny bead prongs can bump against granite countertops and snag your favorite sweaters. Regular wear will loosen these tiny diamonds over time, and they may need to be tightened or replaced. They can also increase the price of your ring setting by a few hundred dollars. So while you might save on a smaller center diamond, make sure you're pricing everything together to get the best balance for your budget.
Your Style, Our Signature
Taking all this into account, we've designed our signature Sidney pavé halo setting to be low profile and low maintenance. Just the way we (and you) like it. Available in multiple shapes both with or without a pave diamond band, Sidney combines a sculptural, trellised basket with a bezel setting for a no-prong look that you can feel good about.
Put it On Everything
Halo or not, many of our rings can be customized to add a 1/2, 3/4 or full pave diamond band. It's a great way to up the ante on a solitaire-style ring without wringing out your wallet, and can really make your center stone pop. Just remember the maintenance we talked about earlier, and keep in mind that full pavé, aka an eternity band, cannot be resized. We usually recommend a 1/2 or 3/4 pavé band for a sparkly face-up view that's more practical in the long run. Also, If you're sensitive to texture, pavé bands can cause some friction between your fingers. Try one on one first to feel out whether it's the right fit for you.

Pavé Hide and Seek
Love diamond detailing, but not ready to spring for the whole band? Tired of the halo trend but still want a touch of sparkle? A hidden pave diamond halo is the ticket. Designed to sit under the stone, a hidden halo can be a perfect circle or have a decorative flourish. It gives a little blink of bling from the side, a little hush-hush, side-glance, saucy secret, perhaps?
Plus, hidden halos generally add only a few hundred dollars in cost and can vary depending on the size of the halo and size and shape of your center stone. Want to try designing your own? Take the ring quiz to get started on your dream ring.
It Has to Be You
Not sure if pavé is right for you? We suggest trying it on. And we make it easy to do just that—because at Frank Darling, all of our engagement ring settings are available to try at home for free. Get started by selecting your favorite four rings. We'll send you sterling silver, size seven replicas set with one carat cubic zirconia stones. It's like the ultimate IRL, with zero commitment.
Each try at home kit comes with a prepaid return label, ring sizer, and The Handbook—a practical guide containing all the info you need to select a real-deal diamond. So, what are you waiting for? Grab a glass of bubbly and let's get started.