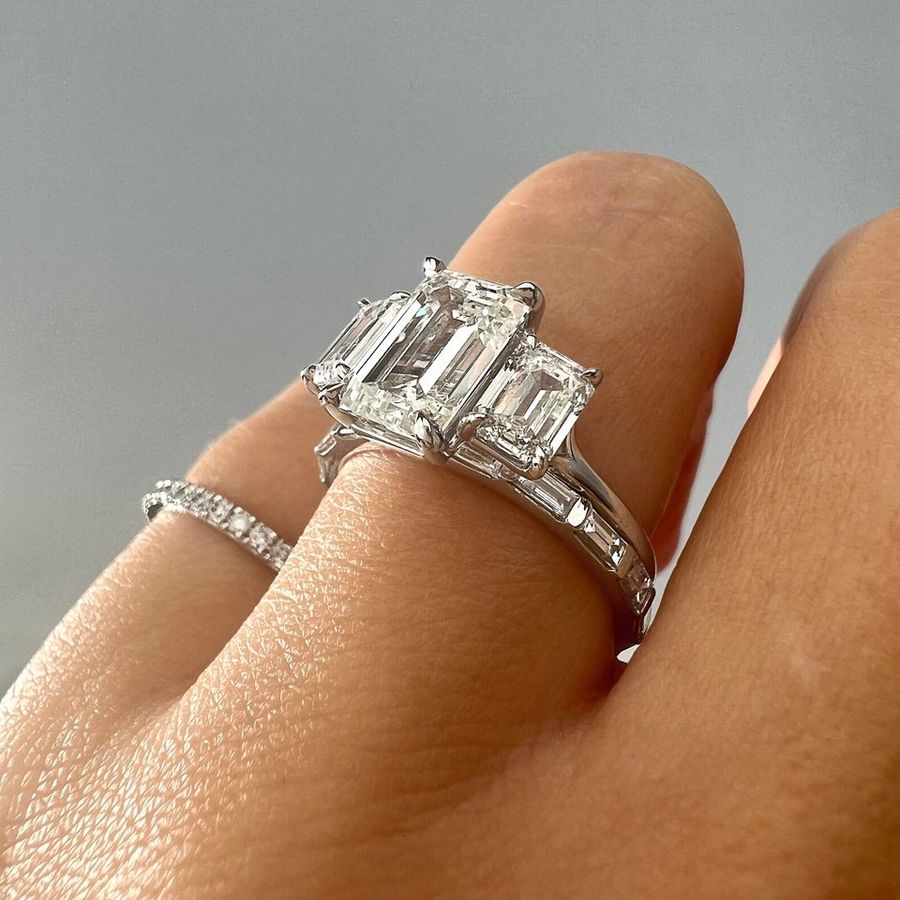 11.010.22
What's up with Travel Rings?
By Stephanie Dore
For most of us, purchasing a diamond engagement ring or wedding band isn't just a pricey pursuit but an emotional one. Which makes the thought of losing your rings while you're exploring the globe pretty damn terrifying. Sure, there's insurance (which we'll talk about), but insurance doesn't get you back your ring. So, what's a darling to do when adventure is on the brain but your precious jewels are holding you back? Travel rings, of course. Yep, travel rings are definitely a thing, and they don't even have to be a bland, boring style that you'd never be caught dead in. Here's what you need to know about travel rings, why you should get one, and what it can look like.
What are Travel Rings, Anyway?
A travel ring is really just any ring you wear instead of your authentic engagement or wedding ring when traveling, to lessen the chances of loss, theft, or damage when you're out and about. Often, they're less expensive styles created with cubic zirconia stones instead of real diamonds, so you don't have to worry about dropping major dollars on the stand in.
Why Not Just Insure Your Real Jewels?
Well, you should do that also. Really. Because we've heard too many stories about rings falling down garbage disposals or getting totally bent out of shape during a heavy deadlifting sesh. Whether you wear your fine jewelry all the time, traveling, or occasionally, insurance can give you peace of mind that you'll be able to replace your gems just in case.
The only downside of insurance is that it only offers a replacement in general. There's simply no way to recreate your exact diamond or ring. Once it's lost or damaged, that's usually, well, that. So if you travel a lot and wouldn't be able to easily go back and look for your lost jewelry, travel rings can offer peace of mind that, at least in that scenario, your original ring will be safe and sound at home.
Should You Get a Moissanite Instead of a Cubic Zirconia?
Ultimately, it's up to you how much you want to spend on a travel ring, but for most folks a cubic zirconia is perfectly suitable for its purposes. Sure, a moissanite stone might be more durable, but it's also costlier and a stone that many use for their real rings. A cubic zirconia is totally pretty enough for a ring you'll only wear occasionally, and if it gets a bit too scratched and worn (thereby losing its shine), it won't cost you much to replace the stone.
What a Travel Ring Won't Do for You
While travel rings are pretty great for peace of mind, they're not miracle workers. Many folks claim that travel rings can deter theft or unwanted advances from suitors. But that's simply not the case. Remember, they're still just a piece of jewelry. But what they aren't is your real ring. So you can feel better about that spontaneous scuba diving adventure.
What do Travel Rings Look Like?
Travel rings can really look like anything. It could be a plain band, simple solitaire, or the most over-the-top gobstopper you can imagine. But here at Frank Darling, we believe your style should be your style no matter where you are in the world. You've put a lot of thought and effort into designing a custom engagement ring and picking just the right size and shape stone, so we do travel rings a little differently.
Frank Darling travel rings can be purchased post-proposal as an exact replica of your custom diamond engagement ring — including the center stone size and shape — and cost $500. Our travel rings are made from plated sterling silver set with cubic zirconia, for a ring that looks as close to the real thing as possible. It'll be our little secret.
Ready to Rock Your Own Travel Ring?
Explore our collection of signature engagement ring styles, all handcrafted in NYC from recycled gold or platinum. Or jump in and find your perfect diamond first! Check out 360-degree images of more than 10,000 diamonds, or book a virtual or offline appointment at our New York salon to view certified lab-grown and natural diamonds in person.
Not finding what you're looking for? Email us at hello@frankdarling.com with a bit about your inspo and budget and we'll curate a list of 5-7 exclusive stones that are just right for you.