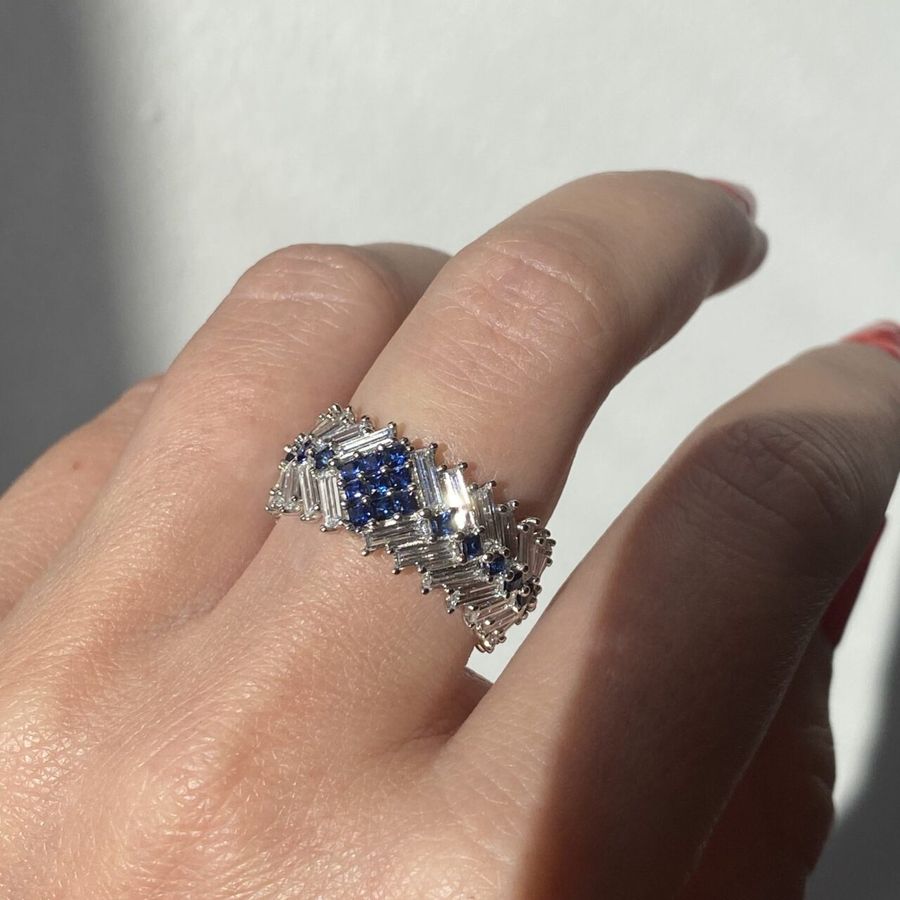 07.07.21
When (and How) to Shop for Anniversary Rings
If you thought the engagement ring, or even the wedding band, was the end of the line for your jewelry indulgences, think again, darling. With marriage comes anniversaries, right? Well, we certainly hope so! And what better way to celebrate than to add to your sparkle with a brilliant diamond anniversary ring. If you're rolling your eyes at the idea of more jewelry being "necessary" honey, then you've come to the right place. Because we're here to tell you, it's certainly not. But if you love the idea of upping your jewelry game occasionally, or celebrating your significant other with some milestone stones, then we're also here for you with the deets. What exactly are anniversary rings? How much should you spend on one? And when should you be dropping those dollars? Let's get into it.
Love, Marriage, Baby Carriage
While there's no hard and fast rule about the right time to gift your partner an anniversary ring, many do it around the major milestones. 1 year (you made it!), 5 years (gettin' warmer), 10 years (congrats) or more. Many also use the birth of a child to add to their ring stacks—perhaps you've heard of push presents—and really, a ring is a ring is a ring. Buy it for any reason you want, or no particular reason at all!
Anything Goes
Whether you're buying for her, for him, for ze, or them, celebratory anniversary rings or anniversary bands are fun for everyone! I mean, if David Rose can have a full handful of engagement bands, then there are really no rules. Maybe your partner got a plain band for the wedding and at 5 years deserves a diamond upgrade. Or you want to go the other way around and add some solid gold anniversary bands to your diamond wedding ring instead. Everyone deserves to shine.
Ring Fingers Not Required
Which finger do you wear your anniversary ring on? Whichever finger you like, my dear. While some prefer to add to their engagement ring and wedding band with a third ring for an anniversary, others prefer a right hand ring anniversary gift that stands alone. Want a thumb ring? Go for it? A cute pinky signet style ring? We love that too. What do we love most of all? You doing you with a ring that suits your lifestyle. Maybe you got a big, brilliant diamond solitaire for your engagement but 5 years in it's not something that you want to rock every day. Use your anniversary to buy something more subtle that doesn't snag every last sweater.
Speaking of Style
Should your anniversary ring have diamonds? Well, they often do, especially if you kept your wedding band understated and now you have a bit more disposable income post-wedding day bank draining. Diamond eternity bands are a super-popular and super-pretty choice to celebrate your unending love affair with each other. You can go as dainty or as daring as you like here. Just remember if you're stacking your anniversary band with your engagement and wedding ring, you might need a slightly larger ring size to fit everything on the same finger.
High Five
We love the idea of getting a five-stone ring for your fifth anniversary! Who doesn't want a diamond a year? Third anniversary? Make it a three-stone. You get the idea. Or use your anniversary to upgrade your engagement ring to a larger stone and repurpose the original in a sparkly pendant or pair of diamond stud earrings.
Rock(less) Solid
Your love is all about you (and your partner, obvi) so your anniversary ring should reflect your own style and story. It should also be something you actually want to wear. Don't like diamonds? Go for a plain metal band. Want to change it up? Try a patterned metal band that rocks some texture. Or make it your own with an engraved message inside (or out!) just for your loved one. We love adding an anniversary date to the inside of a band, or even planting a tiny, secret diamond inside that only you know is there!
Money Matters
Ultimately, what you spend on your anniversary ring is going to come down to your own personal budget and what style you're going for. There are no rules here about what you should spend, or even that you have to spend at all. Just like engagement rings, if you're going for major sparkle, larger diamonds will cost you more money. But we love choosing lab grown diamonds for anniversary bands. They have the same chemical, physical, and optical properties of natural, mined diamonds but at like half the cost. So you can save up for your next vacay too.
Best Laid Plans
If you know early on that you and your partner are likely going to indulge in anniversary rings down the road, it doesn't hurt to consider this when you're originally purchasing your engagement and wedding rings. Both for looks and cost, this can be super helpful. For instance, you might go a bit smaller on your engagement ring diamond, knowing you want to add some more diamond bands to it along the way.
Design Something You
Ready to see some any time, any anniversary styles? Check out our collection of wedding and anniversary rings or start customizing your own with our design quiz and get a free sketch to boot! Need a bit more help finding something to suit? Email our jewelry experts at hello@frankdarling.com with a bit about what you're looking for (and your budget) and we'll get you sorted.